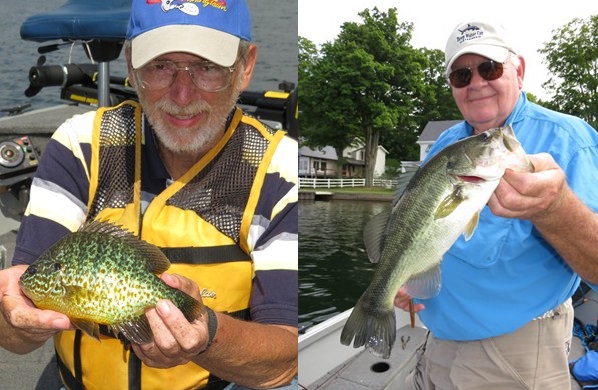 This Report is brought to you by PA Great Lakes Region tourism with additional sponsorship from Wiegel Brothers Marine and Gamma Fishing Line.
We answer the question "What's biting in the lakes, streams and rivers of Crawford, Erie, Mercer and Venango counties?"
French Creek – Flowing though all four counties
24th Annual French Creek Cleanup: On Saturday, September 10th, more than 600 registered volunteers spent the day looking for trash in the French Creek watershed. They gathered over 26,000 pounds of it. For the 24th year, the French Creek Valley Conservancy conducted a massive cleanup of abandon junk and trash along French Creek and its tributaries. Supported by a long list of cooperate sponsors and volunteer people power, the cleanup strives to keep French Creek a waterway jewel of Northwest Pennsylvania. With much appreciation, anglers tip their hats to the Conservancy, volunteers and sponsors. Next year watch for information on the 2017 cleanup and put together your team from among local fishing organizations to rise to the challenge.
Editor's note: Currently French Creek is flowing high and dirty as the result of heavy rain storms over the weekend. As it begins to clear, anglers anticipate an improved bite for smallmouth bass and walleye.
CRAWFORD COUNTY
Pymatuning Lake
Dave @ Richter's Bait & Tackle; filed 9-12: Catching anything is rather tough right now largely due to the exceptionally high water temps in the lake in recent weeks. Reports of success are spotty. I've heard of some crappies being taken from deep water, and one customer who limited out on walleye with nightcrawlers as bait in 18 to 19 feet of water. Catfish are everywhere. As soon as it begins to cool, expect improved fishing success.
Norm @ Jamestown Boat Livery; filed 9-12: Some customers caught a few crappies over the weekend from 14 feet of water. I heard of a couple limits of walleyes taken on Vib-E blade baits by fishing at night. The best thing that can happen is cooler weather to begin lowering the water temperature. Here at the Marina this week, I'm getting 75 degrees at 10 feet down; surface water is much warmer.
Laurie @ Duck & Drake; filed 9-12: Well, I have a little more to report than last time. Couple of my customers this past week caught a few crappies in 10 to 12 feet of water on 1/32-ounce twister jigs tipped with minnow. Perch and bluegills are being taken with pieces of nightcrawlers. No reports of walleyes, however.
Brandi @ Poff's Place; filed 9-12: It has been slow. Better bite in the evening for catfish and perch. Some anglers have been working the nightshift to catch walleyes, fishing from full dark to 2 am – but not everyone is cut out for the late night bite.
Sydney @ Robinson's Bait; filed 9-12: We had a nice perch caught by Jeff Hinderhoff on a copper-colored 1/8-oz. Water Puppet at the North End. Corey Craig says fish like Water Puppets so much if you add a stinger hook you can catch two at a time! That's what Rob Shorts did at Lake Arthur – two bluegills. The most recent was from an individual fishing at the mouth of Finley Creek, where he caught perch and walleyes on Water Puppet jig tipped with mealworms. Water Puppets are available at Robinson's – including some special colors not available elsewhere.
RJ Graham (Tionesta); filed 9-5: On the September 3 & 4, I fished the two-day Crawford County Bass Classic on Pymatuning. On Saturday I flipped lily pads all day, catching almost 40 bass; I was in second place by 2 ounces at the end of the day one. On Sunday, I went back to the area and got a better limit – but only caught 12 bass all day. I was fishing the pads with a ½ oz. tungsten sinker and a Chigger Craw on Gamma Torque Braid. My co-angler also got 4 bass – with one being the lunker for day two at 4.87 pounds; he finished 3rd overall out of the back of my boat.
Conneaut Lake
Fishing with Darl Black Guide Service; filed 9-12: The only lake I've been guiding on this month is Conneaut. In early August we experienced some outstanding crappie fishing, but the crappie bite has slowly dwindled going into September. Don't know why for sure – but now I think the unseasonably warm water (80 degrees this past week) has crappies hiding in deep weeds during the day and perhaps feeding at night.  However, bluegills and pumpkinseeds remain active biters through the day. Throw in the incidental catches of largemouth bass and smallmouth bass while fishing for panfish with light action rods and 4-pound-test, and suddenly you are having a lot of fun. I'll be continuing discounted panfish combo trips at Conneaut through the end of the month. (See photos below)
Canadohta Lake
Jerry @ Timberland Bait Shop; filed 9-12: With the rough weather this past weekend, not many anglers were out. I did have a report of one good northern pike and a 45 inch musky taken while trolling. We had 35 kids at our Kid's Fishing Tournament at the Timberland Bait Shop pond. However the threat of storms kept many kids from attending. So we are going to have another Kids Tournament sometime before Archery Season opens. Watch the newspaper and check our website for the date.
ERIE COUNTY
Jeff @ Poor Richards; filed 9-12: This past weekend, the wind and waves on the Lake kept most boats in. They had been catching perch in 45 to 55 feet straight out of Walnut Creek and a bit west, too; the best bite was in morning until about 9 AM, and then again in the evening. They were getting a few walleye in 47 to 75 feet out to the Second Trench – but bigger fish were coming in 60 to 65 feet of water. Worm harnesses are working – if you can put up with all the junk fish. Purple/black and copper blades are reportedly working great. Based on steelhead being caught by walleye trollers out deep, this should be a good year – if we get a cool down and water in the streams.
Dan @ Elk Creek Sports; filed 9-12: Over the weekend, one of my customers caught two steelheads in Elk Creek near the mouth – that was before the heavy rain. A couple guys are out there today checking to see if more fish moved in with the high water. Don't think they will move upstream yet, but there are steelhead already waiting! Some people say we need cooler temps AND higher water in the tribs. But I say give me flow over temp anytime to get the steelheads coming in!
Rebecca @ Uncle Johns Campground; filed 9-12: I have a number of calls asking when the steelhead will be in so they can make reservations. Anglers are anxious! When will the steelies be in? (Editor's reply – Likely there are a few steelies already in the mouth. If the streams maintain flow, some will be moving up your way soon, but if don't continue to have rain and the water level drops, any upstream advance will be halted.)
Dave Horvath (Edinboro); filed 9-11: Hi Darl, here is an Erie West report…we fished the big water on 9-6-16. Landed 10 walleyes but only six were keepers. We also got one steelhead and many white bass. All fish came from 58-62 feet of water. Spoons took most of the catch, except white bass pounced on worm harnesses. Perch bite is picking up but lake emerald shiners are not to be had. Golden shiners are all the bait shops have. Best depth for perch is 52-62 feet. With the rain the other night, steelhead should be starting to come in.
Zack Schlosser; filed 9-8-16: We fished Lake Erie on Labor Day, September 5th. We launched out of Walnut Creek at 5:30 am. The waves were 2 to 3 footers with a SSW wind. We went out to 55 FOW and once the perch started biting (around 6 am) it didn't stop until we ran out of bait! We were using minnows from Poor Richards on double perch rigs. We would set the rig on the bottom, slowly bring the rig up a foot or two, and then perch hammered them. We also caught a few on nightcrawlers. We were off the water by 11:00 am. Overall, we caught 135 perch ranging from 7" to 14". We even caught a few small walleyes. If we hadn't run out of bait, we would have easily limited out. See the attached pic as part of our bounty. God Bless.
Edinboro Lake
Dave Horvath (Edinboro); filed 9-11-16: The evening fishing on Edinboro Lake is picking up. Topwater plugs around the lily pads and tube baits around the shoreline are yielding some bass. I watched two boats trolling for muskies but didn't get a chance to talk to them…tight lines!
MERCER COUNTY
Lake Wilhelm
Vicki @ Fergie's Bait; filed 9-12: We are seeing few fish being caught because there are few anglers out. May seem like an odd request, but Wilhelm needs some angling pressure! One of our customers, Carl, caught this 28 inch, 7.5 pound walleye earlier this year. Fish are here; we just need anglers to come down to catch them! The coming fall cooldown should get anglers moving along with the fish. We are now operating on fall hours. (See walleye photo)
Cory @ Lake Wilhelm Marina; filed 9-12: One of our customers caught a 28 inch 14 pound catfish this past week. We are now on shortened fall hours and will be closing for the winter on October 15.
Shenango River Lake
Drew @ 5 Points Country Store; filed 9-12: The hottest bite on Shenango right now is white bass. We need a cool down in lake temperature to get a good bite going for bass, walleyes, crappies and stripers. The last time I was on the lake, the surface water temp was 87 degrees – way too warm!
Ken Smith (Sharon); filed 9-12: Not much different from last report – same baits, same depths and same 9" crappies with an occasional larger one. Come on Fall!
Marilyn Black (Cochranton); filed 9/6: I don't have many opportunities to fish these days due to work load, but I actually had Labor Day Weekend off and I wanted to try the white bass at Shenango. But Saturday was one of those post-frontal days with completely clear skies and dry air – the kind of day where fish seem to go into hiding and wait for a change. Our early start yielded some crappies on Bobby Garland Baby Shad baits and a 15 inch largemouth bass on a Scrounger Head with Lunker City Finesse Fish body. But things went downhill after that – only one small channel cat and a few very small crappies from 20 feet around abutments of the old Slack Water Bridge. By then the pleasure boats and skiers overran us and we departed the lake without catching a single white bass!
VENANGO COUNTY
Bill @ Griffins Bait Shop; filed 9-12-16: It has been a slow week with only a few customers coming through. Anglers seem pretty tired of the continued heat. But cooler days are coming! And so is the fall bite!
Justus Lake
Angler Al (Franklin); filed 9-1-16: At first light I shot over to Justus Lake. I started trolling large horned dace creek chubs. A couple of them were nearly 8 inches long. The night prior I had rigged a couple stiffer rods with 16-pound test specifically to fish these big baits for musky. After two hours of spinning about and being beaten up by the wind, nothing had happened. So I downsized my bait. I ended up catching seven bass – one 15-inch smallie and six smaller largemouths. (See photo in Livewell)
Ed Wolfgong (Oil City); filed 9-13: During an outing to Justus Lake this past weekend, my son Evan caught this bass and several others in the 12 to 14 inch range. We were fishing Yum Dingers in 10 feet of water. (See photo)
Trout Streams of Venango
Angler Al (Franklin); filed 9-10: At first light I ventured down to my favorite stretch of trout stream. Sugar Creek was extremely low in most places but I was able to catch three rainbows and one colorful wild brown trout. Initially I presented pieces of nightcrawler, however creek chubs were too annoying so I turned over a few rocks and picked crayfish to use…they did the trick!
Jeff Reichel (Meadville); filed 9-8: I hiked to a small tributary of Oil Creek in Oil Creek State Park on Wednesday the 7th and fished for about two hours. The creek was low and clear, but water temp registered a very cool 62 degrees on my stream thermometer. The low clear water made it challenging to get close enough to present a fly without spooking the fish. I did manage 4 hookups but only landed 2 beautiful native brookies. The biggest was about 8 inches, a beast for this creek. The brook trout was starting to show its fall spawning colors. The other was about 5 inches, as were the two that got away. All brookies took a dry fly of my own creation, tied on a size 14 barbless hook – which made returning them to the stream easier so they can participate in the spawn this fall.
Allegheny River
Gene Winger (Oil City); filed 9-12: After several months of down time, the doctor finally gave me the green light to fire up the River Pro and hit the river. Fishing has been slow this past couple weeks, catching mostly dinks and only a few decent sized smallies. But it's still great to be back on the water! The smaller bass seem to be scattered everywhere but the bigger bass we've caught have been in shallow riffles and tail waters of larger pools. The most productive baits have been Winco's Solid Body River Darters, River Darter Swim Baits and 3 inch Baby Taste Tubes. Today, I caught a 30 inch, 8 pound walleye on a topwater bait. With October sneaking up on us, I plan on spending a lot of time on the river taking full advantage of the Fall Bite! (See photos in Livewell)
Jeff Knapp @ KeystoneConnection.com; filed 9-12: Water temperatures are dropping after weekend cold front of September 10. Temp currently in the low to mid 70s on the river. Nice color to the water as result of rain. Smallmouth bass still in summer-like locations, including tail-outs of pools, heads of pools, shallow flats with combination of current and deeper depressions, and pocket water off riffles. Rapala X-Raps, Winco's Darters, and Z-Man TRD/light mushroom head jig (Ned Rig) are producing. We're getting smallies up to 19 inches; walleyes starting to show up more regularly. Floating weeds are an issue in some areas. (See photo in Livewel
Pete @ smalliesontheyough.com; filed 9-12: Finally made it back to the Allegheny this past weekend. Weeds were rough. We caught a few nice 19 inch smallies and some smaller ones. Really not a pattern I could find. All fish were caught on 412 Baits.
The post NW PA FISHING REPORT for September 14, 2016 appeared first on .