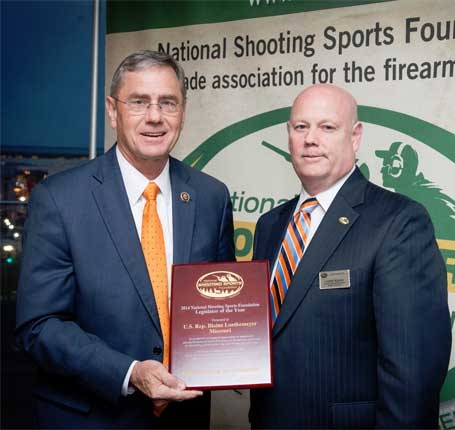 The National Shooting Sports Foundation® (NSSF®), the trade association for the firearms, ammunition, hunting and shooting sports industries, today praised U.S. Rep. Blaine Leuktemeyer's (R-Mo.) legislation that puts an end to an Obama administration effort to deny financial services to businesses solely because they were labeled "high risk," including firearms-related businesses. The bill, H.R. 2706, the Financial Institution Customer Protection Act, was passed by the U.S. House of Representatives by an overwhelming bipartisan vote of 395 to 2.
"We are deeply appreciative of Congressman Luetkemeyer's perseverance and commitment to end 'Operation Choke Point' once and for all," said Lawrence G. Keane, Senior Vice President and General Counsel for the National Shooting Sports Foundation. "Congressman Luetkemeyer recognized the essential unfairness and abuse of power inherent in the overreach of the federal financial services regulators involved. We respect the right of financial institutions to make business decisions based on objective criteria. It is unacceptable, however, to discriminate against businesses simply because they are engaged in the lawful commerce of firearms, an activity protected by the Second Amendment."
Operation Choke Point involved the Department of Justice, Federal Deposit Insurance Corporation and other executive branch financial service regulatory agencies in an initiative to restrict the provision of financial services deemed at "high risk" of conducting illegal activity, that that were in reality simply out of favor with a highly political Obama administration. The operation targeted negatively affected many businesses, including those in the firearms, ammunition and related industries.
"Over the past several years, I have led the effort to combat Operation Choke Point, the Department of Justice and Federal Deposit Insurance Corporation-led initiative that sought to cut off legal businesses from the financial services they need to survive," Luetkemeyer said in a statement. "It is simple: the federal government should not be able to intimidate financial institutions into dropping entire sectors of the economy as customers, based not on risk or evidence of wrongdoing, but purely on personal and political motivations. I thank Chairman Hensarling for ensuring this legislation was brought to the House floor and my colleagues for putting an end to this dangerous precedent."
The post NSSF Praises Passage of U.S. Rep. Luetkemeyer's Legislation Ending Operation Choke Point appeared first on ODU Magazine-North America's #1 Digital Fishing Magazine.