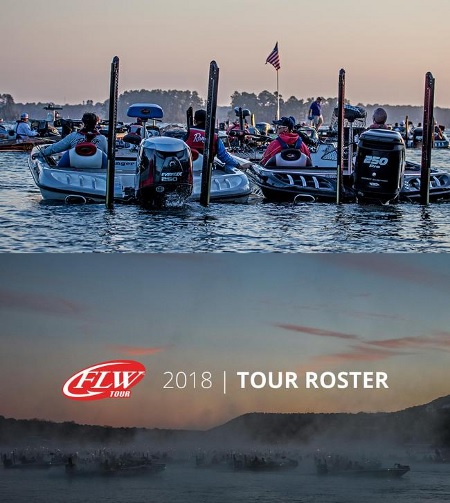 Fishing League Worldwide (FLW) announced today the complete professional angler roster for the upcoming 2018 FLW Tour season, the 23rd season of the FLW Tour. The 2018 FLW Tour features seven regular-season tournaments around the country with competition kicking off when FLW returns to Lake Okeechobee, Jan. 25-28 in Clewiston, Florida, and is headlined by the world championship of bass fishing, the Forrest Wood Cup at Lake Ouachita, Aug. 10-12 in Hot Springs, Arkansas.
Demand for entry into the 2018 FLW Tour was unprecedented, with well over 200 pros registering last week. Per the FLW Tour qualifying process, 160 pros gained priority entry based on finishing the 2017 FLW Tour ranked in the top 100 pros or in the top 10 co-anglers, finishing a 2017 Costa FLW Series division ranked in the top 10 pros, or winning the TBF National Championship or the T-H Marine BFL All-American as a boater.
Additionally, there was record demand for sponsor entries, which do not count toward the maximum field size. To accommodate qualified anglers and sponsor entries, including those from loyal Ranger boat owners, the 2018 FLW Tour will feature 187 pros.
Due to the increased field size, 10 additional spots will be added to the pro payout at $10,000 each. In addition to the $125,000 paycheck that is awarded to FLW Tour winners, FLW will now pay out at least $10,000 to pros down to 60th place. The co-angler payout will be $700 for each additional co-angler entry over 160, so the co-angler payout for 51st to 76th place will be $700.
The 2018 FLW Tour pro roster is headlined by two-time reigning Angler of the Year (AOY) Bryan Thrift of Shelby, North Carolina, and 2017 Forrest Wood Cup champion Justin Atkins of Florence, Alabama. They'll be joined by seven former FLW Tour AOY winners, seven former Forrest Wood Cup champions, and 25 Tour rookies in 2018.
"We couldn't be more excited to kick off another fantastic FLW Tour season next month at Lake Okeechobee," said Bill Taylor, Senior FLW Tournament Director. "The professional anglers on the FLW Tour are among the best in the world, and we look forward to showcasing them across eight of the finest fisheries in the United States. With our record-breaking demand for participation, we expect the 2018 season to be the most challenging, competitive season in the history of the FLW Tour."
In FLW Tour competition anglers are vying for valuable points in hopes of qualifying for the 2018 Forrest Wood Cup, the world championship of bass fishing. The 2018 Forrest Wood Cup on Lake Ouachita and is hosted by Visit Hot Springs and the State of Arkansas.
The post FLW ANNOUNCES 2018 FLW TOUR PRO ROSTER appeared first on ODU Magazine-North America's #1 Digital Fishing Magazine.