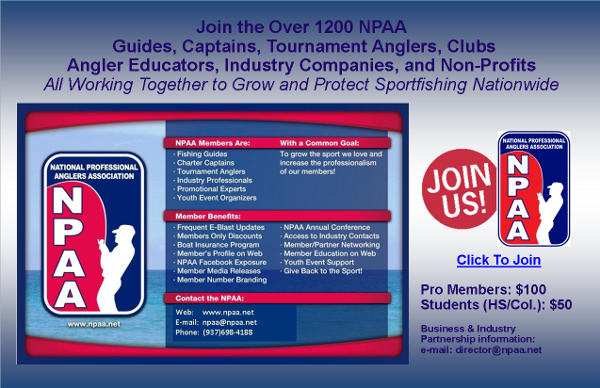 As you know, every day there are threats to sportfishing. Preserving fishing for future anglers is something that the National Professional Anglers Association (NPAA) is very passionate about. In fact, late last month, NPAA Executive Director, Patrick Neu was invited to testify at the U.S. Senate's Subcommittee on Oceans, Atmosphere, Fisheries, and Coast Guard hearing on harmful algal blooms. While Neu is not a scientist,…
2018 NPAA/FAF Kid's Clinic at Fish-O-Rama in Cedar Rapids, Iowa
Do-It Molds pro and NPAA member Steve Miller(#581 and family) conducted the 2018 NPAA/FAF Kids Clinic at the 16th Annual Fish-O-Rama event for the Cedar Rapids Boys and Girls Clubs.  Over 30 participants took part in the clinic and casting contest where everyone was a winner thanks to the prizes provided by the Future Angler Foundation and Do-It Molds.  This is the 6th year that NPAA members have conducted the Kid's…
Future Anglers Learn To Fish During Snooze In The Zoo
On Saturday, September 8th, NPAA Members, Karen Karch #121, Nick Schmal #123 and Greg Karch #138 and Learn 2 Fish With Us volunteers, educated families on fishing during the Snooze In The Zoo event.  The event was held at the Menominee Park Zoo which is located in Oshkosh, Wisconsin.  Families attending this event camped in the Menominee Park Zoo next to all the animals. One of the events during Snooze In The Zoo, was for families to…
Yamaha/Ranger Pro Spencer Deutz Hosts His Ninth Youth and Family Fishing Event of the Season
Stoney Point Resort on the shores of Minnesota's Cass Lake was the host for the final Masters Walleye Circuit (MWC) event of the season September 14th-15th. The MWC brought 160 anglers fishing for the top prize of over $15,000.   Spencer Deutz, a Ranger Boats and Yamaha Outboards Professional Angler, fished the event with his father Ron….
NPAA Supporting Partner News:
BRETT KING EARNS AOY TITLE
MOUNTAIN HOME, Ark. – Brett King of Hager City, Wisconsin, is almost certain that he put more miles on his boat and motor this year than anyone else on the National Walleye Tour, but in the end his decision to put his Yar-Craft 219 TFX to the test proved worthwhile as he earned the circuit's Angler of the Year title by 3 points.  The 20-year veteran of the marine industry joined Yar-Craft this year as a regional sales manager…
Sunline Crank FC and Fall Hooded Sweatshirts
Sunline Crank FC is 100% fluorocarbon with additional stretch designed specifically for crankbaits and reaction lures. Also great for rattle baits, jerkbaits, spinnerbaits, vibrating jigs and swim jigs. P-Ion Technology alters line surface to make it slicker, more abrasion resistant and longer lasting. Offered in clear: 10lb, 12lb, 14lb 16lb in 200yd spool.     Dean…
Cabela's Masters Walleye Circuit 2018 World Walleye Championship Set For Bays de Noc, Michigan, Oct. 4-6 Presented by Cabela's
North America's top two-person walleye fishing teams will square off on Lake Michigan's legendary Bays de Noc out of Escanaba, Michigan, Oct. 4-6 in the Cabela's Masters Walleye Circuit's 2018 World Walleye Championship.
Max Wilson Wins Cabela's National Walleye Championship at Lake of the Woods Brett King and Terry Hora take Angler of the Year titles
NEW SMYRNA BEACH, Fla. – Max Wilson, of Lomira, Wisconsin, weighed a combined total of 45.83 pounds to win the Cabela's National Walleye Tour Championship on Lake of the Woods, September 6. The angler won a fully rigged Ranger 620FS with a 250-horsepower Evinrude outboard, $15,000 in cash and $2,120 in Anglers Advantage cash for a total of $88,585…
Library of Innovative Croix Custom Ice Rods
Park Falls, WI – Ice fishing has evolved in truly revolutionary ways during the past decade. Gone are the days of sitting on a pail for hours at a time, jigging with a "rod" that had more in common with a broomstick than with a precision angling instrument. The contemporary ice enthusiast is mobile, hunting…
Yamaha Pro Brett King Earns 2018 Angler of the Year Title during Cabela's® National Walleye Tour
BAUDETTE, Minn.--(BUSINESS WIRE)– Yamaha Pro Brett King was named 2018 Lucas Oil® Angler of the Year title on Sept. 9 during the National Walleye Tour Championship on Lake of the Woods, Minn. King brought in a total of 41.80 pounds to finish fifth in the championship tournament, earning him the points needed to become the Angler of the Year recipient. He joins the ranks of Yamaha Pro Robert…
Simms Partners with Grizzly Creek Films to Tell the Story of Felipe Rodriguez
Bozeman, Montana – Simms Fishing Products preeminent manufacturer of waders, outerwear, footwear, and technical fishing apparel, is pleased to announce the launch of Casting in Jaguey Grande, a film that tells the real story of the changes facing the next generation of Cubans, far…
Evinrude E-TEC G2 Engine Data Integrated in Lowrance and Simrad Chartplotters
STURTEVANT, Wis.- Evinrude announce today that it has partnered with Navico, the parent company of Lowrance, Simrad and B&G to create an integrated experience for consumers using the Lowrance and Simrad navigation and sonar products with Evinrude E-TEC G2 engines. Creating a seamless experience for Evinrude E-TEC G2 and…
Cass Lake Hosts Cabela's Masters Walleye Circuit Regular Season Finale Sept. 14-15, Presented by Lowe Equipment Attachments
Cass Lake, Minn.- Dave Hernesman and Sean Colter of Grand Rapids, Minnesota, made the big bites count to top the leaderboard at the Cabela's Masters Walleye Circuit's regular season finale on Minnesota's Cass Lake out of Stony Point Resort, September 14-15, 2018..
FISHING: Smallmouth Smackdown
It was quite the week for Brandon Lester. August 23-26 saw the Tennessee angler put on a smallmouth clinic during the final regular-season event of the Bassmaster Elite Series on the St. Lawrence River; and, while he came up a pound and 2 ounces short of…
Lew's promotes Ken Eubanks to CEO; Gary Remensnyder remains actively involved as Director
SPRINGFIELD, Mo. – Lew's Holdings Corporation, a leading supplier of branded fishing and hunting gear and accessories, announced today that Ken Eubanks has been promoted to Chief Executive Officer. Gary Remensnyder will remain involved in the business as a member of the Company's Board of Directors. Mr. Eubanks, previously President of Lew's and CEO of…
New Musky "Downsizers"
Park Falls, WI – A ¾-oz. bucktail spinner was the prototypical lure employed throughout the early decades of musky fishing. In the years since, however, musky terminal tackle has become increasingly diverse and highly specialized. As lure manufacturers cranked out the big, bigger and gigantic baits demanded by…
NPAA Non-Profit Partner News:
Fighting Back Against Great Lakes Invasive Species
White Bear Lake, MN – Wildlife Forever has taken another innovative step towards fighting the spread of aquatic invasive species in the Great Lakes by donating a solarized watercraft cleaning station to the City of Duluth. Located within the St. Louis River estuary, the access at Munger Landing was recently outfitted with a CD3 Watercraft Cleaning Station to empower boaters to self-inspect and Clean Drain and Dry boats, trailers and equipment….
Traditions Media Comes Up Golden, Basks Briefly in the Glow
Communications team awarded the Association of Great Lakes Outdoor Writers' highest honor 
MANDAN, N.D.- The Association of Great Lakes Outdoor Writers (AGLOW) presented three recipients with the organization's highest honors at its 63rd annual…
Sportfishing Industry Welcomes Final Release of First-Ever Government Statistics on Industry's Contribution to U.S. Economy
Alexandria, VA –  The American Sportfishing Association(ASA), a founding member of the Outdoor Recreation Roundtable (ORR), today voiced its support for the final report recognizing the outdoor recreation industry as a significant contributor to the…
ASA shows support for Harmful Algal Bloom Bill
On Tuesday, Sept. 4 the American Sportfishing Association, and our conservation partners sent a letter to Representative Brian Mast (R-18-FL) showing their support forH.R. 6645, the Harmful Algal Bloom and Hypoxia Research and Control Act of 2018. The bipartisan bill reauthorizes the National Harmful Algal Blooms and Hypoxia Program and the federal Interagency Task Force, which expires on Sunday, Sept. 30. It also adds the Greater Everglades…
Tools to Fight War on Invasive Species in new Wildlife Forever Catalog
White Bear Lake, MN – As lake and river communities continue to fight the spread of invasive species, Wildlife Forever unveils an arsenal of tools to help educate the public and provide on-the-ground, access based tools to help boaters Clean Drain and Dry (CD2) boats and equipment. "The spread of invasive species continues but despite a…
NPAA Member & Partner Articles:
Navionics News….
Navionics News…. August 28, 2018 
Locate fishing spots at a glance with multiple depth ranges in our Boating app!   The Fishing Ranges feature allows to customize and display on our SonarChart

map layer up to 5 depth ranges at the same time! The app interface makes it really intuitive to set: choose a color, select the depth values and name your range: the map will show depth…
The post NPAA NewsBLAST – September appeared first on .