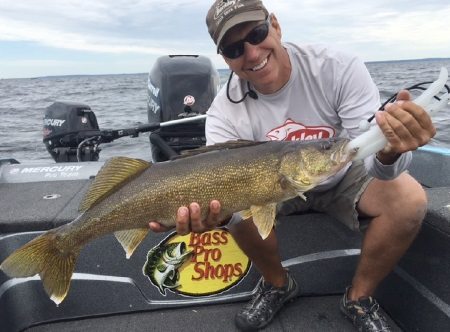 Jim Carroll, long time Pro Fisherman and fishing seminar speaker is fighting a battle with cancer.   Recently Jim did a week of tests at Mayo Clinic and he has started treatment, including Chemo and Radiation.  He has a rare form of cancer and knows this is just the beginning of his journey.  He is tough and has vowed to "fight like hell and ring the bell."    He has temporarily moved to Rochester, MN (Mayo) to be closer to his doctors and the treatments he is taking daily.  We wish Jim all the best with his treatment.
On May 10th, the National Walleye Tour will be in Garrison, ND – Jim's home waters.   Although Jim will not be there in person, we will all be thinking of him.   There will be a fundraiser at the rules meeting to help with some of his medical expenses. Professional anglers and co-anglers in attendance will have the opportunity to bid on a variety of items, including gift cards, rods, reels, and much more.  There will also be raffles and T-Shirts with special "JC Ring The Bell" printing on the back. So, bring some extra money to the NWT registration/rules meeting and help Jim out!
If you are attending that event, Pros – consider donating a rod and reel or a box of lures, etc. Co-Anglers – consider bringing some extra cash along to help a good cause!
Anyone wishing to donate an item for the auctions can send it to the following person or drop it off in Garrison.  The addresses are below. If you are going to donate items, please email Dennis or Keith ahead of time so your items can be added to a list.
If you would like to make donations to help out with medical expenses mail them to Dennis (address below). Paypal is another good option, under Paypal put the recipient as [email protected]. You can make donations in Paypal from another Paypal account or via a credit card.
If you would like to help out in other ways (maybe we will hold something at other events) – don't hesitate to contact Dennis or Keith.
Thanks for your support for one of our fellow anglers – and JC – "Ring The Bell".
Dennis and Keith
Send Auction/Raffle Items or for any questions contact:
Dennis Bense
3100 Morgan circle
Bismarck, ND 58503
701-721-7105
Drop off Auction/Raffle Items at:
North Country Marine
4034 Highway 37
Garrison, ND 58540
Add Items to Auction/Raffle list or for any questions contact:
Keith Kavajecz
920-540-7000
Spencer Deutz Hosts Future Angler Clinic in Ortonville, MN
April 21st-22nd, 2017 marked the fourth time the Cabelas Masters Walleye Circuit (MWC) held a regular season event on Big Stone Lake with Ortonville, MN being the host city. Big Stone Lake is a Minnesota/South Dakota boarder water stretching 26 miles from end to end. Fishing can be fabulous on Big Stone however with a 12 degree drop in water temperature just two days prior to the first day of the event; fishing was as tough as the weather. Many… Read More
Hundreds of Future Anglers Learn to Fish at the Iroquois National Wildlife Refuge
On April 22 National Professional Anglers Association (NPAA) member Brent Long #109 and daughter Brittany Long worked with youth and adults during the "Spring into Nature" event held at the Iroquois National Wildlife Refuge in Basom, NY.  In all 850 people attended the event throughout the day. Brent and Brittany held both a morning and afternoon Kids and Family fishing clinics. Kids and adults new to fishing… Read More
Captain Greg, You're Not Boring!!
Friday, April 28th, Certified Angler Educator Greg Karch with Learn 2 Fish With Us and NPAA Member #138, hosted a fishing seminar to introduce Woodland Elementary third graders to the Fishing Basics.  Woodland Elementary Is located in Kimberly, Wisconsin.  While Greg or should I say 'Captain Greg' was hosting his Fishing Basics seminar the kids entertaining laughed and said 'You're not boring!!!'.  Greg laughed and said 'I sure hope… Read More
The Reel Shot & Learn 2 Fish With Us Host Ladies Night
On Monday April 10th, The Reel Shot and Learn 2 Fish With Us hosted a Ladies Night at The Reel Shot's Appleton location.  Learn 2 Fish With Us Certified Angler Educator, Greg Karch, NPAA Member #138, hosted a fishing seminar which introduced ladies, young and old, to the different skills needed to fish.  These skills included; safety while fishing, different fishing combo's, different fishing presentations, how to tie a Palomar…Read More
NPAA Supporting Partner News:
National Walleye Tour ventures into unknown territory
GARRISON, N.D. – After opening the 2017 season with a traditional stop at Lake Erie, the Cabela's National Walleye Tour is set to embark on new territory at an intriguing time. Lake Sakakawea, the third largest man-made reservoir in the United States, is set to host the world's best walleye anglers May 11-12, right after the fish complete their annual spawn. While Sakakawea boasts a healthy population of walleyes, few anglers… Read More
Cabela's North American Bass Circuit 2017 Tournament Schedule Includes Midwest's Hottest Bass Fisheries
Ponca City, Okla.-The Cabela's North American Bass Circuit kicks off its 2017 tournament season with what many anglers are saying is the very best schedule in all of bass fishing circles this year and it all starts May 13th on the smallmouth bass paradise of Lake Michigan's Sturgeon Bay. Read More
Classic Bass Champions Tour Will Kick Off Inaugural Season at Rocky Reef Resort on Lake Mille Lacs
Zimmerman, MN – Classic Bass (ClassicBass.com), a leader in providing bass tournament anglers informative current information, and presenter of the Champions Tour, is pleased to announce that Rocky Reef Resort, located in Onamia, MN, will be the host for the first event of Champions Tour taking place on Lake Mille Lacs on June 10th. The… Read More
FishUSA Acquires GLOutdoors.com
FAIRVIEW, Pa.- FishUSA, a world leading online retailer of sport fishing tackle and related products, today announced it has acquired GLOutdoors.com, a Great Lakes-based online retailer of salmon and walleye fishing tackle and trolling gear. GLOutdoors.com, established in 2003, offers name-brand fishing tackle specific to the Great Lakes walleye and salmon fisheries. Its inventory features brands currently carried by FishUSA, including Dreamweaver,…Read More
Early Spring Fishing With ODU Magazine
This edition will take our loyal and new ODU readers on a rather interesting trip. On the Fishing Zone side anglers can look forward to coverage on bass, walleye, crappie, sturgeon, trout, bowfishing, tackle and boating tips. ODU then switches to outdoor pieces that will may think more about our pass time and also introduce you to falconry from an expert. Finally our Hunting Zone talks guns and hunting predators, for those of you…Read More
Big Stone MWC final story, Arndts win it all!
Ortonville, Minn.-Hard-fishing brothers Artie and Scott Arndt charged from 10th place on day one all the way to the winner's circle to claim top honors at the Cabela's Masters Walleye Circuit's Big Stone Lake regular season qualifier presented by Lowrance Electronics April 28-29 out of Lakeside Park in downtown Ortonville, Minnesota. It was the second year in a row that a pair of Arndts topped the leaderboard at Big Stone. In 2016, Artie and son Tanner won the MWC qualifier…
From Canada with Love
Park Falls, WI- And now we go to our Canadian correspondent, Karl Kalonka, for blue-chip bass fishing tips… Say what? (Insert sound of vinyl record screeching to a halt.) Yes, friends, the Canadian frontier isn't only about lifer walleyes, paddle-length pike and legal Cuban cigars. Our neighbor to the north also tenders world-class smallmouth AND… largemouth bass fishing….Read More
Slow Boat to $9Gs: Locals Take Second AWWS Wisconsin Nitro Boats Open at Winneconne
Call it home field advantage times 9,000: Steve Wagner, from Winneconne, and father Russ, from Pewaukee, knew what it would take to win on the Wolf River system last Sunday. It came down to either a slow ride downstream, or a slow ride upstream, and Steve's last-minute decision to go way upriver to just below New London was what won them $8,000 in AIM cash and $1,000 from Warrior Boats, April 23 in the… Read More
Raymarine Introduces Evolution™ EV-150 Hydraulic Autopilot System Affordable autopilot system
WILSONVILLE, OR – Nobody wakes up at 4 AM to go steering. Operating the boat is simply a means to an end-like getting on a hot bite before anyone else, or making that next port of call on time. That's why more and more well-equipped boats of all sizes are fitting out with Raymarine's award-winning Evolution™…Read More
The latest software updates released by Lowrance, Simrad and B&G for their chartplotters introduce new advanced features available when using Navionics charts.
The latest software updates released by Lowrance, Simrad and B&G for their chartplotters introduce new advanced features available when using Navionics charts. SonarChart™ Live  SonarChart™ Live allows you to create new 1 ft HD bathymetry maps of your favorite lake, harbor or fishing spot in real time on your plotter screen. Advanced Map Options Customize your view of Navionics charts even more by adjusting SonarChart™ density. With… Read More
EVINRUDE E-TEC G2 ENGINES WIN 2017 TOP PRODUCT HONORS
STURTEVANT, Wis. – BRP, a world leader in powersports, announced today the award-winning Evinrude E-TEC G2 engines 150, 150 H.O., 175 and 200 horsepower models have been selected as Top Products of the Year for 2017 by Boating Industry magazine. Building on the success of the 200 High Output (H.O.) to 300 horsepower models launched in 2014, the mid-range models have delivered…Read More
NPAA Tournament Partner News:
Set for May18-20, 2017, team event offers great fishing and high stakes competition.
STURGEON BAY,WI – One of competitive bass fishing's longest running rites of spring marks a historic milestone this season. The Sturgeon Bay Open Bass Tournament is celebrating 27 years of team-format action on one of the world's premier smallmouth bass fisheries. Held in mid-May on Lake Michigan's legendary Sturgeon Bay, the non-profit event has donated more than $250,000 to local charities since…Read More
 
Sturgeon Bay Bass Tournament Enters Second Year Great Community, Great Tournament!
The Second Annual Sturgeon Bay Bass Tournament (SBBT) will be held on May 12-13, 2017.  After a successful first year, tournament organizers are confident this year's tournament will be even bigger and better, yet still maintaining the focus of a family friendly event. This year's tournament again will again be held at the Sawyer Park in Sturgeon Bay, with first flight taking off at 8:00 a.m. and returning…Read More
Recreation Industry Leaders Complete Important Day of Policy Discussions with Interior Secretary Ryan Zinke
Alexandria, VA –  Senior recreation industry corporate and trade association officials met with Department of the Interior Secretary Ryan Zinke on Monday, April 24, capping a full and encouraging day of discussions with administration officials. The meetings were organized by the Outdoor Recreation Industry Roundtable (ORIR) and began in Shenandoah National Park. Twelve… Read More
Senior Administration Officials and Recreation Industry Leaders Discuss Recreation Expansion and Improvements
Alexandria, VA- Senior officials from the U.S. Department of the Interior (DOI) and U.S. Forest Service met with more than 30 representatives of the outdoor recreation industry at Shenandoah National Park April 24 to discuss improving visitor experiences on America's public lands and waters. The meeting was hosted by…Read More
Congress is Considering a Backroom Deal for More E15 Despite Impact on Anglers
Congress is Considering a Backroom Deal for More E15 Despite Impact on Anglers A backroom deal is brewing in Congress that could push more E15 into the market, putting millions of boaters at risk.  America's anglers need you to raise an urgent voice against this deal, and fight for our rights.  Click through the link below to send a letter opposing this bill to your US Senators and US Representative. Please forward this message to as many anglers and friends as possible. … Read More
Recreational Fishing and Boating Groups Send Message to Trump Administration and Congress: Now is Time to Fix Broken Ethanol Policy
WASHINGTON, DC – In a letter sent to the Trump administration and Congress, a coalition of recreational boating and sportfishing interests urged action to fix America's broken ethanol policy. The American Sportfishing Association (ASA), Boat Owners Association of The United States (BoatUS), National…Read More
More Than 100 Outdoor Recreation Executives Sign Letter Urging the Administration to Keep the "Great" in the Great Outdoors
Alexandria, VA –  In an open letter published in the Wall Street Journal, executives from more than 100 outdoor recreation industry companies praised the agenda being set by Department of the Interior Secretary Ryan Zinke during the first 100 days of Donald Trump's presidency. These leading executives represent many segments of the $887 billion outdoor recreation industry…Read More
New "Modern Fish Act" is a Game Changer
New "Modern Fish Act" is a Game Changer Earlier this month, a tremendous bill was introduced in the US House that, if passed, could fix many of the issues facing America's anglers.  The bipartisan bill is known as the "Modernizing Recreational Fisheries Management Act of 2017." It would put an end to many of the hardships caused by the current one-size-fits-all system of fisheries management by implementing new management practices that were actually designed to manage recreational… Read More
The post NPAA NewsBLAST May 2017 appeared first on ODU Magazine-North America's #1 Digital Fishing Magazine.