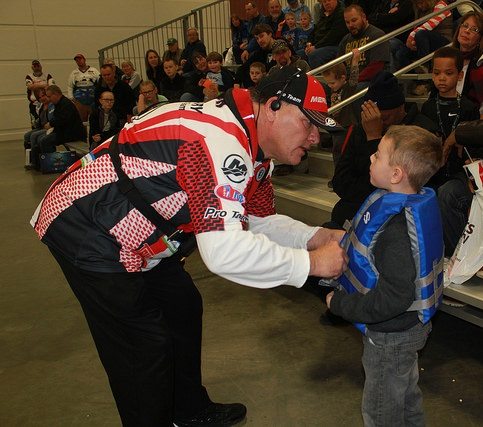 Cherney Microbiological Services, Ltd. Sponsors Tournament Walleye Angler Steve Kuchenberg – Cherney Microbiological Services, Ltd would like to introduce its first sponsored angler, Steve Kuchenberg. As a leading food safety testing laboratory one might question their link to fishing. Headquartered on the shores of one of the leading walleye fisheries in the nation, the company was founded and continues to be led by fishing and outdoor enthusiasts Debra & Marvin…Read More
Future Anglers Attending The Wisconsin Fishing Expo Learn The Fishing Basics – Recently, Learn 2 Fish With Us Certified Angler Educator, Greg Karch, and Karen Karch shared their passion for fishing through hosting two fishing seminars at the Milwaukee Journal Sentinel Sport Show.  Greg presented his Fishing Basics seminar right next to Lake Milwaukee which had a boat, pontoon along with a few kayaks.  The families were so excited to learn all the skills needed for fishing which included safety,…Read More
Learn 2 Fish With Us Educates Third Graders To The Sport Of Fishing
Learn 2 Fish With Us Educates Third Graders To The Sport Of Fishing  On Friday March 24th, Learn 2 Fish With Us Certified Angler Educator, Greg Karch, NPAA Member #138, hosted a fishing seminar to introduce Westside Elementary third graders to the sport of fishing. Westside Elementary Is located in Kimberly, Wisconsin.  The afternoon started off with the third graders asking Greg questions such as how fast does his boat go, what is the biggest fish he has caught and what was his favorite food? …Read More
Learn 2 Fish With Us Shares Their Passion For Fishing At Sport Show
Last month, Learn 2 Fish With Us Certified Angler Educator, Greg Karch, and Karen Karch shared their passion for fishing through hosting two fishing seminars at the Milwaukee Journal Sentinel Sport Show.  Greg presented his Fishing Basics seminar right next to Lake Milwaukee which had a boat, pontoon along with a few kayaks.  The families were so excited to learn all the skills needed for fishing which included safety,…
NPAA Supporting Partner News:
Yamaha Marine Group announces personnel moves
Yamaha Marine Group announces personnel moves Yamaha Marine Group announced several employee promotions and organizational changes in the marine marketing division, including the promotion of Martin Peters to senior manager of marine communications and government relations. "One of our top priorities at Yamaha is to continue to strengthen our brand, and I believe these structural changes will help us in that regard," Yamaha Marine Group president Ben Speciale said in a statement. "I am…Read More
EVINRUDE ANNOUNCES RUN FEARLESS SALES EVENT WITH EIGHT YEAR COVERAGE ON EVINRUDE E-TEC ENGINES
STURTEVANT, Wis. – BRP, a world leader in powersports, announced today an industry-leading, eight year, factory-backed extended service coverage on all Evinrude E-TEC and Evinrude E-TEC G2 engines. This exciting new, unparalleled offer runs from April 17, 2017 through June 30, 2017. "Evinrude engines are not only the most thrilling ride on the water, but our engineering team has… Read More
Defibaugh, Mochan Win Cabela's National Walleye Tour Event on Lake Erie
NEW SMYRNA BEACH, Fla.- Pro-angler Mike Defibaugh, of Bellefontaine, Ohio, brought in a two-day total of 64.65 pounds of walleye to win the pro-angler category of the Cabela's National Walleye Tour (NWT) season-opening event at Huron, Ohio, on April 13. The angler won $15,000 and a new fully rigged Ranger 1880 with an Evinrude outboard… Read More
Classic Bass Champions Tour Announces Site Sponsor, Quarterdeck Resort for Gull Lake Event
Zimmerman, MN – Classic Bass (ClassicBass.com), a leader in providing bass tournament anglers informative current information, and presenter of the Champions Tour, has announced that Quarterdeck Resort, located in Nisswa, MN, will be the host for the Champions Tour event taking place on Gull Lake August 5th. The Classic Bass Champions… Read More
Phantom Lures Appoints JRC Sales
Ramsey, MN- Phantom Lures has recently named Jack Rosenswie Company (JRC) as the company's professional sales representative group. For Phantom, this announcement is a great step in the continued growth of the company. "We look forward to seeing the Phantom brand expand throughout the country with the help of JRC." stated Phantom Lures Co-Owner, Roger Neilson, Jr. "Being able to introduce our baits to new markets will be crucial to our success." JRC is focused…Read More
 
ST. CROIX ROD: "Twice" is a Charm
Park Falls, WI  – In terms of competitive bass fishing, you can't force a win; when it's meant to happen, it will. Such was the case for the accomplished college bass team at McKendree University. Through a competitive career spanning four years, numerous members of the Bearcat crew had scored high finishes at major college events. Yet none had pulled off a Bassmaster…Read More
Navionics To Improve Lake Mapping with SonarChartTM Events at AIM Weekend Walleye Series Tournaments
This summer at the AIM Weekend Walleye Series events in Minnesota, Wisconsin and North Dakota Navionics announces they will be hosting a series of SonarChartTM events held in conjunction with the AIM Weekend Walleye Series tournaments to improve lake cartography. This will enable owners of Navionics Charts in mobile and plug n play to update their Navionics SonarChartTM layer with an active subscription to the Freshest Data program. "Anglers and boaters… Read More
RARE UNDERWATER VIDEO: Uncut Angling's Aaron Wiebe Captures Epic Live Strike on an Aqua-Vu HD Camera
C
ross Lake, MN – Each and every day, while we fight fires, pound nails or jab computer keys, our minds never venture far from fishing. And yet most of us have no earthly way to imagine the kind of radical, electrifying stuff that happens below the surface, even as we earn our keep. Mostly, it's just fish being fish-swimming, spawning,…Read More
ST. CROIX ROD: Big Risk in a Small Town
Park Falls, WI – One of the many programs of the Freshwater Fishing Hall of Fame, based in Hayward, Wisconsin, is recognizing individuals, organizations and institutions who have made significant and lasting contributions to the sport and heritage of freshwater fishing. That criteria certainly applies to St. Croix's Gordon Schluter. "Gordon Schluter's impact…Read More
Whitson, Campeau Win Cabela's Masters Walleye Circuit Detroit River Tournament
Trenton, Mich.-Ontario's Greg Whitson and Mark Campeau rallied to score an exciting come-from-behind win at the Cabela's Masters Walleye Circuit's Detroit River regular season qualifier April 7-8 out of scenic Elizabeth Park in Trenton, Michigan. "This is great," said Whitson, of Windsor. "This is our seventh time fishing the MWC at Detroit. Mark…Read More
U.S. Coast Guard Selects FLIR and Raymarine
WILSONVILLE, OR (April 3, 2017) – FLIR Maritime announced recently that it has been awarded a $50 million indefinite delivery, indefinite quantity contract to provide marine electronics systems under the U.S. Coast Guard's Scalable Integrated Navigation Systems 2 (SINS-2) program over a five-year period providing the purchaser a…Read More
Fishing The WildSide Unveils New Content-Rich Website
WALKER, MN-Fishing the WildSide is proud to announce the launch of a new website that combines cutting edge fishing information aimed at serious anglers with the latest updates on the company's consulting, marketing and product development services. "To create a portal more in tune with what today's anglers want, we blended our two existing sites into FishingTheWildSide.net," reports company founder Chip Leer, explaining…Read More
Classic Bass Champions Tour Announces Event Rosters
Zimmerman, MN – Classic Bass (ClassicBass.com), a leader in providing bass tournament anglers informative, current information, and presenter of the Champions Tour, is excited to announce the rosters for its inaugural season.  The exclusive fields for the first three events are made up of 24 anglers per event that… Read More
Partnering with the "Proving Grounds" Legendary names – St. Croix Rod and Angler's Inn – unite to offer the pinnacle in bass fishing
Park Falls, WI – Proving grounds. It's where companies go to push the envelope in product development, punishing and testing gear to the nth-degree. Say, for example, you wanted to produce the most cold-tolerant car battery on earth. You'd be packing for International Falls, MN ("Ice Box of the Nation") and The Cold Weather Testing… Read More
 PLANO PRO ENGINEERS MID-TOURNAMENT CHARGE TO EARN PROFESSIONAL BASS FISHING'S MOST PRESTIGIOUS TITLE
PLANO, IL – Sitting on a scant total of just 8 pounds, 9 ounces of bass at noon on day two of the three-day 2017 GEICO Bassmaster Classic at Lake Conroe, Texas, 25-year-old Bassmaster Elite angler Jordan Lee had no idea where he'd be standing just 28 hours later. As… Read More
 
NPAA Tournament Partner News:
South Dakota Elite Walleye Series Partners with Warrior Boats For 2017 Season All Series Events to be Televised in 2017
Pukwana, SD, – The South Dakota Elite Walleye Series is proud to announce that Warrior Boats, Inc. has been named the main title sponsor for the upcoming 2017 season.  "This partnership gives the South Dakota Elite Walleye Series and our anglers, the type of publicity that we all need to keep growing. I can't thank Kent Andersen and the folks at Warrior…Read More
NPAA Non-Profit Partner News:
Learn 2 Fish With Us Educates Third Graders To The Sport Of Fishing
Learn 2 Fish With Us Certified Angler Educator, Greg Karch, NPAA Member #138, hosted a fishing seminar to introduce Westside Elementary third graders to the sport of fishing. Westside Elementary Is located in Kimberly, Wisconsin.  The afternoon started off with the third graders asking Greg questions such as how fast does his boat go, what is the biggest fish he has caught and what was his favorite food? …Read More
Invasive Species Initiative Making a Difference
Brooklyn Center, MN – Wildlife Forever is proud to announce the release of the Clean Drain Dry Initiative

annual accomplishment report. Working in tandem with state and federal agencies, local governments, universities, lake associations and the outdoor industry, national invasive species prevention messaging generated over 130 million outreach impressions. "This report showcases the benefit… Read More
Tell Congress – It's time to stand up for recreational fishing
There's nothing like the adventure of saltwater fishing. The adrenaline rush of hooking into a billfish, a big striper, or hard-fighting redfish is second to none. That thrill is undoubtedly what attracts over 11 million Americans to the sport. Unfortunately, the current laws that govern federal saltwater fisheries are out of date and have never taken recreational anglers into account. This has led to shortened or even cancelled seasons, reduced bag limits, and unnecessary restrictions. The…Read More
NPAA Member & Partner Articles:
How to find a title sponsor
How to Land the Biggest Fish of Them All: A Title Sponsor Looking at all the wrapped boats at a tournament one starts to wonder how to get a sponsor of their own. Sure, you can start by looking in your tackle box and start blindly contacting the manufacturers of your favorite products. But, this will only get you so far.  It's time to think outside the boat. When it comes to marketing Steve Kuchenberg knows a thing or two.  As an associate director of global strategic marketing for a life… Read More
 
The post NPAA NewsBLAST April 20, 2017 appeared first on ODU Magazine-North America's #1 Digital Fishing Magazine.