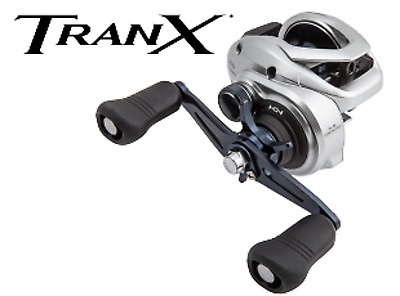 When the situation calls for a reel durable enough to cast larger lures and fight bigger fish, and is equally at home in either fresh or saltwater, Shimano offers two new sizes to its Tranx baitcasting reel series – the 300 and 400. Joining the popular Tranx 500HG and 500PG (a huge favorite among musky anglers and saltwater tuna and striper anglers alike), each new Tranx is offered in four models – the Tranx 300, 400, left-hand retrieve 301 and 401 with powerful 5.8:1 gear ratios; and the Tranx 300HG, 400HG, left-hand retrieve 301HG and 401HG, all with fast 7.6:1 gear ratios.
All the Tranx 300 and 400 size reels feature Shimano's HAGANE Body for added durability by reducing any frame distortion or flex when hooked into a big fish. Both sizes also feature Shimano's X-Ship bearing supported pinion gear and High Efficiency Gearing (HEG) super strong no flex frame and gearing. These two technologies work together to provide massive cranking power with a smooth, effortless retrieve. X-Ship also provides a tremendous amount of freespool by eliminating any friction between the pinion gear and spool shaft, providing a reel that casts great distances. Both fresh and saltwater anglers know that keeping their lure in the water longer is going to trigger more strikes, plus accurate casts to busting tuna and stripers can be a huge advantage.
For further durability, Shimano adds its CoreProtect technology to provide water resistance without creating a heavy feel when reeling. While a much needed feature in harsher saltwater environments when used off the beach, on jetties or out of a boat, musky anglers will appreciate the advantage when fishing in nasty weather late into the season.
Within the freshwater fishing world, bass anglers now have the needed reels for throwing big swimbaits, umbrella rigs and big deep diving cranks. Musky hunters are well aware of Tranx 500 for big bladed baits and 'pounder' plastics, and can now look to the smaller size 300 and 400 – in both 'power' and 'speed' models – to cast a whole arsenal of lures.
When tackling the salt, the new Tranx reels offer advantages for a wide range of situations. Casting for schoolie stripers and bluefish is simply too much fun with HG versions, or bottom jigging for sea bass and cod with powerful 5.8:1 gear ratio models can't be beat. Anglers will appreciate casting accuracy and distance when using big swimbaits and topwaters around rock pilings and inlets when targeting snook, plus the Tranx reels are ideal for live-baiting pilchers for tarpon and also casting big plugs off the beach. Break out a Shimano Coltsniper or Pop-ORCA and anglers rely on the Tranx durability and line capacity for tuna. Big redfish? Check out a Tranx 300 and get ready for a blast.
The Tranx HG reels retrieve 40-inches of line per crank with their single handle and durable, lightweight CI4+ knob. The low gear reels retrieve 30-inches of line and have a double handle with oversized rubber knobs. The 300 size reels will hold up to 190 yard of 50-pound test PowerPro (or 180 yards of 14-pound mono), while the 400 size Tranx can handle 170-yards of 65-pound PowerPro (or 260 yards of 14-pound mono.)
For more information on the new Tranx 300 and 400 size reels, see your local tackle dealer – visit the Shimano web site at http://fish.shimano.com – or call Shimano's product support team at 877/577-0600 (6 am to 5 pm Pacific Standard Time).
MSRP:
Tranx 300, 301, 200HG, 301HG – $279.99; Tranx 400, 401, 400HG, 401HG – $299.99
Line Capacity:
Tranx 300 sizes –
PowerPro Braid: 40#/195 yards; 50#/190 yards; 65#/125 yards
Tranx 400 sizes –
PowerPro Braid: 50#/275 yards; 65#/170 yards; 80#/140 yards
The post New Speed and Power With Shimano Tranx Models appeared first on ODU Magazine-North America's #1 Digital Fishing Magazine.