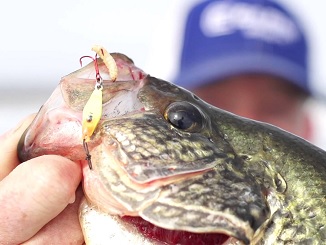 When an ice angler wants to crank the noise-o-meter up to a 10, the bait to turn to is the new Clam Pro Tackle Rattlin' Blade Spoon

. Far louder than any of the competition, sold in four weights (1/16 oz., 1/8 oz., 1/4 oz. and 3/8 oz.) and treble hooks in #12, #10, #8 and #6, the noisiest spoon in the tackle box comes in six colors: silver tiger, gold tiger, glow firetiger, glow chartreuse tiger, glow rainbow tiger and glow red tiger. Stainless steel BBs rattle within a Pyrex glass bubble to attract fish from great distances. Curious fish can even see the BBs move within as they roll back-and-forth causing movement within movement.
The quality of the stainless steel BBs means a perfect round shape, without pockmarks like lead orbs, and the more dense materials lead to louder noise. The Pyrex bubble will stand up to even the biggest of game fish hits. The action on this spoon flutters as it is jigged and the glow-in-the-dark and firetiger patterns are exactly what fish crave. Bait with Maki plastics, a minnow head, euro larvae, spikes or wax worms to dial in on crappie, perch, trout, walleye and sauger. With its knife-like profile and frontal rhombic-triangle design, the action of the Blade Rattlin' Spoon is unique as it flutters its way down the hole.
"The Pyrex glass makes this a lot different from others I've seen," said Jason Mitchell, pro staff member of Clam Pro Tackle and host of Jason Mitchell Outdoors television. "The stainless steel BBs really roll back and forth in that chamber; even a dead stick with a minnow swimming is enough to make sound." Mitchell appreciates how just a tiny quiver creates noise with this spoon—not the case with other rattle baits.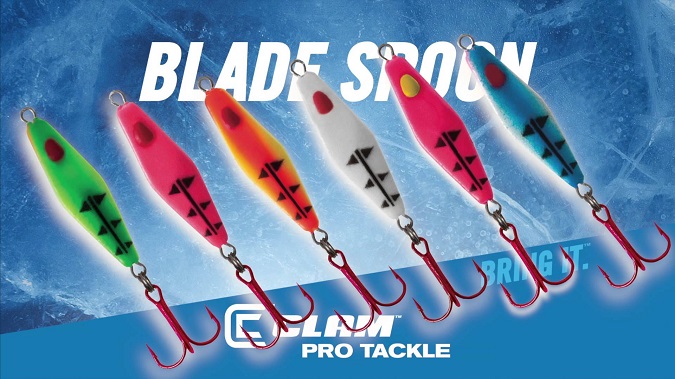 "It's a phenomenal concept. Fish are attracted to certain frequencies of noise. The consistency of this rattle chamber and how easy it is to engage is what makes this such an effective bait," concluded Mitchell. Suggested retail for the Clam Pro Tackle Blade Rattlin' Spoon is $4.99 to $5.79.
For more information on Clam Outdoors go to http://www.clamoutdoors.com
The post More Noise W/ Clam Pro Tackle Rattlin' Blade Spoon appeared first on .