Clam Corporation has a rich history. The ice fishing industry has grown by leaps and bounds over the last few decades and we're proud to be one of the most integral parts of the sport from the beginning of modern ice fishing to today. Our ongoing dedication to being the leader in new technology and gear has brought us to the forefront of the sport. Visit them and their staff at any of the following events.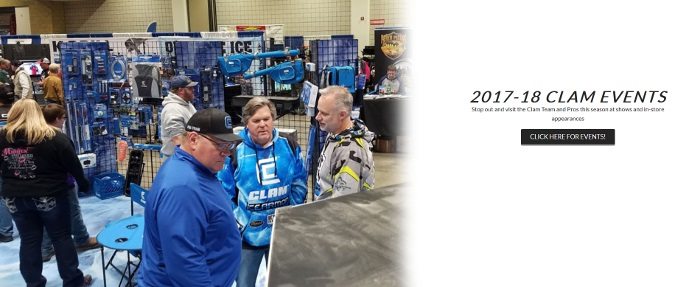 Scheels ICE FEST (St Cloud) – Presented by Clam
Fri Nov 10th – Sat 11th (CST)
November 10th: 9am -9pm November 11th: 9am-9pm
Fri Nov 10th – Sun 12th (CST)
General Information The Dakota Angler Ice Institute was started in 2008 to give ice fishermen an apportunity to see the latest and greatest in the ice fishing industry, but also learn from the experts…
Scheels ICE FEST (Fargo) – Presented by Clam
Fri Nov 17th – Sat 18th (CST)
November 17 From 9am-8pm November 18 From 9am-5PM
Fri Nov 17th – Sun 19th (CST)
Presented by Clam Outdoors Join us in November at the National Sports Center. The Hard Water Ice Fishing Expo is coming back to the National Sports Center! Check out the latest gear for 2018 and get u…
PAUL ICE FISHING & WINTER SPORTS SHOW
Fri Dec 1st – Sun 3rd (CST)
The LARGEST Ice Fishing Show in the Country! FIRST 100 ATTENDEES RECEIVE A FREE CLAM FISHING BUCKET! Join us at the St. Paul River Centre to explore more than 190 exhibits with products and services d…
Fri Dec 8th – Sun 10th (CST)
Join us at the Wisconsin State Fair Park to shop row upon row of exhibits with products and services dedicated to the die-hard ice fishing and winter sports enthusiast. View all new ice fishing produc…
—
Clam History
1979: The first Trap Attack is held. After Dave Genz discovers he is too busy to hold his annual Christmas party, he organizes an invitation-only fishing tournament on Pelican Lake in Orr, Minnesota during the first week of January. Fifty individuals participate. The following year's tournament is held in temperatures reaching 44 degrees below zero. The tournament is moved to mid-March the following year.
1980: Dave Genz builds the first Fish Trap® in his garage. His wife, Patsy, sews the canvas pieces together on her home sewing machine. A total of five are assembled. Over the next five years, production increases from five to eighty, and eventually to a few hundred. Ultimately, Patsy is relieved of her sewing duties and the ice shelters are professionally sewn. His original model is now the standard in the industry for all flip-over ice shelters and Clam still proudly sells the re-designed and updated original favorite.
1992: Dave Genz joins his Fish Trap® brand with The Clam®. The two former competitors unite their brands and sell side by side.
1993: With the rapid growth of the ice fishing industry, Clam quickly becomes the largest manufacturer of ice shelters in North America.
1997: Ice Team is formed when the President of Clam formulates the idea on the back of a napkin. Original members include Clam and Vexilar. Ice Team becomes the world's largest ice fishing organization. It is owned by Clam Corp. and the organization's mission is to educate existing ice anglers, recruit new ice anglers, and promote the best tools on the ice.
2003: Clam Corporation is formed when Dave Osborne purchases it from USL Products. Now a privately held company, Clam focuses its efforts on becoming the leading innovator of products for the ice fishing industry.
2004: Ice Armor, a new line of clothing, is introduced. This cold weather outerwear is built specifically for the demands of ice fishing. The product line was launched with the iconic "Blue Suit", which becomes hugely popular and a benchmark for all outerwear to follow.
2005: Clam Corp. trademarks their distinctive color of blue on Fish Trap® and The Clam®, making the color exclusive to their ice shelters.
2005: Clam Corp. purchases Polar Sports, maker of ATV utility trailers.
2005: Clam Corp. manufacturing and administrative offices merge into a 100,000 sq. ft. facility in Medina, Minnesota.
2006: The Fish Trap X-series® of ice shelters debut as "the best ice fishing shelters ever built".
2007: Clam engineers use Thermal TrapTM insulation in creating Fish Trap Thermal X ice-fishing shelter. Thermal X Fish Trap is tested and shown to be 28 degrees warmer than comparably sized and heated shelters lacking this new insulation. Thermal Trap is engineered into other products, too, such as Ice ArmorTM X Gloves and Mitts and improved Extreme Weather suit.
2009: Clam introduces 13 new models of shelters for the 2009/10 Ice Fishing Season as well as a wide array of accessories for ice fishing. The new accessory line-up includes the Dave Genz line-up of ice fishing combos, ice fishing line and a new jig box to keep your tackle neatly organized. The IceArmor brand continues its expansion with the introduction of several new outerwear items incluing a Red/Gray Xtreme suit in womens and youth sizing, insulated and un-insulated bibs as well as new headwear and boots.
The post Clam Outdoors Ice Fishing Events appeared first on ODU Magazine-North America's #1 Digital Fishing Magazine.