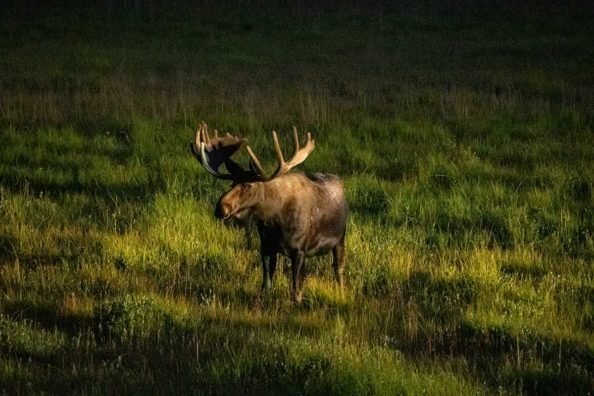 In search of a good moose hunting rifle? We've got some ideas.
There's a lot of choices out there when considering big game hunting guns, but a moose rifle really needs to focus on a few particular things.
First and foremost, is it chambered in a round that can handle moose, both from a distance and at close range? As long as you've got that knock down power in an ammunition type you have confidence in, then you've got a good starting point.
Flat shooting, heavier bullets are typically what comes to mind for North American moose. Something in .300 Win Mag or .338 Win Mag is the typical standard, but as long as the bullet is meant for deep penetration, you can get away with 6.5 Creedmoor in a 140- to 143-grain bullet as long as you make good choices. Classics like .30-06 Springfield and 7mm Rem Mag can all take care of a moose with a well-placed shot, and are likely to have less recoil than other popular moose calibers.
The next, and probably most important thing, is that you're confident shooting the bolt action you decide on. Especially if it's in a heavier, beefier caliber, you'll want to get plenty of practice rounds in so you're used to the recoil, and nothing takes you by surprise.
If you are disciplined enough to become proficient with your gun, then it almost doesn't matter what make or model you go with. We'll suggest a few varying models, and reiterate the main message: practice and gain the necessary confidence and skill to shoot the gun, and it can definitely be considered the best moose rifle for you.
Our Picks for the Best Moose Rifle
Savage 110 Long Range Hunter
If you want to hunt moose, make sure you have a gun built to maintain accuracy even at stretched out distances. The Savage Arms 110 Long Ranger is an enhanced gun on a trusted platform. The AccuTrigger and AccuStock adjustability is key, and the 26-inch button rifled barrel and adjustable muzzle brake give it a custom feel right out of the box.
Tikka T3X Hunter

Here's the rifle you would want to use for moose if you're concerned about grip and feel. The ergonomics are top notch, and an advanced recoil pad makes it easier on the shoulder. The Tikka T3X Hunter has a synthetic stock with a foam insert within the interior of the rear stock to lower the stock-generated noise.
Browning X-Bolt Western Hunter

The Browning X-Bolt Western Hunter is one of our favorites among the brand new models from the last year, and it's perfectly suited for moose hunts in Alaska and elsewhere. The A-TACS AU Camo finish on the stock works great, and the sporter contour barrel with threaded muzzle brake helps promote consistent accuracy.
Ruger American
If you need to skimp on the gun (because you're splurging on the optic, right?), you'd be setting yourself up well with a Ruger American, the sub-$600 rifle that can still get the job done. It comes in enough moose-appropriate chamberings, and it will leave you more resources to find, and pay for, the hunt itself. Now that Alaska or Canada trip can get stretched a little further, huh?
Winchester Model 70

Yes, you've heard it suggested before in plenty of other hunting rifle lists, but a legend gets that legendary status for a reason. Around since our grandfathers were young, the Model 70 can be found in all the right ammo calibers, with bells and whistles throughout the past and current production versions. We'd mention the Model 70 Alaskan or the timeless Model 70 Super Grade as worthy moose rifles.
Hunting a bull moose can be one of the most exhilarating big game experiences in North America, but you'll need focus and concentration to make the right shot placement for a clean kill. After all, they are the largest member of the deer family.
We can give an honorable mention to several other rifles, including Weatherby, Remington, and even a big bore Marlin lever action, which would all be good moose guns under the right circumstances.
A lot of moose hunters and outfitters will tell you that a single shot, put in the right place, can deliver an impressive set of antlers and enough wild game meat to feed a family for a year.
Just remember, you can't use any old whitetail caliber and hope for the best. Find a gun that you're comfortable with and use ammo with ballistics capable of downing large game.

NEXT: COLLARED COW MOOSE OWNS BROWN BEAR CHASING HER CALF
The post Moose Hunting Rifle: Calibers, Features, and a Few Suggestions appeared first on Wide Open Spaces.