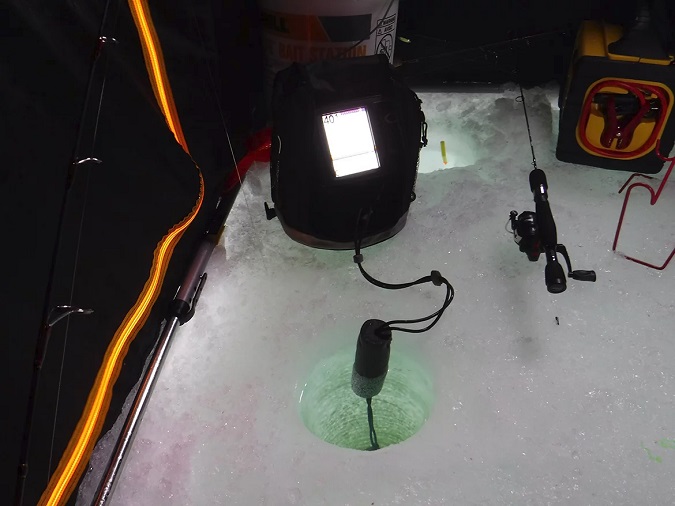 Interest in ice fishing continues to grow and year after year, sunfish, crappie, and perch are the most sought after species. Combined, these three are aptly known as panfish due to their delicious tasting filets.
Over the past decade, the technological improvements in ice fishing have been astounding. Instead of plastic buckets and tip-ups, most avid ice anglers are now equipped with GPS and portable sonar units known as flashers. Anglers actively hunt schools by drilling a dozen or more holes at a time as opposed to sitting and waiting.
With flashers, anglers won't wet a line unless they like what they see. More specifically, the flasher needs to have red and green marks that indicate the presence of sunfish, crappie, or perch. While they may taste similar, each species differs greatly in terms of habitat and seasonal migration. To become an effective hard-water panfish angler, the nuances of each must be understood.
Sunfish
Strength and abundance are the most attractive attributes of sunfish. Sunfish are the only panfish that can cause a drag to scream as the fish fight and dig in circular fashion. Unlike their counterparts, sunfish are good daylight feeders. In fact, it's not uncommon for the bite to come to a screeching halt once the sun goes down. While smaller sunfish are a nuisance, big bull sunfish are a blast. Big sunfish can be pinpointed by understanding three variables – water clarity, vegetation, and bottom composition.
In general, big sunfish prefer muddier bays and flats that possess standing green weeds. However, it is possible for the bottom to be too soft. If gooey organic matter is sticking to your jig, the bottom is too mucky. In terms of depth, sunfish tend to congregate in water 12 to 16 feet, which is considered mid-depth. Of course, that range can vary based on the three variables. A weedy mid-depth flat that connects two basins is a perfect example of a prime sunfish locale. However, if the weeds die off and the water clarity deteriorates, the sunfish will likely leave and head deeper into one of the basins. For this reason, many anglers start the season near the shoreline and then move out to the main lake.
In recent years, horizontal jigs have become popular with sunfish anglers. The rocking motion combined with the scent of a Berkley® Gulp! Alive!® Waxie is typically too much for a sunfish to resist. Tied to 2-pound test Berkley® Trilene® Micro Ice®, anglers jig swiftly, but barely move the rod tip.
Crappie
Crappie are perhaps the most predictable species of the three as they largely prefer deep basins. The downside is that on popular lakes, these fish receive considerable angling pressure. Many of the best basins, located in 25 to 30 feet, turn into community holes that resemble small towns as they are dotted with permanent ice houses. While crappie can still be caught among the crowds, they tend to feed in tight windows and oftentimes the peak feeding period comes between midnight and 2 a.m.
Shallow weeds are often overlooked by winter crappie anglers. Many ice anglers have become accustomed to monitoring the behavior of suspended crappies with sonar, often toying with them like a video game. In thick vegetation, sonar is essentially useless, which makes the search process more difficult. Once a school is located, the fish are usually aggressive, unlike finicky basin crappies. Some of the best crappie weedlines consist of coontail or cabbage and are located in water that is 6 to 8 feet deep.
Live bait is not necessary for weedline crappies. The Berkley® PowerBait® Atomic Mite is a perfect presentation as anglers can jig aggressively and hop from hole to hole. With a unique fluttering motion, the Berkley® PowerBait® Atomic Mite calls in fish from far distances – allowing anglers to shorten the search process. While weedline crappies can be caught throughout the winter, the bite is best during early and late ice.
Perch
As the most aggressive eaters, perch can provide near non-stop action – especially late in the year. During the last few weeks of the ice season, insect larvae come to life and perch are prepared to pounce. Most anglers target transition areas of mud, sand, and rock in 15 to 25 feet. These are breeding grounds where millions of larvae rise from the lake bottom.
Another late-ice option is to target shallow-water chara grass, or sand grass, in 6 to 12 feet. In this situation, perch are feeding on small crayfish, not larvae. Water clarity permitting, anglers will often sight-fish through the hole with small jigs and spoons.
Early season perch often position themselves on the first shoreline break. The break needs to be steep, but can it be located in water anywhere from 5 to 15 feet. Perch use these breaks to ambush baitfish that are migrating toward deeper water.
On many lakes, there is no shortage of perch, but finding the right-sized fish can be challenging. To catch the true jumbos, an angler has to understand the element of timing. While little ones will bite all day, the bigger fish behave more like walleyes and bite best under low-light conditions – both early in the morning and during the last hour or two before dusk. These jumbo perch are cannibalistic, so match the hatch with a Berkley® Gulp!® Ice Minnow.
Relate articles:
The post Mitchell Fishing – Ice Fishing for Panfish appeared first on OutDoors Unlimited Media and Magazine.