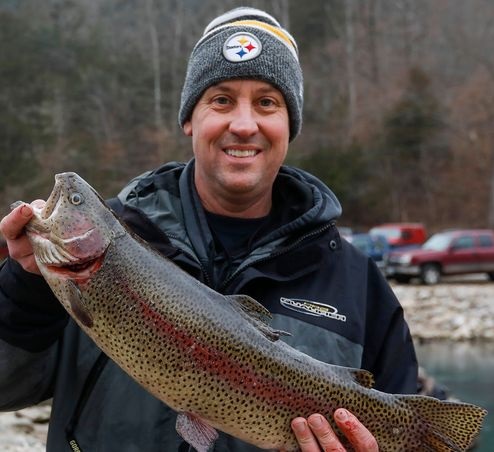 News-Leader Leader Reported First: "When I got it in I saw it was also hooked by another fisherman," Luttrell said. "I let him keep it." A few casts later Luttrell, who turned 49 on Friday, was rewarded for his generosity.
"All I wanted to do was catch a big one, and then this one rolled up and hit the lure," he said. "I've been coming here for 15 years, but this is definitely my biggest one. It's my birthday fish!"
He pulled in a 6.65-pound rainbow, but the big trout won't be landing on a wall.
"It's going in the pan," he said. "We always have a big fish fry after coming here."
By late morning, the biggest lunker so far at Roaring River was a 25-inch, 8.6-pounder caught by Joplin angler Rob Greer.
Gov. Mike Parson was on hand at Bennett Spring State Park near Lebanon, where hundreds of anglers lined the banks and stood precariously on the dam in 27-degree weather, hoping to land a big rainbow or brown trout.
The Missouri Department of Conservation stocked thousands of fish at Bennett Spring, Montauk State Park and Roaring River ahead of the season opener. More about the early spring fishing season In Missouri at this LINK.
Trophy Fish:
The post Missouri's Roaring River Produces A Trophy For Angler's Birthday appeared first on OutDoors Unlimited Media and Magazine.