Michigan DNR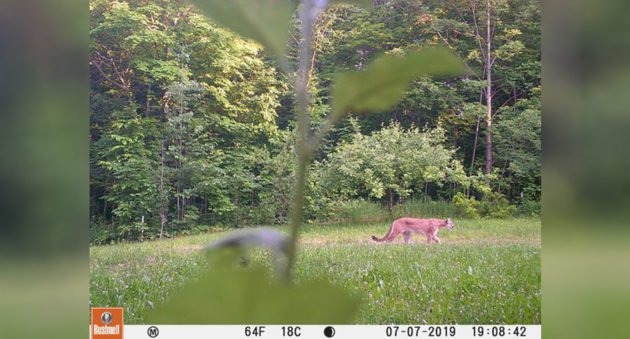 Michigan's rare cougar sighting from last month is just the 39th documented photo captured in the state since 2008.
The Michigan Department of Natural Resources has confirmed a cougar sighting, captured in a trail cam photo on July 7. The photo was taken by a landowner in Gogebic County, in the far western portion of the Upper Peninsula.
The picture was taken during the day, and was analyzed and officially verified by the DNR wildlife biologist-comprised cougar team.
"This is very close to where a cougar was documented on a Deer Movement Study trail camera last year," said Cody Norton, a large carnivore specialist with the state's Bear and Wolf Program.
A state biologist was able to visit the location of the sighting, just northwest of Ironwood, last week.
Mountain lions are still protected under the Endangered Species Act in Michigan, but there remains to be conclusive evidence of a sustainable breeding population.
"With an average of three confirmed cougar reports in each of the past 12 years, these animals remain rare in the Upper Peninsula," Norton said in the Michigan DNR's official release.
Of the 39 accounted cougar sightings since 2008, all but one was in the Upper Peninsula. The 39 total adds images or sightings of the same cougar, meaning there have likely been less than that number of individual animals seen.
Last October, one of the big cats was photographed on a DNR-owned game camera for the first time. It was the only mountain lion photograph taken out of three million-plus the department collected in the three years prior.
Northern Michigan cougar confirmations haven't exactly kept the DNR busy, but sourcing from reports of cougars in trail camera video, game camera images, tracks, and scat (or in the case of two male cats, poached carcasses) has revealed that they do in fact exist in the state.
NEXT: VIDEO: COUGAR ATTACKS HOUSE CAT IN DRIVEWAY
WATCH
The post Michigan Cougar Pictured on Upper Peninsula Trail Cam Photo appeared first on Wide Open Spaces.