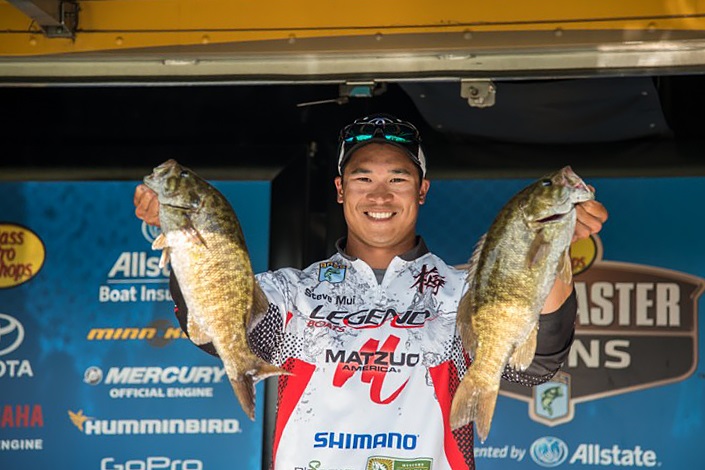 Putting together his best outing of the season, and just one day shy of his 31st birthday, Matzuo America bass pro Steve Mui finished 2nd in the third and final Bass Pro Shops BASSMASTER Northern Open on New York's Lake Champlain.
| | |
| --- | --- |
| | |
| | Photo credit_ Ronnie Moore |
After solid weigh-ins on days one and two, Mui sat in 9th place and was in need of a big bag on the third and final day to make a push for the top spot.  When all was said and done, he pulled in the final day's biggest bag, helping him surge to the top of the standings, until being overtaken by Bryan Schmitt in the final weigh-in of the tournament.
 "After day two I fell to 9th place, but only a few pounds separated all the anglers in the top 12," said Mui after the final weigh-in.  "I was pretty confident that I could make up ground, because the weather was turning and it helped my patterns. I had an amazing day three and weighed in the biggest limit of my tournament at 20-08. I thought I had a chance to win it, but it just wasn't meant to be.  I definitely want to extend a big thank you to my family, friends, and sponsors. I wouldn't be able to compete without their love and support."
Mui won nearly $17,000 in prize money to cap off another successful season on the Northern Open circuit. This finish marks his highest to date, and comes on the heels of a highly successful 2015 season in which he finished sixth in the final points standings and just 2 points away from a BASSMASTER Elite Series invite. He's proud of his finish, and is looking forward to making another run at his ultimate goal of joining the exclusive ranks of the BASSMASTER Elite in 2017.
Matzuo America is a premier fishing brand, dedicated to providing tournament quality tackle at an unparalleled value.  Matzuo's broad assortment of hooks (including the brand's flagship Sickle® hooks), rigs, spinners, jigheads, hard-baits, soft-baits, and kits has been attracting fish and fishermen alike for years. The brand is dedicated to continuous innovation and product improvement, and employs a development team composed of hard-core anglers, pro staff, engineers, and product designers to keepMatzuo products on the cutting edge. Matzuo America is a Big Game International brand.  For more information about Matzuo America®, please visit  www.matzuo.com
About Big Game International:
Big Game International is a leading manufacturer and designer of products that encompass all sporting goods categories. Expertise in sourcing, product development, packaging, cosmetics and marketing allow Big Game International to deliver high quality, competitively priced products and programs to our partners and customers. For more information about Big Game International, please visit www.biggameintl.com.
The post Matzuo's Mui is the Runner up at the Bassmaster Champlain Open appeared first on .