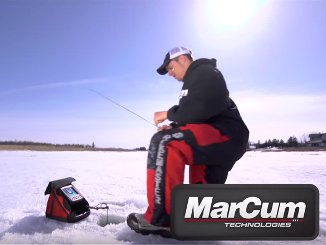 Every Marcum has the attributes and proprietary technology that make it best-in-class. At any price-point, high to low, you can be confident that no matter which Marcum you choose, it'll be the very pinnacle of engineering and workmanship available for the money.
Marcum brand manager Jon Marshall puts it like this, "I want people to feel just as comfortable in buying a ShowDown series unit as they do any of our latest sonar releases, because no matter what product they invest in, they're purchasing the very best ice electronics that those dollars can buy." He continues, "We've never called even our lowest price-point products 'entry level units,' because dollar-for-dollar, they offer best-in-class, technology-driven-features, and benefits like no other."
Fish move and you do too, so all of our units are portable as dictated by the rigors of the sport. Walleyes don't sit in one spot, waiting to be caught, simply surrendering their fillets as if it were their destiny. Fish can cover some distance, and not just laterally. That's why we invented moveable zoom. No matter which part of the watery real-estate your favorite species decides to inhabit, our patented zoom system will allow you to focus on any and all portions of the water-column where they are holding. Our patented interference rejection keeps non-targeted noise at bay, allowing you to see what other anglers without Marcums are missing.
Marcum Ice Sonar Flashers –VX-1, LX-3, LX-5
Mechanical flashers have and will forever define the sport of ice-fishing. The real-time nature of flashers has led to their longevity on-ice, and impressive catches spanning decades. No other electronics stay mechanical, but on the ice, dependability, durability, and performance reign supreme. Since the LX-3 hit the scene with the "ping-heard-round-the-world," Marcum has been bringing flashers into the modern era by keeping the technology current and leading edge.
Features like patented moveable zoom and interference rejection, along with best in class power and target separation make our mechanical flashers the ones with the highest IQ on-ice.
Ice Force Pro Joel Nelson comments, "People think I'm crazy when I say I can see big gills flare their fins when they close on a bait, or that I can see my euro-larvae fall off the hook while looking at my LX-5, but these units have always been far more sensitive than anything else I've fished with. I have more than a decade of on-ice experience wrapped into these flashers, but I don't just fish them out of habit. I fish them because they still give me an edge."
ShowDown Digital Fishfinders
Universally appealing to both newcomers to the sport, and seasoned pros alike, the ShowDown line features automatic ranging and zoom. All of which means more time fishing and less time adjusting your sonar. Quickly move from hole to hole, and simply drop in the transducer to watch the ShowDown do the work for you as it automatically selects the correct range and zoom settings.
Understanding what the ShowDown is telling you is just as easy. Check out the display – vertical, just like the water column. Top is top, bottom is bottom, and every signal in between is nothing but your lure surrounded by fish. Brilliant! And since there are no moving parts, batteries last far longer, running as quietly as a yawning minnow. 100% automatic, 100% digital, like a tireless silent assassin. Top anglers like Tony Roach use ShowDown for a reason, they demand the best, and so should you.
Digital Series – LX-6, LX-7, LX-9
Marcums Digital Series form the dividing line between technologies that transform a simple sport into a driving passion. Perhaps the best description of the Marcum digital series is that they're the HD-equivalent to everything that came before them. Digital, flat screens offer more detail and resolution to view that which was previously unseen. The platforms themselves are digital, meaning they're infinitely upgradeable; a veritable ice-electronics "fountain of youth" to ensure that the business-end of your sonar is always on the cutting edge.
At Marcum, we know that the difference between a great angler and a good angler is ability to spot the small details. Being able to focus, select, and infinitely adjust those small details are what make our digital series units the choice for discerning ice-anglers everywhere.
For anglers like Ice Force Pro Brad Hawthorne, the Marcum digital series units have revolutionized the way we adapt and learn from the fish on our screen. The True Time

Display rips real-time data side by side with a graph that details cadence and history. "It's the perfect one-two punch" says Hawthorne. "Success on the ice boils down to intel, past and present. The vertical or flasher display gives me real-time information I need to close bites, while the scrolling graph gives me a playbook of the hot jigging cadences to replicate from the fish before."
Of course, if the scrolling graph screen isn't for you, change it. The idea behind the Marcum digital series units is that you can infinitely customize the user experience until it's perfect for the way YOU fish.
No matter where you land in the Marcum family, you can't make a bad choice. But don't take our word for it. Read up and educate yourself. Those that do unequivocally choose Marcum for the same reasons any angler invests in technology; because with it you'll put more fish on the ice than your fellow anglers!
By Jeremiah Cich 
The post MATCH BEST IN CLASS PERFORMANCE WITH MARCUM appeared first on .