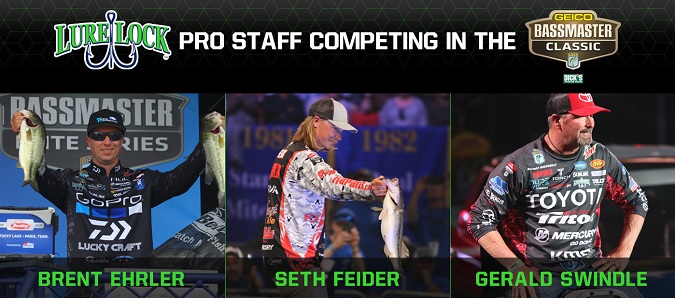 With the 2019 Bassmaster Classic on the horizon, three Lure Lock pro anglers have been preparing their gear for the biggest event of bass fishing and are ready to take aim at hoisting the Bassmaster Classic trophy over their head.  Lure Lock is proud of its three anglers competing in the Classic and want to wish Brent Ehrler, Seth Feider and Gerald Swindle the best of luck.
All three of the anglers have been putting in the time to get their tackle organized in their Lure Lock cases and set for the Tennessee River.  With many variables in play, the anglers will be running multiple patterns in practice to see what the possible winning technique may be.  "With the Lure Lock cases, I'm able to pack all the possible tackle I'll need for the Classic and know that it will be safe, secure and easy to grab," said Lure Lock Pro Gerald Swindle.  "The week of the Classic is a complete whirlwind, so anything you can do to keep your head above water and organized ahead of time is a major plus."
"We are extremely excited for Gerald, Seth and Brent," said Jessica Kriesel, Lure Lock Marketing Coordinator.  "It is an extreme honor and accomplishment to compete in the Bassmaster Classic and we feel honored to have three anglers competing for the title."
For Ehrler and Feider, their tackle prep for the March event began back in January as Ehrler left his home in California with all the tackle he needed for the 2019 season in his boat and truck.  "For me I need to think WAY ahead and bring all the tackle I'll be needed for the entire season with me," said Ehrler.  "With the Lure Lock cases and the amazing Lure Locker, I can pack more tackle in my boat and truck and know it won't be jostled around as I travel."
Feider's commute to Knoxville may not be as long as Ehrler's, but like Brent, Seth had to think ahead and get his tackle organized ahead of time.  "With two Bassmaster Elite Series events prior to the Classic and a number of sport show appearances, I wanted to have my tackle organized in my Lure Lock cases well prior to departing for Tennessee," stated Feider.  "This is my second Classic, so I have a better understanding as to what Classic week will be like this time, and having organized tackle is a major benefit."
If you are planning to head to Knoxville, Tennessee and attend the 2019 Bassmaster Classic Expo, you'll want to put the Lure Lock Booth (#718) on your list of places to stop by.  Not only will Lure Lock be running an exclusive Bassmaster Classic Expo sales promotion, but other members of their national pro staff will be in the booth.  To see the full line-up of professional angler appearances in the Lure Lock booth, please visit, lurelock.com/bassmaster.
Lure Lock boxes come in three sizes LL1, LL2 and LL3, and are available with and without the ElasTak gel.  The innovative boxes, along with the award winning Lure Locker are available at Walmart, Bass Pro Shops, Cabela's, Academy, Sportsman's Warehouse, Scheel's, Mill's Fleet Farm, Field & Stream, Tackle Warehouse, Tackle Direct, key independent sporting goods dealer, and at www.lurelock.com.
For more information about Lure Lock products please visit http://www.lurelock.com, or contact Glenn Walker at glenn@providencemarketinggroup.net with media or marketing requests.
About Lure Lock
Lure Lock is owned by Tak Logic, LLC and is located in Ettrick, Wisconsin. Lure Lock tackle boxes feature a patented gel material – all made in the USA. For more information, call 608-525-3636.  
Related articles:
The post Lure Lock Angler's Eyeing up Bassmaster Classic Crown in Tennessee appeared first on OutDoors Unlimited Media and Magazine.