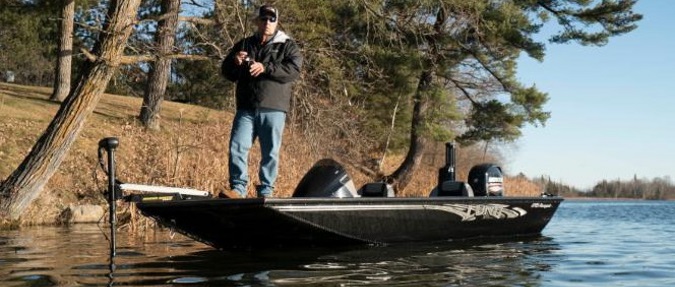 As we head into another boat-buying season, there's no shortage of fishing platforms to consider as you search for your next dream boat. If such variety seems a little overwhelming, keep in mind that one of the newest options also deserves the hardest look from a broad spectrum of potential buyers.
Meet Lund Boats' new aluminum Mod-V Renegade Series. Whether you're a first-time boat buyer, looking to downsize, or simply seeking a go-anywhere rig that will let you fish more places, this well-appointed, modified V-hull johnboat merits serious consideration.
Lund has a long and storied history of building boats for hard-core anglers, so it comes as no surprise that the new Renegade takes the johnboat genre to a whole new level. It's available in two models, with species-specific versions offered in each to meet the needs of bass and crappie anglers.
The Model 1775 stretches 17 feet, 9 inches, while the larger 1875 spans 18 feet, 9 inches. The 1775 is rated for outboards up to 90 horsepower, and the 1875 accommodates engines up to 115 horsepower. Both boats boast spacious 95-inch beams and generous 22-gallon fuel capacity.
Dimensions alone only tell part of the story, however. "These new Mod-V boats put a smile on your face," says veteran fishing guide and tournament champion Scott Glorvigen, who put a Model 1775 through its paces last season. "They're loaded with features, fun to fish out of, handle great and are easy to land, even when fishing by yourself. Plus, they allow you to access a variety of smaller fisheries and shallower areas than larger, deep-V style fishing boats.
"Johnboats have been around a long time, but in years past many of them left you feeling like you left something at the dock in terms of storage, handling, or fishability," he continues. "You don't get that feeling with a Renegade. Lund thought of it all."
Glorvigen notes the new Mod-Vs were built on Lund's patented IPS Hull with reverse chines, a flat center pad and full-length keel.
"As a result, the Renegade is remarkably stable, even with multiple anglers moving around the boat while fishing," he says. "The hull design also gives you a smooth ride, handles well in turns, and helps fuel fast hole-shots. Plus, the bow doesn't plow along when you're on plane, which is a common complaint when running a fully loaded johnboat."
Glorvigen also appreciates the ample elbow room and storage space. "There's plenty of deck space for multiple anglers to pitch, cast, and troll," he says. "Plus, there's room to stow enough tackle for serious angling adventures, without having your gear pile up on deck."
For example, a center compartment beneath the front casting deck offers easy access to tackle trays, while a starboard compartment holds soft plastics and other gear. "There's even hidden storage space beneath the roomy bench seats that provides a handy place to store everything from culling beams to extra line and other necessities," Glorvigen points out.
Adding to the space, a pair of large storage compartments, complete with drain plugs, offer additional room for must-have items like drinks, snacks, tools, and rainwear.
Rod storage is likewise ample and secure. The 1775 features a portside locker that holds rods up to 8 feet long, while the 1875's locker cradles rods up to 9 feet in length. As a bonus, custom-fitted tubes keep your rods in order while protecting them from damage.
"The major differences between the bass and crappie models center on livewell placement and seating arrangements," Glorvigen explains. In a nod to spider rigging and other bow-oriented styles of panfish fishing, the Renegade crappie models sport a 12-gallon bow livewell and three forward seat bases. Bass models feature a 22-gallon aft livewell situated behind the seats.
Added amenities include Lund's popular SportTrak system, which engenders easy positioning of rod, tool and drink holders anywhere along the side of the boat. "This is a big feature for crappie anglers fishing multiple rods, because they can position rods wherever they want," Glorvigen says. "It's just another example of how Lund went the extra mile to make the Renegades as fishable as possible."
The post Lund launches new feature-rich, modified V-hull renegade Series appeared first on ODU Magazine-North America's #1 Digital Fishing Magazine.