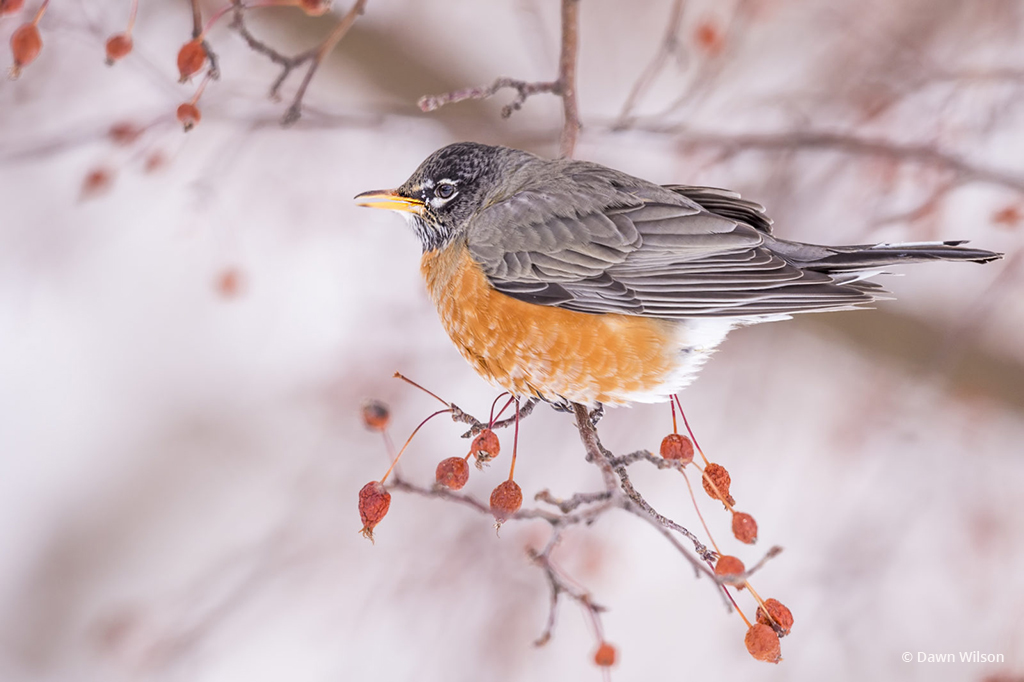 Congratulations to Dawn Wilson for winning the recent Last Gasp Of Winter Assignment with the image "American Robin Eating Berries in the Snow."
"I had been working indoors all day while it had been snowing since the early-morning hours outside," explains Wilson. "I love to photograph wildlife in the snow, and around 4 p.m. in the afternoon I couldn't take it anymore; I went out to find some animals to photograph. Near my home, there were some crab apple trees that still had berries, albeit a bit freeze-dried this late in the season. Although robins are associated with spring, this snowstorm had all the wrath of winter. I searched a few of the trees and found a flock of robins fluttering in and out of the branches picking at the freeze-dried crab apples.
"When heading out to shoot, I always pre-visualize the shots I'm seeking. I think about the opportunities available to me, such as subject, weather or seasonal behavior, and then conjure up visions of what would make for a good photo. In this case, a spring snowstorm offered the perfect opportunity to capture a photo of the seasons clashing. Robins are an icon of spring and the red crab apples coordinated nicely with the reddish tones of the robin's chest plate. All I needed to do now was find the perfect location, and a mental note reminding me of some crab apple trees near my home provided the setting."
Equipment: Nikon D4s, Nikon 500mm lens, handheld, Manfrotto tripod with Wimberly Gimbal head. Settings: 1/200 sec, f/6.3, ISO 1000.
See more of Dawn Wilson's photography at www.DawnWilsonPhotography.com,and follow her on Facebook and Instagram. 
The post Last Gasp Of Winter Assignment Winner Dawn Wilson appeared first on Outdoor Photographer.