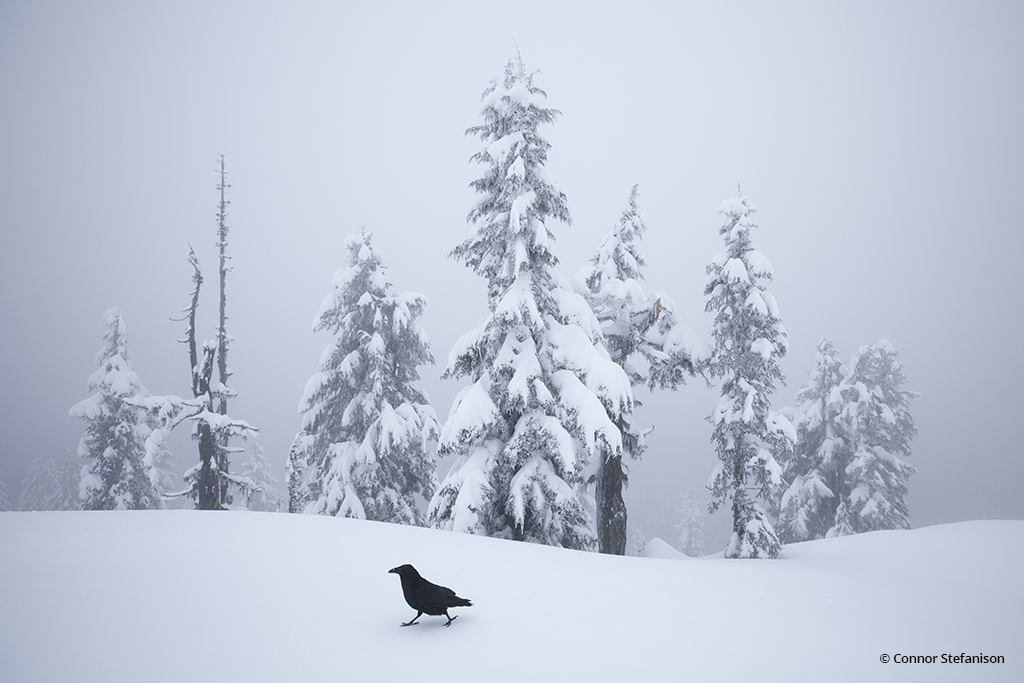 "Winters in Vancouver, British Columbia, Canada, are typically cold, wet and cloudy," says Connor Stefanison. "To escape the gloomy weather, my family often heads up into the local mountains in search of bright, snowy conditions. Vancouver has three local mountains with ski resorts and snowshoe trails, each offering a different experience.
"On this day, my family and I went snowshoeing on Mt. Hollyburn. I always bring my camera when I go snowshoeing because there are often nice opportunities for landscapes and images of common ravens and gray jays. This image was made at the top of Hollyburn as one of the ravens walked along in front of a row of mountain hemlock trees. What I like about this image is that it would still hold up fairly well as a landscape photograph if there were no raven present.
"I usually like getting above the clouds when I'm photographing on the local mountains, but this day made me appreciate the foggy conditions that we often avoid."
Canon EOS 5D Mark II, Canon EF 16-35mm f/2.8L II USM at 16mm. Exposure: 1/1000 sec., ƒ/7.1, ISO 1600.
See more of Connor Stefanison's work at connorstefanison.com.
The post Last Frame: Raven Strut appeared first on Outdoor Photographer.