King mackerel can be one of the most exhilarating fish to target from a kayak in North Carolina. While they may not be everyone's preferred fish on the table, no one can deny how they love hearing the reel screaming from their smoking runs. North Carolina usually gets two runs of kings each year. One in the spring that tends to peak around Mother's Day and the second in the fall, that seems to be pretty solid most of October. Our biggest problem for the spring run is the wind direction and speed are rarely cooperative for a safe run on a kayak. In the fall, the stars begin to align and the fish gods grace us with some prime conditions and hungry fish.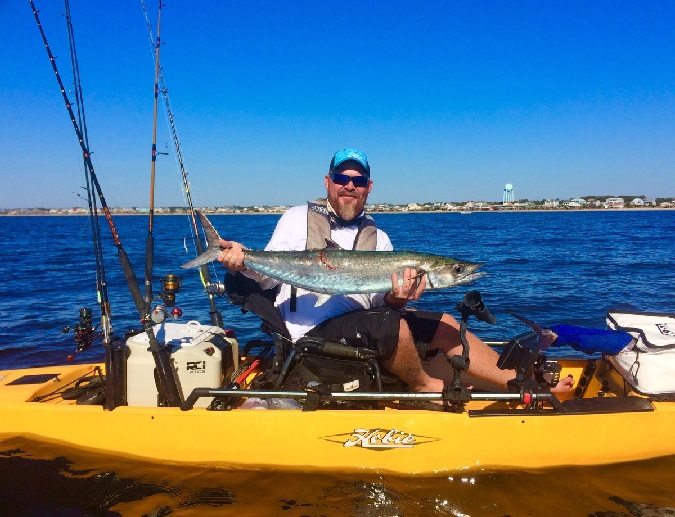 For targeting kings, my preferred setup is a 7-foot live bait rod with a soft action tip and plenty of backbone. I pair it with a small conventional reel with super smooth drag that holds 300+ yards of 20- 25-pound mono and a 15-foot section of 40-pound fluorocarbon leader. I like to use a standard king mackerel live bait rig with 36-pound Single Strand wire and two #4 4x strong treble hooks. The light action tip and mono allow for a lot of give and flex with a king's blistering run but also helps to not pull the hooks from the soft skin when foul hooked.
When a king strikes a bait, they will almost immediately turn and snag themselves instead of biting the hooks. I fish just enough drag to keep the bait from pulling off line and just tight enough that when a fish strikes, it will sink the hooks. The trick to remember is to not tighten down the drag to stop the fish or you'll pull the hooks almost every time. This is certainly not the only thing you can use but it is the most forgiving and the most applied to this fishery.
Nearshore in North Carolina the prime baits are bluefish, menhaden and corncob size mullet. Mullet can usually be caught in the surf with a castnet before launching. Menhaden and bluefish can be caught once out of the surf zone. Menhaden are easiest snagged with a spoon and a few extra treble hooks when you see a school popping on the surface. Bluefish will often grab the spoon while snagging menhaden. I like to place the lead hook in the nostril of the bait and rear hook near the anal fin. If the bait is large enough I'll add a third hook to the rig.
The Hobie MirageDrive makes an excellent platform for slow trolling live bait. A leisurely walking pace is ideal for trolling for kings, just enough to lead the bait so you're not dragging the bait and enough to keep them from out-running you. Kings can be found just outside the breakers on the schools of bait, on out to the nearshore reefs. I tend to put a bait out right away and work close to shore and work my way out if I'm not seeing action.
There are days when everything starts to play out perfectly and days when everything seems so perfect but you can't buy a bite with a winning powerball ticket. I've been out on days watching 40-pound fish sky on bait right behind the breakers to over a mile off the beach. On one particular day, the fish were jumping everywhere but on my baits. My buddy, on the other hand, was trolling right alongside of me and hooked up. I watched the fish explode on his bait and was anxiously awaiting the sound of my reel starting to scream as well. It didn't happen so I followed him to take some pictures and help if he needed it. Unfortunately, the fish pulled the hooks right after his first missed shot with the gaff.
The sorrow was short lived. He reset his gear and within a few minutes was hooked up again. Somewhere in the craziness of being aggravated with losing the first fish, he also lost his gaff. I came in to snap a few pictures of him and snatch up the fish for him. He was rewarded with a solid 25-pound king mackerel. The only fish I got to catch this day was on film. I've also been on the giving side of this situation a few times. Several of us set out early one morning to get bait and sink hooks in to some silver torpedoes. Unfortunately, the bait was scarce but I was able to scramble up a small bluefish after an hour of searching. I immediately put the bluefish out and began my search of bigger and better fish. The hunt was short lived and the silence was deafened by the sound of a drag screaming reel.
After a few high power runs, I had the gaff in a 38.5-pound king. Stoked being an understatement as this is my personal best king to date. After searching out more bait, I met up with a buddy on the water. He had been dragging a lively pogie for a while and I decided to drop one back while talking. A 20-pound king ate it only a few feet away from the boat while I was feeding line out. Needless to say, my buddy was slightly discouraged because he had never caught one before. I was pleased to hear over the radio that while I was fighting my fish, he had hooked up on his first, a respectable 25-pound king. I've tried for a limit of kings (3 per person) from the kayak on a few occasions to no avail. I personally only know of one person that has been that lucky.
For me, the best part of the day is when we all make it back on the beach safely and start sharing our stories. It's also a blast when people walk up asking questions about what we've caught and how far out we go, then see their eyes light up when we start pulling out our haul from the day.
Check back weekly for new videos and stories by the Hobie Fishing Top Guns.
The post King Mackerel are the Kings of the Beach appeared first on ODU Magazine-North America's #1 Digital Fishing Magazine.