YouTube: KYAfield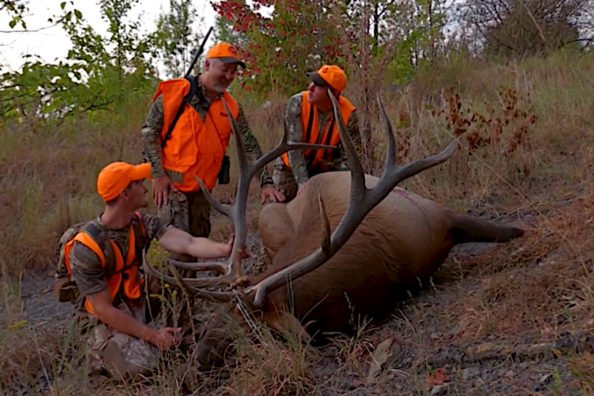 Kentucky elk hunting offers a rare opportunity east of the Mississippi.
When most hunters think about elk hunting, they likely think of western states with high snow-capped peaks and vast, open areas of public land. Not many people think about pursuing these big game animals east of the Mississippi River. For good reason too. Most elk herds in these areas are much smaller and more contained.
As a result, hunting opportunities for them are few and far between. One of the lesser-known elk seasons happens in Eastern Kentucky every year. Only a few hundred elk tags are doled out each season in the Bluegrass State.
Competition for a tag is high, but your odds are not diminished if you are applying for the first time ever. Today we will explain everything to know about the Kentucky elk hunt, and how you can get a rare chance to hunt these majestic animals in an Eastern state.
How do you apply for the Kentucky elk hunt? And can nonresidents hunt them?
Kentucky has an interesting system for doling out elk permits that is different from what you may be used to already. The Kentucky Department of Fish and Wildlife Resources do not use a preference points system. All elk hunters entering the draw have an equal chance regardless of how many years you have been trying.
The Kentucky elk herd may be the largest East of the Mississippi, but the number of permits available each year varies between 500 to 800 depending on how the herd is doing that year. According to the Rocky Mountain Elk Foundation, the Bluegrass state saw 46,000 people submit more than 95,000 applications in 2020 alone. However, do not let the overwhelming number of hunters applying discourage you. As they also note: "As of 2020, only 84 Kentucky residents who had applied all years had never been drawn."
Odds seem to favor hunters who apply for multiple permits in the Kentucky elk hunt drawing. Kentucky offers four different permit types, a bull firearm permit, a cow firearm permit, and an either sex archery/crossbow permit. Hunters under the age of 15 are also eligible to apply for a youth only permit. The cost for applying for these hunts is $10.
As for nonresidents, Kentucky's drawing is heavily weighted in favor of residents. In fact, the KDFWR says that nonresidents receive no more than 10 percent of the available elk permits. They will actively remove nonresidents from the drawing if the number drawn goes over that. Do not let that discourage you though. Especially if you live in a neighboring state because the costs of an elk permit are cheap compared to many western destinations. The cost for a quota bull elk firearm permit is $100 for residents and $550 for nonresidents. The cow elk permit is $60 for residents and $400 for nonresidents. The either sex archery permit is $100 for residents, and $550 for nonresidents.
As for how to apply, Kentucky makes it simple, handling all the applications through their website fw.ky.gov The application period opens on January 1 every year and runs through April 30 at midnight. The actual drawing and results are revealed at a public event at the Mountain Arts Center in Prestonsburg in late May each year. Once a hunter has been drawn for one of these tags, he or she must wait three years before they are allowed to apply again. Which feels like a fair compromise for the chance at one of these animals.
Alternative ways to get a Kentucky elk permit.
There are a few other ways to get an elk permit. Landowners living in the elk zone have the chance to earn a voucher cooperator elk permit by opening their land and hunting area to others. Landowners and lessees can earn up to one point for each bull or cow harvested on their property. Earn 10 points and you can earn a permit. There is also a landowner-cooperator permit in which landowners earn a permit for each 5,000 acres enrolled in a public hunting program.
There is also the elk restoration permit, which also operates on a point system. The only difference is you earn points for allowing KDFWR to relocate elk from your property to other ones as part of a herd restoration effort.
There are also special commission permits. There are ten of these provided to non-profit groups every year. These non-profits usually auction them off to the highest bidder, but some are sold directly. Either way, these permits generate extra funds for conservation projects in the state.
Kentucky also sells out-of-zone elk permits. The whole idea behind these is to control the spread of elk outside the designated 16 county zone. It is an option, but your odds are not good with this permit as the state has done a good job keep elk confined to their zone. And public land opportunities outside of the designated zone are extremely limited.
When is the Kentucky elk season? And where can I hunt?
The season dates to hunt Kentucky's elk popular are incredibly simple and are based on the type of permit drawn. The dates break down as follows:
Crossbow/Archery season: Week 1: September 11 – 24, 2021, and Week 2: December 4 – 10, 2021
Bull firearm season: Week 1: September 25 – September 29, 2021, and Week 2: October 2-6, 2021
Cow firearm: Week 1: November 27 – December 1, 2021, and Week 2: December 25 – December 29, 2021
The youth permits can be utilized in any of these described seasons. As for where to hunt, remember that the elk population in Kentucky was only introduced around 20 years ago. Their population is being confined to only 16 counties in the east and southeastern part of the state. These counties are further broken up into six designated elk units. There is no hunting at all in unit one and there are several other areas that have been designated as viewing areas only like the Appalachian Wildlife Center and Fishtrap Lake Wildlife Management Area. Otherwise, there are public hunting areas in all units with units two, three, and four holding the most land.
Fortunately, the KDFWR does have an app for smartphones that can help DIY hunters figure out some places to hunt. If you get drawn for a tag, you do have to notify the KDFWR which unit you will be hunting. It is not a bad idea to visit the area months in advance to scout, knock on some doors for private land access, and figure out exactly where you are going long before the season starts.
Hiring a guide.
While DIY is an option for Kentucky elk hunting, many hunters feel better about hiring a local who knows the animals and where to find them. Especially for such a difficult to draw hunt. There are some outfitters out there for hire to help with that. The costs are not cheap. Expect to pay anywhere from $3,500 to $8,000 for a fully guided hunt of three to five days. For some people that may be a better deal than for others. Considering how short the seasons are in Kentucky, it helps to have a little help.
We also encountered at least one outfitter site selling a full scouting report for a few hundred dollars. The good thing about hiring a guide is they usually factor in a hotel, or even a stay in a lodge into the price. Sometimes with all your meals taken care of while you hunt. Guides are also experts in breaking down and butchering the elk. Most will do it for you. For many first time elk hunters, it can be a bit intimidating knowing what to do once you have one on the ground. Shooting an elk is very different from bagging a whitetail. Having an experienced guide there to help will also ensure you do not have any meat spoilage. Remember that some of these hunts take place early in the season when conditions are still quite hot in Kentucky.
Probably the biggest reason to consider a guide is you are usually getting privileged access to private property where you will not have to worry about competition from other hunters. The only problem is that these types of outfits usually get booked up quickly. It pays to watch the live stream of the elk drawing and to contact one as soon as you hear your name.
Other things to know about elk hunting Kentucky.
About the only other thing to know about Kentucky elk hunting is the legal weapons. State regulations require rifles and handguns to be .270 or larger for elk. Muzzleloaders must be .50 caliber or larger. You can also use a breechloading shotgun, but it must be 20 gauge or larger. Hunters also cannot use buckshot for elk. Single projectile loads only like a slug.
When it comes to archery gear, broadheads must be 7/8″ wide at minimum with the blades extended (if using expandable broadheads.) Make sure your crossbow has a working safety. Another big thing to remember is that baiting for elk is not legal on either public of private land within the zone.
The odds of scoring an elk hunting tag in Kentucky may seem long, but the Bluegrass State has a solid system in place that greatly favors hunters who apply for all the available permits. If you do manage to score a tag, it makes for an incredibly exciting hunt. And a rare chance to say you have taken an elk in a state not in the American west.
Products featured on Wide Open Spaces are independently selected by our editors. However, when you buy something through our links, we may earn a commission.

For more outdoor content from Travis Smola, be sure to follow him on Twitter and check out his Geocaching and Outdoors with Travis YouTube channels.
NEXT: THE AXIS DEER AND HOW THEY'RE IMPACTING PARTS OF THE UNITED STATES
WATCH
The post Kentucky Elk Hunting 101: How to Bag a Bull in the Bluegrass State appeared first on Wide Open Spaces.