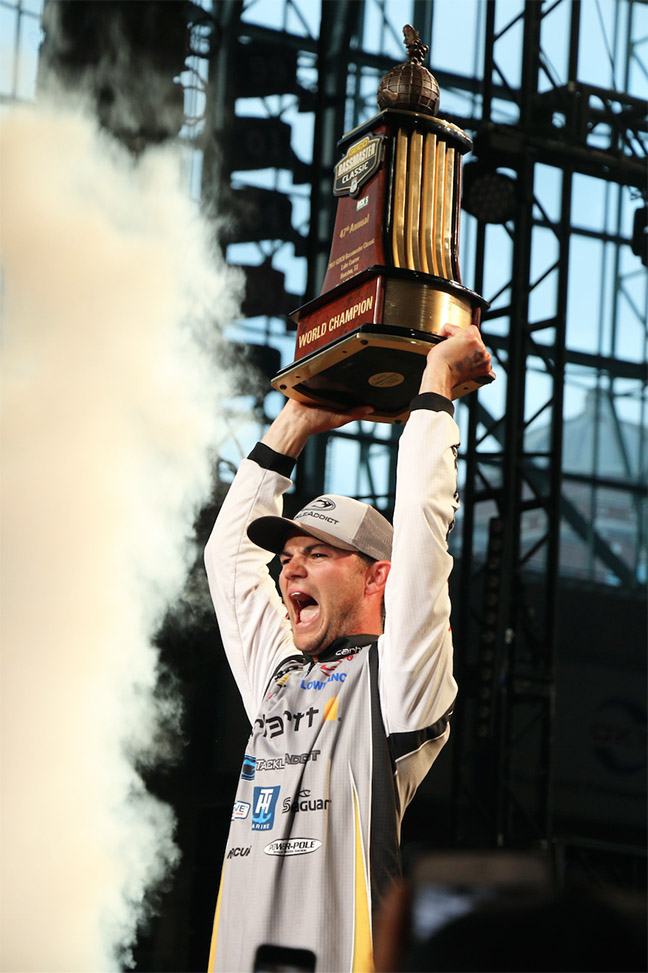 Sitting on a scant total of just 8 pounds, 9 ounces of bass at noon on day two of the three-day 2017 GEICO Bassmaster Classic at Lake Conroe, Texas, 25-year-old Bassmaster Elite angler Jordan Lee had no idea where he'd be standing just 28 hours later. As it turned out, he'd be living his dream of holding high the most coveted trophy in professional angling on competitive fishing's grandest stage.
Jordan Lee is one of the hottest anglers in the Bassmaster Elite Series. Since winning the Carhartt Bassmaster College Championship as a member of the Auburn University Fishing Team in 2013, the young gun from Alabama has finished in the money an astonishing 33 times at 41 events, earning 14 top-ten finishes in just three Elite seasons. So what happened at the Bassmaster Classic between noon on Saturday and the final weigh-in on Sunday at Houston's grand Minute Maid Park – while unexpected, dramatic and remarkable – really can't be considered too surprising.
After coming to the stage with less than nine pounds at the end of day one on Friday, the Plano Fishing pro shocked the crowd at Saturday's day-two weigh-in with a four-fish bag weighing 21 pounds, including a single bass over seven pounds.
"I found a spot in practice and I really thought if I could catch 'em off of it I could do really well," Lee told fans and Bassmaster Elite Emcee, Dave Mercer. "I rolled up to it this afternoon and caught that biggest one, and there was a whole school of five pounders with it," said Lee, who dredged the spot with a Strike King Football Jig to get back in the game. "I knew it was something special."
Lee would continue his massive move on Sunday, spending the majority of the last day of competition battling Conroe's unrelenting boat traffic while finding success dragging his football jig across a single point holding good numbers of staging pre-spawn bass. After bringing a mega-bag of five fish to the stage weighing 27-4, Lee found himself in first place midway through the final weigh-in – confined to the leader's hot seat and forced to watch one after another of his childhood heroes parade past with bulging sacks of bass, each one threatening to crush the young angler's immediate and fragile dream of bass fishing supremacy.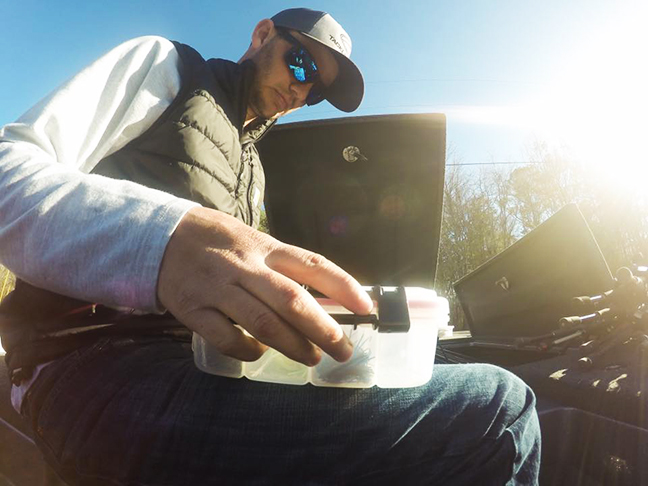 Last to weigh-in, fellow Plano Fishing pro, Brent Ehrler would be the final threat. The California angler had spent the last day of competition guarding a narrow lead, and marched a five-fish limit past Lee on his way to the scale. He needed just 13-7 to hold off Jordan Lee's three-day total of 56-10. In a dramatic iteration of Bassmaster Classic history, Ehrler's final weight fell 1-13 short.
Seconds ater realizing he had won the 2017 Bassmaster Classic, Lee was presented with the iconic, world championship trophy, which he held high overhead in true Classic form. Joined by his family on stage, the young champion fought both an onslaught of emotion and the weight of his prize while recounting his path to the cherished moment at hand.
"I had eight pounds total at noon yesterday," he said. "I could have easily given up. It just shows you about fishing and how things can change. I could easily have said there's nothing I can do to change this, but I stuck with it and made something happen. You just can't give up. This is unbelievable."
Lee's perseverance is one of the many positive characteristics that led the legendary fishing tackle storage and management brand, Plano Molding Company, to offer support and sponsorship to the upstart angler. "We're extremely proud of Jordan and what he's accomplished," says Plano Synergy VP Marketing, Pete Angle. "Here's a young man who has worked tirelessly pursuing his dream of fishing at the highest level of competition, while showing the greatest respect for his competitors and himself through his conduct along the way. With or without his incredible new title of Bassmaster Classic Champion, we couldn't be happier to lend our support to Jordan. He's a great addition to the Plano Team."
Indeed, Sunday was a landmark day for both Jordan and Plano alike. In addition to Lee's Classic win, Plano Bassmaster Elite pros Brent Ehrler and Kevin Van Dam both also finished in the top ten, landing in 3rd and 10th places, respectively.
The post JORDAN LEE MAKES MASSIVE MOVES IN CLASSIC COMEBACK appeared first on ODU Magazine-North America's #1 Digital Fishing Magazine.