The goal is to award full or partial scholarships to JMTA programs at SPORTIME Randall's Island.
New York area juniors can play their way to a scholarship at the John McEnroe Tennis Academy.
The John McEnroe Tennis Academy's (JMTA) will host its 10th annual tryout and scouting combine for juniors on Saturday, June 11th, as SPORTIME on Randall's Island in New York City.
Watch: Shapovalov Screams At Fans "Shut The F–k Up!"
The goal of both the tryout is to award full or partial scholarships to SPORTIME and JMTA programs at SPORTIME Randall's Island, starting in fall 2022. The event is a joint initiative of the Johnny Mac Tennis Project (JMTP) and SPORTIME/JMTA. A 501(c)(3) charity.
JMTP strives to change young lives through its commitment and effort to remove the racial, economic and social barriers to success through tennis. Offering free tennis programs and means-tested scholarships to under-resourced young athletes from the NY Metropolitan area, JMTP provides a pathway to success through competitive tennis, leading to college scholarships, careers in the industry and, for a few, professional tennis careers.
Open only to players with tennis experience, ages 7-16, who do not currently participate in SPORTIME/JMTA programs, the tryout will take place on Saturday, June 11th , from 9-11 am, with check-in at 8 am.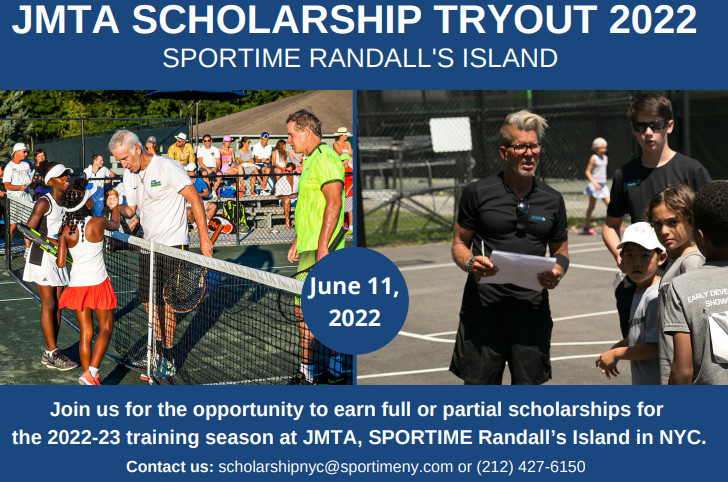 Participants will be evaluated by a Selection Committee, consisting of SPORTIME/JMTA directors, coaches and leaders, including JMTA Co-Directors Lawrence Kleger and Patrick McEnroe, and, of course, John McEnroe. The tryout will include tennis and athletic drills, point/match play and athletic/fitness testing.
"We look forward to our scholarship tryout day each year, as it is an opportunity to meet new talented athletes," said JMTA Co-Founder John McEnroe. "Our mission is to provide access to the great sport of tennis to those who may not otherwise have that opportunity. I look forward to another great tryout and I urge anyone interested in learning more to be sure to attend on June 11th."
The scouting combine will be held from 11 am to noon, with check-in at 10:30 am, on Saturday, June 11th, and is open to kids, ages 6-10, with little or no tennis experience, who currently excel in other sports and/or who demonstrate an above-average athletic skill set.
The combine is publicized throughout SPORTIME Randall's Island's neighboring communities, including East Harlem, the South Bronx and Queens, although participants from other neighborhoods are welcome. Participants will engage in a variety of physical tests and games, designed by SPORTIME/JMTA coaches, to assess objective, measurable capacities such as speed, strength, agility and hand-eye coordination. Other attributes such as attitude, concentration, energy and competitive spirit will be considered in the awarding of scholarships.
Scholarship winners for both the Tryout and the Athletic Scouting Combine will be notified at a later date. Means testing is a requirement for JMTP scholarships, so winners will be required to submit requisite financial information prior to approval. SPORTIME Randall's Island and JMTP are located at One Randall's Island, in Randall's Island Park, Manhattan.
For more information, parents of interested players/athletes can email scholarshipnyc@sportimeny.com or visit www.SportimeNY.com/JMTA.
Photo credits: Johnny Mac Tennis Project