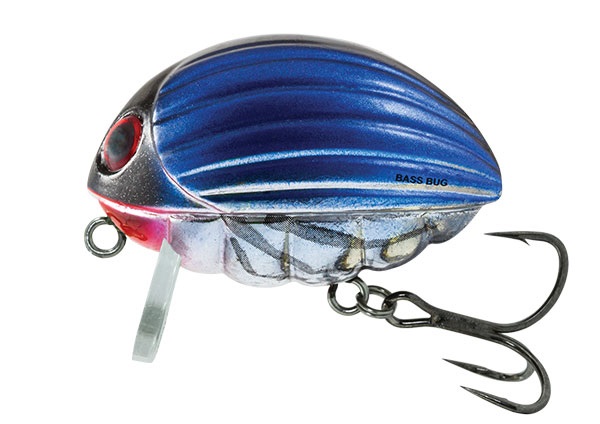 Salmo Lures of Poland has created (2016) an innovative new lure design to capture the imagination of bass anglers here in the USA… it is called the Bass Bug. This bizarre looking lure is sure to get a few chuckles from anglers, but when you start fishing with it, you can see this is an extremely well designed lure that actually fits the bill for what many anglers are looking for a "Wake Bait" style of crankbait.
"For 25 years Salmo has been revolutionizing hard bodied lure profiles and lure actions with great success, stated Peter Piskorski, owner and head lure designer for Salmo. "It is clear from a salesman's perspective you need to have lures that look like a real baitfish, but from a fish's perspective, their needs are far different. Who would think a bass would love a plastic night crawler or a hunk of wire shaped like a safety pin and a spinner? I approached the creation of the Bass Bug by not copying the existing wake baits like everyone else has done who import copycat lures from China. I studied what made a bass strike a wake bait and designed a lure just for this application. I was not at all surprised with the success it has been having with our bass fishing experts in the USA and Europe."
For casting distance, anglers will find the Bass Bug will cast farther and straighter than any lure in its class. Wake Bait fish are in shallow water and the farther away from the boat you can cast, the better your odds get. We know that wake baits need to move water to create a bulging wake to call in the fish, but not ride too high in the water to improve hookups. The Bass Bug will shock many in that line size and speed of the lure does not hurt the action of the lure. You will simply not find a better lure for this purpose. Does it look like other wakes baits? Nope, it was never intended to be a copycat lure since I believe the ultimate "Wake Bait" needs to appeal to the fish first and the fishermen will follow. When you add TWO rattle chambers with the Salmo long cast system and a large KVD Triple Grip hook, you have a lure that converts more strikes than any other style wake bait.
So for casting range, action and hooking success, the Bass Bug is a true game changer and one that will earn its place in the tackle boxes of bass anglers around the world by doing what it does best…catch fish.
To learn more about the Bass Bug and the complete line of crankbaits from Salmo, go to www.salmofishing.com
The post It Might Not Be Topwater Time, But You Need To Get A Salmo Bass Bug appeared first on ODU Magazine-North America's #1 Digital Fishing Magazine.