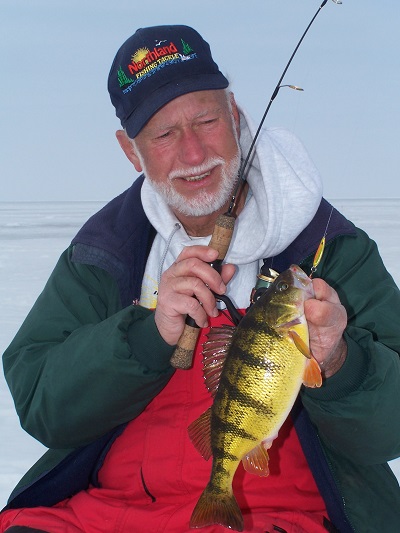 Anglers are on the ice in many areas of the Midwest.  Following are some considerations for better ice fishing this season. Be safe on the ice.  Even if you see other people out there, keep in mind that ice will sometimes have flaws.  Be careful where you're walking and where you're driving on the ice.
Keep moving, especially as the season progresses.  Modern sonar will reveal if there are fish below you or not.  If you're not seeing fish, move to a different hole and keep moving until you see fish on the sonar.  Different ice anglers have different thoughts on how long to sit at a hole waiting for fish to show up, but most will be on the move if they don't see fish activity within five minutes, many only sit at a hole for a couple of minutes.
Keep your bait above the fish.  Make them come up to eat it.  As you lower your bait, watch it carefully and stop it several times before it gets to the bottom.  As it falls, active fish will rise to it.  If you see fish activity as the bait is falling, stop the bait.  Note how the fish behave when the bait stops falling.  If they come up to it, hold it at that level.  If they don't, let it fall a little farther and stop it again.  Don't lower it any more than needed to get them to eat it.  By doing so, you'll catch the most aggressive fish.  It's amazing how much you can learn about fish by watching their reaction to your bait on the sonar.  The Vexilar FLX-28 does an outstanding job of helping me understand more about fish and their reactions to baits.
If you see fish on the sonar but they don't want to eat what you're offering, offer them something else.  Lure color, size, and action can have an impact on how many fish you catch.  If they look but don't eat, try a different color or size, or put more or less action on the bait.  Often, when they look but don't eat, it works well to go smaller and more subtle, but not always.  Just remember:  Ice-fishing or open water, if what you're doing isn't working, do something else.
Last thought:  Fish are good to eat.  Lots and lots of folks go fishing with the hope of getting a meal of fresh fish.  Back in the day, we always recommended going after panfish if a meal was your goal.  Today, we need to be responsible in our harvest of panfish.  Some bodies of water have seen an overharvest of panfish.  The fish are still there, but the size isn't.  We need to put some of the big ones back, and we can't take buckets of fish home on a regular basis.  Enough for a meal, then put the rest back.
Also, if a meal of fish is your goal, concentrate on the species of fish that can handle some harvest.  For example, on Clear Lake in north central Iowa, yellow bass are the guys to go after.  They're super abundant, willing biters, and are great on the table.  On other bodies of water it might be better to take a couple of walleyes home instead of fifteen crappies. 
Keep these ideas in mind and you'll enjoy the ice-fishing season of 2016 and 2017 even more.
To see all the most recent episodes of the Fishing the Midwest television series, new fishing related video tips and fishing articles from the past, go to fishingthemidwest.com
By Bob Jensen
The post ICE FISHING THIS SEASON appeared first on ODU Magazine-North America's #1 Digital Fishing Magazine.