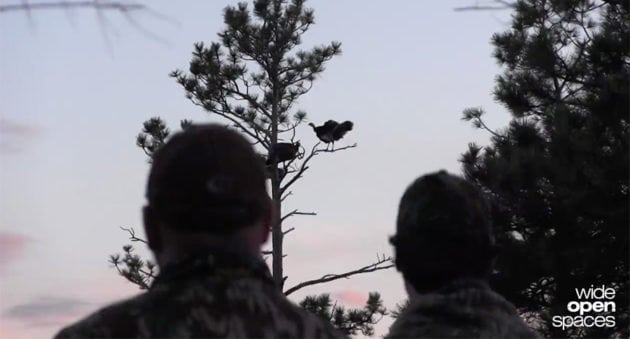 On a hunt for my first Merriam's turkey, I found out what it means to be part of a Mossy Oak hunting camp.
Each time you embark on a hunt, several things happen. They mostly happen in your brain as the anticipation builds, especially if you've never been on that particular kind of hunt, in that specific place. Your thoughts can go a mile a minute.
That's the state of mind I was in as I boarded a plane to head north, with Carlile, Wyoming as my final destination. I was going to be joining the Mossy Oak team as they set out to capture footage for a few of their digital and network TV shows.
I'd never hunted in Wyoming, and never pursued Merriam's. Mossy Oak's Jake Meyer assured me it'd be one of the best opportunities any hunter could have, mainly because we'd be working with Trophy Ridge Outfitters, a quality guide service that's made a name for itself in the area. Exclusive land, well-scouted plots, and some of the best guides in the business. This was going to be good.
I just didn't realize the impact it would have on me as an outdoorsman.
Heading to camp
At the Rapid City Airport I was greeted by two smiling faces that I recognized from a past meeting, Neill and Daniel Haas. They're the twin sons of Toxey Haas, and grandsons of Mossy Oak founder Fox Haas. Other members of the Mossy Oak production team arrived, along with Will Dixon, whose dad Bob was the motivation behind the limited edition Bob Dixon turkey vest you've probably heard of. Mossy Oak made 1,986 of them, in honor of the company's founding year and the longtime employee who helped shape the modern day turkey hunting camouflage business.
Needless to say, I was a bit taken aback once I realized who Will was. His dad passed away several years ago after a battle with cancer, and I came to find that this was, in a sense, a tribute hunt: three childhood friends getting together to pay homage to one of their fallen fathers.
That's just the sort of thing that can help tip a hunting camp over the scales from good to great.
We embarked on the road trip to our outfitter's lodge, with an early morning hunt to follow a night's sleep. The first thing I noticed when coming up the lodge's drive were the half dozen gobblers, slowly pecking and stepping, a few in mid-strut, just casually hanging out within about 20 yards of the cabins.
"They roost right up there," I was told by Jake, as I looked over my shoulder at several mile-high pines with nearly perfect branches for a nice-sized ranch turkey to snooze in. The turkeys were clearly off limits, more pets than anything else, but it was a nice sign of things to come.
As I prepared my gear for the next morning, I noted that Dixon and the Haas brothers both preferred the old-school Bottomland camo pattern to the newer, slightly more versatile Obsession pattern that the pants, jacket, and vest I was generously given carried. Oh well, if it's good enough to be endorsed as the official pattern of the NWTF, it was certainly good enough for a Merriam's first-timer.
A great meal and some quick get-to-know-ya conversation set things up, and we were off to bed. But not before watching the last few turkeys fly up to roost, a stone's throw outside my cabin's window.
Quick work
The next morning I connected with my guide, Jim, and we headed off to what was some promising turkey country. I could tell, even in the early morning's lack of light, that this was the kind of land I'd want to live in if I were a turkey. Large, sloping peaks with non-level terrain was just about everywhere.
I was told we could have a walk up a hill ahead of us if a morning sit didn't produce anything. With that knowledge, I tried to strain my eyes and see how high the "hill" really was as the sun came up.
Before I could start counting the steps up the face in my head, a hen showed up and my guide got my attention. His calls had been sporadic and cautious, not wanting to disrupt what could be a lot of toms headed our way naturally.
I sat in the ground blind, Remington in my hands, and watched the hen to see if she gave any indication of a visitor. It didn't take long for one to show up, and it didn't take long for me to get him in the sights. One shotgun blast and one turkey on the ground.
Within 45 minutes of my first Merriam's turkey hunt, I had accomplished my goal.
A heartfelt congratulations from Jim and a few deep breaths later, and I was looking at the next checkmark in my turkey slam. I couldn't have been happier, and instantly felt a connection to the Wyoming woods that I didn't think I'd feel, on land I'd never stepped before. This was beautiful country, and I wanted to soak it in as much as I could.
An obligatory photo from the nearby Devils Tower was next on the agenda, then a cup of coffee courtesy of Jim. It was a nice way to start the day, and most folks hadn't even had their breakfast. It's this peace and quiet, this one-on-one time with nature before the rest of the world wakes, that we chase as hunters. I captured it, along with an impressive Merriam's, on my first try. I was grateful.
Making the most
With my one allowed turkey taken care of, we brought it back to the lodge to be measured and dressed. At 21 pounds and with decent-sized spurs, it was said by the guides to be among the biggest they'd put hunters on so far that spring. It could have been far smaller and I would have still felt as lucky as I did.
My smile hadn't faded while I watched a few of the other hunters come in for lunch. Some were successful, including Jake, but some weren't. No worries, there would be plenty of opportunities.
When you are filming hunts, it's no secret that you're complicating things, but everyone seemed confident that they'd get what they came for.
I was thinking how fortunate I was not to have the pressure of a camera in the blind with me when in rolled Mossy Oak's Senior Vice President and Chief Marketing Officer Ben Maki. His genuine introduction and instant eagerness to hear about the morning's hunting conditions emanated the fact that he's a real sportsman, through and through.
When you talk about people whose lives are defined by the great outdoors, you're talking about Ben. He was ready to hit the woods with cameramen in tow, and I was eager to find out how he did.
As the trip continued, with me amusing myself around the lodge and others still out hunting, I learned a little more about Will's dad and his influence on the sport. I also got to take a close look at what's likely the most famous turkey vest model ever made. These things gather high dollar, if and when they're ever available on eBay or some such outlet, and here was Will, wearing it in memory of his dad while in pursuit of the game bird that's perplexed American hunters for generations.
I won't spoil how the hunting went for the rest of the group, but I will say not everyone who ended up at Trophy Ridge Outfitters managed to tag a bird. That's how it works, especially when you're creating content for a show that hopefully tons of turkey hunters get to watch and enjoy. Much like hunting sans camera, you are always at the mercy of the day ahead and sometimes, you just don't come out a winner. And that's what makes you do it again the very next morning.
Jake and I occupied a bit more of our time shooting prairie dogs on an even bigger, even more vast expanse of land available to the Trophy Ridge Guides, and had a lot of fun doing it. There were a lot of the little pests, but we took care of them with a few different calibers of choice.
More meals, more great conversations, and more turkeys gobbling near the lodge's porch began to melt together, and before I knew it, I was driving back to the Rapid City airport with Will. We were two people who'd never met before, came from different backgrounds, and might not easily cross paths again, but we found a lot of common ground in our thoughts and opinions about hunting in 21st Century America.
It sounds a little lofty, but I think that conversation is one of the best I've had with someone I'd essentially just met. It only happened because we were invited to a hunting camp by folks who know how to have a good time, and realize that, in the end, it's the experience that outweighs anything else.
Bringing it home
My first Merriam's turkey hunting experience won't leave my head anytime soon. The meat's already been turned into pickle juice-brined nuggets. The spurs and fan are still in my freezer, waiting for the chance to be mounted properly. The shotgun shell sits in the printer's drawer hung on the wall near my kitchen table.
And the memory of seeing that bird hit the ground on my first shot at a Merriam's turkey is etched in my brain for good.
I've already felt those lump-in-your-throat moments as a father, watching my sons grow up, but to think about what Will and his dad experienced together makes it even more special. I want to share my relationship with the outdoors with my kids, and show them the kind of things I feel when I'm hunting. Maybe they'll feel the same things, but maybe they won't. I'm not going push it, but I'm going to at least try.
That's what made this hunting trip so memorable. Jake, who I appreciated as not only a hunting camp partner but as a growing friend, is expecting his first child, and we spent plenty of time discussing what that was going to mean. Again, the subject might not have come up unless we were sharing time in Wyoming, with the scenic backdrop and gobbling turkeys setting the stage.
I'm without a doubt indebted to Mossy Oak and the generous folks who had me out, and I want to make sure they realize what this trip meant to me.
As far as turkey hunts go, that one's going to sit atop my list for a while.
The post I Went on a Quest for a Merriam's Turkey with Mossy Oak appeared first on Wide Open Spaces.