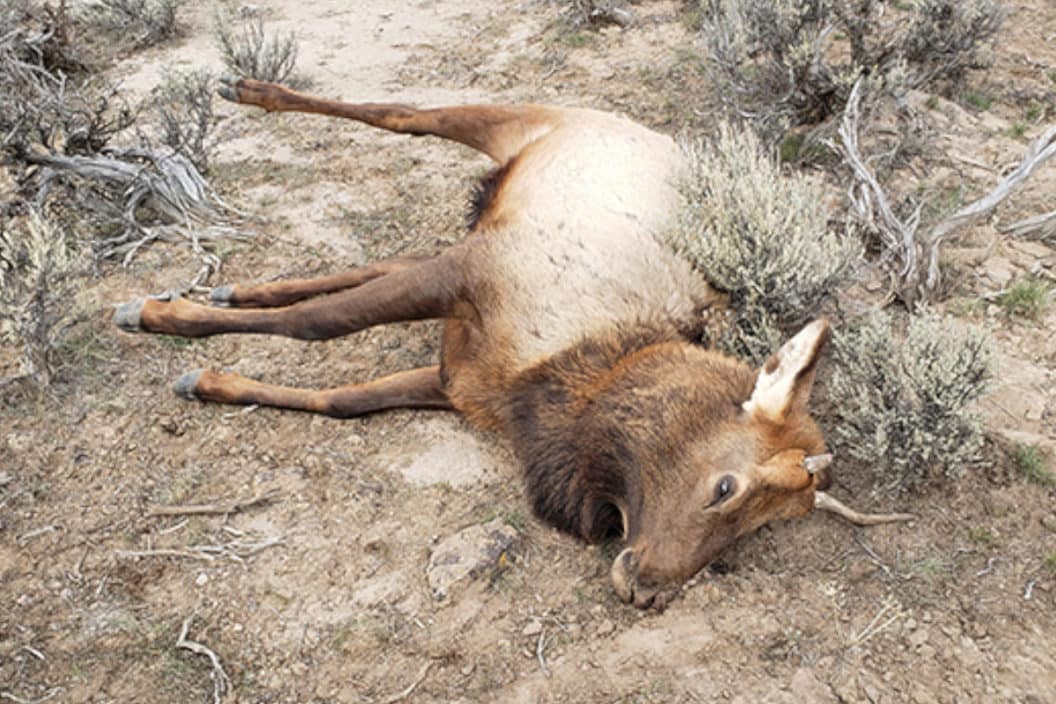 An Oregon elk-poaching couple was recently sentenced in a high-profile poaching case in December of last year. They will need to pay $2,500 in fines, retake hunter education, and have their licenses suspended for three years. Officials with the Oregon Department of Fish and Wildlife said Chris and Stephanie Lardy shot at least seven elk in the Juniper Unit in Harney County. Five of those animals were left behind to rot. Additionally, Chris got six days in jail and 18 months of bench probation. He will also be required to write an apology letter published in the Burns Times-Herald.
Officials say they started investigating the incident after someone called to report the occupants of a vehicle went off-road near Highway 395 to go after a herd of 100 elk. The car then allegedly stopped twice, allowing the people inside to get out and shoot. The witness to the incident estimated the Oregon elk poaching couple fired 30 to 40 shots at the animals as the elk fled the scene.
Investigators quickly checked the scene the same day and found that a vehicle had traveled over 700 yards through the open sagebrush in pursuit of the animals. Oregon State Police Fish and Wildlife found evidence indicating they stopped and shot at least twice at the herd. The second time they stopped, they killed two cows and a calf. The cows were gutted and taken from the scene while the calf was left behind.
The next day, they found even more evidence of the vehicle driving through the sagebrush. They also found two more cows, two calves, and a spike bull not far from where they stopped looking the night before. The meat from all the animals had already spoiled.
The investigators caught a break later that same day when Fish and Wildlife pulled over a vehicle for a traffic violation that matched the description given by the witness the day before. Chris was the driver. He told the trooper his group had filled two antlerless elk tags the day prior.
"When troopers questioned him about multiple elk shot and left to waste the previous day, Lardy said he or his passengers had wounded an elk in the leg," an ODFW press release states. "No one in their hunting group had conducted a search for dead or wounded animals because they did not have time. Chris had returned to the area that day hoping to fill their hunting group's two remaining tags."
The press release notes that Stephanie pled guilty to aiding in a game violation, while Chris was convicted for taking a bull elk out of season and exceeding the bull elk bag limit. Officials did confiscate three rifles in this case but later returned them all.
This case frustrated officials. They'll use it as an example to stress how hunters are responsible for every bullet fired in the field.
"There are so many facets of wrongdoing in this case," ODFW Big Game Program Manager Brian Wolfer said in the release. "These people acted in blatant disregard for the elk, hunting laws and basic hunting ethics. To chase the elk with a vehicle and then leave five elk to waste because they didn't check to see what they may have hit is almost unbelievable."
For more outdoor content from Travis Smola, be sure to follow him on Twitter and Instagram For original videos, check out his Geocaching and Outdoors with Travis YouTube channels.
The post Husband and Wife Poacher Team Sentenced for Wasting 5 Elk in Oregon appeared first on Wide Open Spaces.