With the dog days of summer upon us, most fishermen in Ohio go deep, due to warm surface temperatures. With the days reaching air temperatures of 90 degrees or greater, the fishing slows way down. I do not. In fact, I love these mid-summer months, because I know just where to find my favorite fish – the river monster with an attitude –the smallmouth bass.
I enjoy river fishing because it's more two-dimensional. By this, I mean the structure and cover where the smallmouth can be found is confined to a significantly smaller, less deep area. I can eliminate dead water faster. Also, an added benefit of river fishing is that I can take a lot less gear. In fact, I only bring two rods: my St. Croix Legend 6'8" medium heavy fast action casting rod for throwing jigs and my St Croix Legend 6"6' med light spinning rod for throwing everything else-both with Shimano Ci4 Chronarchs.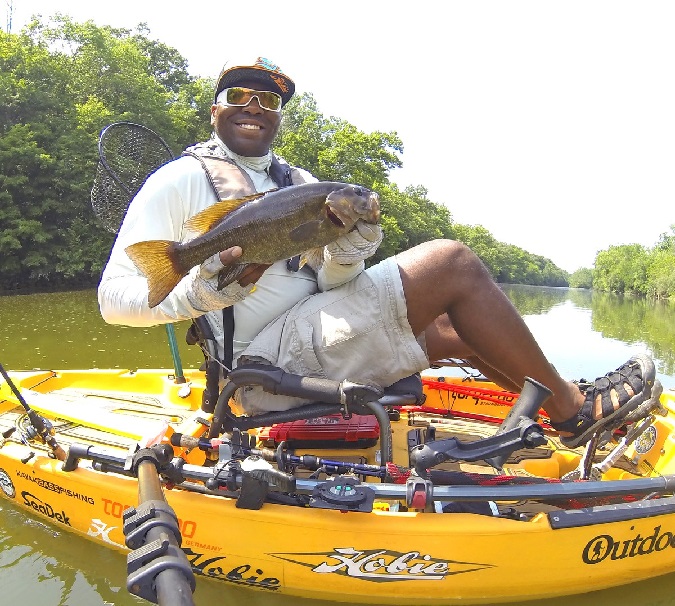 Fishing rivers certainly has its ups and downs, and I literally mean ups and downs, because flow is everything.
Trying to get life, the river and rainfall to work together in harmony has proven to be difficult. The issue with small flows here in Central Ohio is when it rains locally or in the northern part of the state, as that water makes it way downstream, it causes the rivers here to overflow their banks with fast moving, muddy water.
After this occurs, I have to wait two to three days for the sediment to settle, so that lure presentation and visibility is improved. I use an app called River Flows to check gauges around the area to determine what water is fishable and what is a disappointing trip waiting to happen. But once the river settles and I can find a stretch of river that fits my criteria, it's game on!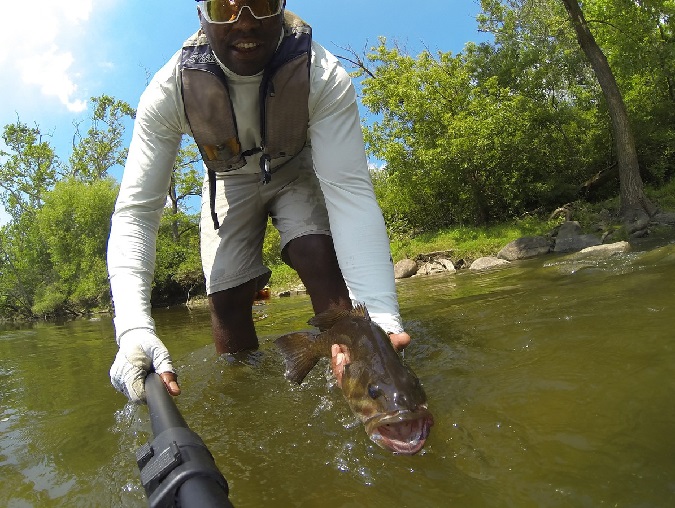 I had a three-day time period that was epic at the beginning of July. I had my eye set on the northern part of the Scioto River. It's just deep enough, it has great structure and a lot of submerged timber for cover. I checked the app. The flow gauge was at 300 cubic feet per second (cfs), which is perfect, and the last rain had fallen more than a week earlier. I was set up to win.
I had just purchased more of my favorite jigs, the 1/8-ounce Strike King Bitsy Bug and I had plenty of trailers. I arrived at "The Spot," as some of us local fisherman like to call this prime fishing location. I readied my Hobie Mirage Pro Angler 14 and was in the water in under ten minutes.
I had my first bite on my third cast and knew that I had picked a great day to fish. That day, and the two following days were awesome. I found smallmouth bass primarily feeding in the riffles of shallow rock leading into deeper pools. I can only think of one other time, which was last year, when life, rainfall and the river all agreed with each other to produce such fine results.
Check back weekly for new videos and stories by the 2016 Hobie Fishing Top Guns.
The post Hunting Summertime River Monsters appeared first on .