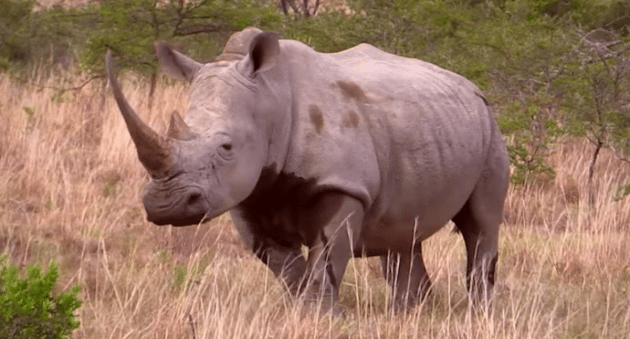 Come along as these guys hunt two of Africa's "Big Five." This is adventure at its highest.
Hunting cape buffalo in the African bush is exciting business, but it's also dangerous. Hunting rhino for preservation purposes is just as exhilarating.
Two separate hunts—two purposes—but they have one thing in common: they're both full of emotional drama and extreme challenge.
First, Dr. Kevin Robertson and a team of several people track and hunt rhinos with a tranquilizer gun. They dart the rhino so that they can gather biological information and identify the particular rhino for preservation purposes. It's a real team effort, as you can see, with everyone having a specific task to accomplish.
You'll recall Dr. Robertson is the man who wrote the best-selling hunting guide book, "The Perfect Shot." He's also an instructor at the Southern African Wildlife College. Robertson conducts classes on everything from animal biology to how to shoot an elephant.
The college and Robertson's work are prime examples of the adage called "Hunting is Conservation."
Next, we join Professional Hunter Clinton van Tonder and Richard Burns as they track dangerous buffalo through the thick African brush.
What I like about this episode is that it really shows what it takes to track a buffalo. The hunters pay attention to the wind, which changes and busts them as they get close to the buffalo the first time.
They examine the dung and tracks to determine how recently the animals have been through the area, narrowing it down to a quarter of an hour. Now that's expert tracking.
The bull Burns shoots is a massive beast, with gnarled horns damaged from years of fighting. It's impressive to say the least.
Videos like this get my blood pumping for a trip to Africa. How about you?
Like what you see here? You can read more great articles by David Smith at his Facebook page, Stumpjack Outdoors.
NEXT: VINTAGE FILM SHOWS AFRICAN VILLAGERS ENGAGING BRUTAL SPEAR HUNTING
The post Hunting South African Rhino and Cape Buffalo is Pure Excitement appeared first on Wide Open Spaces.