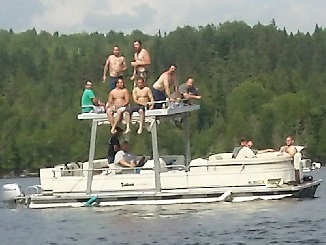 The membership organization that sets safety standards for recreational boat design and manufacturing, the American Boat & Yacht Council (ABYC), has revised its "Boat Capacity" (H-5) standard for upper decks on recreational boats. Upper decks are often referred to as the "fly bridge" or "upper helm." The new standard, which is partly in response to fatal capsizing accidents involving overloaded fly bridges, will now include upper-deck weight capacity regardless of boat length.
Upper decks are typically found on boats greater than 25 feet and often found on fly bridge sportfish vessels, trawlers, houseboats and even some pontoon boats.
"New boats with upper decks will soon have an additional capacity placard for those areas to help boaters make smart choices about loading and stability," said BoatUS Seaworthy magazine Editor Charles Fort. "This will help ensure boaters don't make the mistake of overloading the upper deck."
The majority of boats built today adhere to ABYC's voluntary standards through the National Marine Manufacturers Association certification program. Additionally, ABYC offers standards for the maintenance and repair of recreational boats. "A boat that's designed, built, maintained or repaired to ABYC standards helps ensure a safe day on the water," added Fort.
Owners of older boats with upper decks may find the capacity in their owner's manual or by contacting the manufacturer.
An issue for small and large boats, capsizings and sinkings are at the heart of a new BoatUS Marine Insurance Program study that looked at five years of the association's member insurance claims files. The study reveals how these accidents happen and what boaters can do to avoid them, and it can be found in the August 2016 issue of BoatUS Seaworthy at http://goo.gl/m3hqO3. Data shows that while most capsizes occurred in smaller boats,18% occurred in boats over 25 feet.
For more information on ABYC standards, go to http://abycinc.org.
The post How Many Can My Boat Take Aboard? appeared first on .