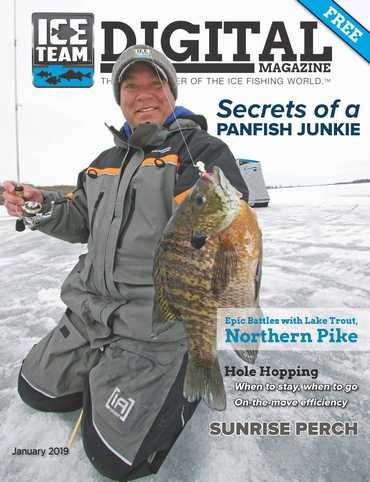 Panfish Secrets, Sunrise Perch, Hole-Hopping Tactics and More!! Click On the above image or CLICK HERE to read the entire issue!! And find all of Ice Team digital magazines by CLICKING HERE
The Mission of Ice Team – We were there at the beginning of the Ice Fishing Revolution

. . . because we helped start it, and we are cutting no corners to ensure the sport continues to grow. We plan to do this through education and fun–which in turn provides ice anglers of all skill levels something they can embrace.
No one has done more to advance the sport of ice fishing than Ice Team. Since 1997 our Pros have come up with every significant ice fishing method and refinement in history, starting with Dave Genz and the Clam Fish Trap and the Vexilar flasher. And today our Pros and staff continue to blaze new trails.
But they always circle back to shore to pick up anybody who wants to learn. This season, Join the Team

and tap into our Pros' knowledge. Let them provide you with up-to-the-minute, cutting edge advice and resources you won't find anywhere else.
The post Ice Team Digital Magazine 2018/2019 Issue #3 is now LIVE!! appeared first on OutDoors Unlimited Media and Magazine.