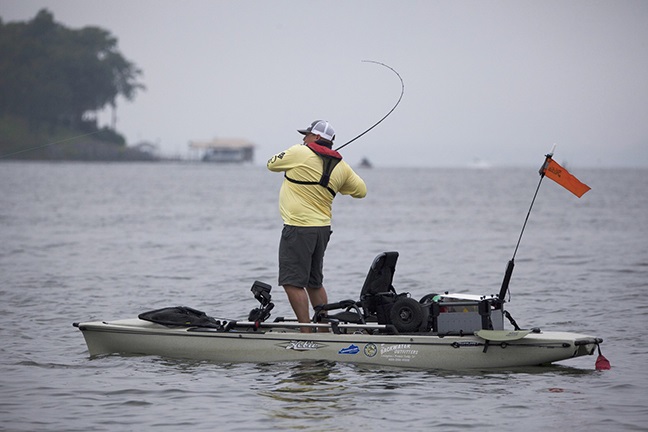 Hobie is proud to announce the launch of a new elite-level kayak series, the Hobie Bass Open Series (BOS), on Lake Chickamauga this Saturday, February 23, and Sunday, February 24, in Dayton, Tennessee.
Birthed out of their popular Hobie Bass Open on Kentucky Lake, and in response to angler demand, Hobie has created what is essentially the first elite-level tournament circuit in kayak fishing, the 2019 BOS will comprise of six Open events, 11 satellite tournaments, one last chance shootout, and a Tournament of Champions (TOC) in November 2019 on Arkansas' Lake Ouachita and hosted by Mountain Harbor Resort.
The inaugural season of the Hobie Bass Open Series aims to provide a true open format and an elite feel for kayak anglers across the country. Each Open allows the top finishing angler to earn a spot on the North American Team for the Hobie Fishing Worlds 9 and the Top 6 finishing anglers earn a highly coveted spot in the 50 angler culmination of the season, known as the Tournament of Champions.
A Catch, Photo, Release (CPR) format—a conservation-based practice that actually finds its origins in competitive kayak fishing—will test an anglers skill on premier fisheries during prime conditions. Anglers will be able to turn in their longest 5 bass each day in hopes of maxing out a 10 fish limit, scored in inches, over the course of the two-day tournament.
100% of all entry fees gets paid back out to anglers throughout the season, and the top 10% of the field will be paid out at each event. With high-end payouts, Elite level qualifications and an exclusive year end championship, the Hobie BOS events provide a great opportunity for any kayak angler no matter what brand of kayak they enjoy using. 
The first event will headquarter at the Rhea County Welcome Center in Dayton, Tennessee, followed by the 2019 Hobie Bass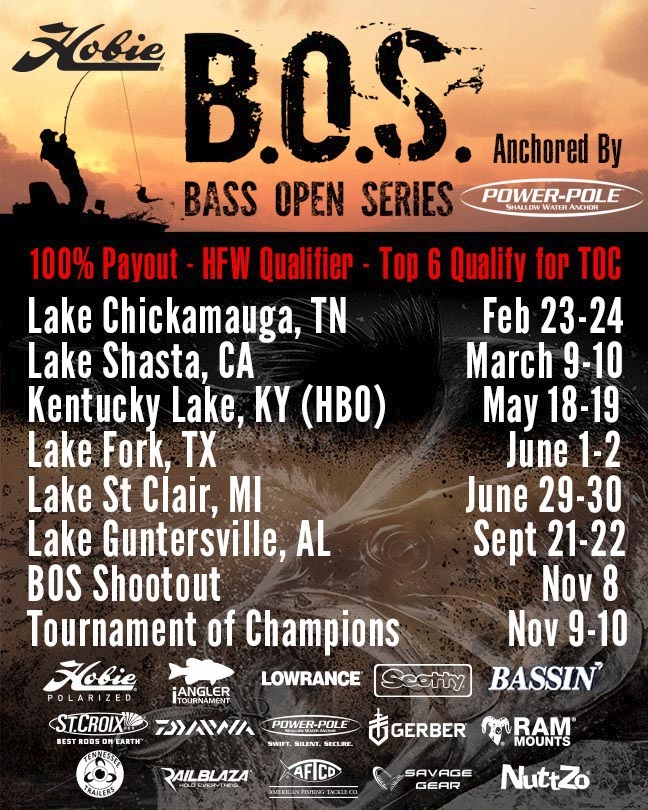 Open Series event on Lake Shasta, California, March 9-10, 2019; Kentucky Lake, Kentucky, May 18-19; Lake Fork, Texas, June 1-2; Lake St. Clair, Michigan, June 29-30; Lake Guntersville, Alabama, September 21-22; and the B.O.S. Shootout, November 8 on Arkansas' Lake Ouachita and Tournament of Champions, also on Lake Ouachita, November 9 and 10. 
Keeton Eoff, Director of Global Strategy, Hobie, remarks: "We're excited to help provide this opportunity for the anglers. This latest initiative definitely jibes with our continued work over the last decade to help the sport of kayak fishing move mainstream, and we're proud to provide the exposure to a group of anglers who can hold their own in any arena. This is going to be good!"
Related articles:
The post Hobie Launches Elite Level Kayak Series on Lake Chickamauga appeared first on OutDoors Unlimited Media and Magazine.