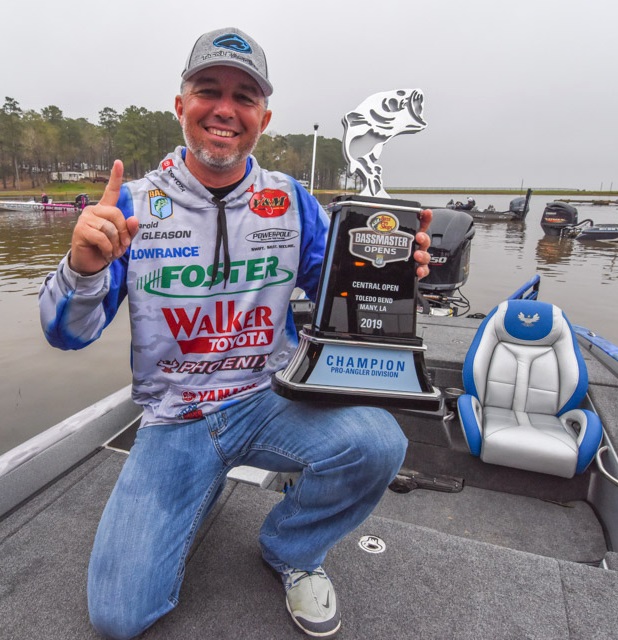 A big shift in weather conditions and the kindness of a fellow competitor opened the door for local favorite Darold Gleason to show off his home lake's potential with a 25-pound, 3-ounce catch that yielded a tournament total of 40-2 and delivered a long-awaited win at the Basspro.com Bassmaster Central Open on Toledo Bend Reservoir.
After fierce thunderstorms cancelled Thursday's scheduled second day of competition, the full field competed in today's final round. Although the forecast called for more storms, Toledo Bend saw a foggy and relatively calm day that contrasted starkly with the more challenging conditions the Many, La., angler faced on Day 1.
"This is probably the best day of tournament fishing I've had out here," said Gleason, who runs South Toledo Bend Guide Service. "Toledo Bend is one of the best lakes in the country. It's fishing kind of tough right now with these cold conditions, but it is chock full of big ones."
Targeting offshore structure that rose from a depth of 24 feet to 10 feet and created a bass-friendly current break, Gleason said he needed to hold his boat in a particular position. He struggled to do that on the first day, when he caught a limit that weighed 14-15 and landed him in 20th place. Today's lighter winds, he said, brought a pleasantly different story.
Gleason caught his winning fish on a Strike King 6XD crankbait in blue/chartreuse, a 6th Sense C-15 crankbait also in blue/chartreuse, a 3/4-ounce V&M football jig in blue shadow with a green pumpkin V&M J-Bug trailer and a Carolina rig baited with either a V&M Pork Shad (green pumpkin candy) or a V&M Chop Stick (watermelon candy red).
Gleason said he fished the same spot as fellow pro Gary Adkins, whom he thanked for leaving him sufficient space to operate.
"The gentleman who shared the spot with me was the most respectful angler I've ever been around," Gleason said. "He didn't have to be that way, but he was. If it weren't for him allowing me to fish where I needed to fish, I would not have been able to catch what I caught."
For his effort, Gleason earned $42,800 and a berth in the 2020 Bassmaster Classic presented by DICK'S Sporting Goods, if he competes in the remaining three Basspro.com Bassmaster Opens in the Central Division.
"I'm blessed to have some great friends in this industry, and I've cheered them when they had their Classic chance," he said. "For me to get mine, it's just everything to me."
Taku Ito of Chiba, Japan, placed second with 30-10. A limit of 15-4 put him in 16th place in the first round, and he turned in a highly consistent effort of 15-4 today.
"Two days ago, I caught fish on a spinnerbait shallow in muddy water around cypress trees," Ito said. "But today, it was tough, so I fished the same spot, but deeper — in 20 feet. I used a 6.5-inch green pumpkin straight worm, Neko rigged with a 3/16-ounce weight.
"I caught three fish on the Neko rig and two fish on a 1/2-ounce white spinnerbait with willowleaf and Colorado blades. Slow rolling the spinnerbait was the key."
Logan Latuso of Gonzalez, La., improved from 22nd place and finished third with 30-0. He added 15-6 to his Day 1 weight of 14-10. He attributed his success to sticking with his shallow water strength.
"I was just covering water, trying to find the best deal," Latuso said. "I caught all my fish on a Delta Lures spinnerbait and a Delta Lures Thunder Jig with a V&M J-Bug trailer. I just fished anything in the water — shallow wood, shallow grass in the backs of creeks where the water was a little warmer. Today, my prime area got a little muddy from the rain, so I had to try new water, and it paid off."
Travis Alcock of Antioch, Ill., won the Phoenix Boats Big Bass honors with his 9-1.
Andrew Thomasson of Dublin, Va., won the co-angler division with 18-5. After placing 19th on Day 1 with 7-7, he added 10-14 in the final round and won $21,400.
Thomasson caught most of his bass on a dropshot with a Roboworm in the "margarita mutilator" color. His largest fish of the day, an estimated 6-pounder, ate a 1/2-ounce chartreuse/blue/white spinnerbait with a willowleaf/Colorado blade combination.
"I was slow rolling my spinnerbait in about 5 feet; they weren't hitting higher in the water column," Thomasson said. "I bumped it off a stump, and that fish grabbed it.
"I fished my dropshot in about 18 feet of water and used a short leader to keep the bait right on the bottom with a 1/2-ounce weight. On the graph, you could see them right on the bottom."
Ryan Bowman of Seneca, S.C., won the Phoenix Boats Big Bass award for the co-angler division with a 6-6 largemouth.
Related articles:
The post Best Day' Lifts Darold Gleason To Victory In Bassmaster Open At Toledo Bend appeared first on OutDoors Unlimited Media and Magazine.