At last year's Hobie Bass Open, Ron Champion and Matthew Scotch punched their tickets to the Hobie Fishing World Championship. They took on different strategies. One ran long and the other fished local. They were both winners. What will it take to grab a hotly contested qualifying spot this year?
We'll find out soon. The 2017 Hobie Bass Open qualifier for Hobie Fishing Worlds 7 will be held at lodging host sponsor Kentucky Lake Dam Village State Resort Park in Kentucky, June 9-11. Calvert is the host city, and the Kentucky Lake Convention & Visitors Bureau (CVB) is the tournament sponsor.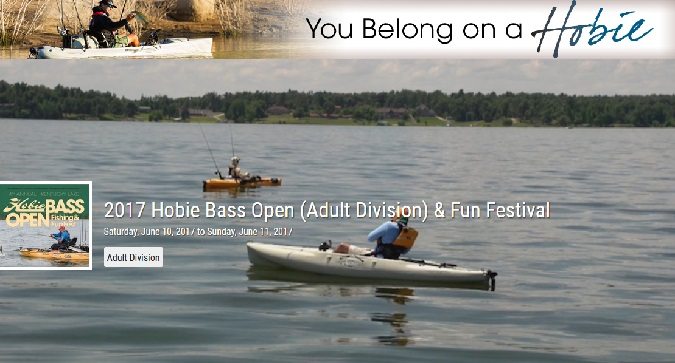 The Open is part of a series of qualifying events to be held in the U.S. and Canada that will produce six Hobie Fishing World Championship spots on the North American team. First and second place winners will be invited to join Brendan Bayard and two-time Hobie Fishing Worlds champion Steve Lessard at the next edition of the Hobie Fishing Worlds competition (to be announced later).
Camaraderie and hot competition go hand-in-hand at the Hobie Bass Open. The ledge fishing is world-class. The water is big and the fishing options seem wide open.
The event on Kentucky Lake is a catch, photograph and release (CPR) tournament where anglers measure and photograph their top three bass during each of the two days, to be scored by total aggregate length. Eligible species include largemouth, spotted and smallmouth bass caught on human powered kayaks, canoes or SUPs.
One hundred percent of entry fees will be paid out with a ratio of one place for every 10 entrants. The top prize is $4,000 based on a field of 150 kayak anglers. The first-place finisher will have his/her airfare, accommodations and entry fee covered courtesy of Kentucky Dam Village State Resort Park and Hobie Worldwide.
There will be raffles and prizes as well as other awards including one for the biggest bass each day. Sponsors include Hobie Polarized, Lowrance, YakAttack, Bassin' Magazine, RAM Mounts, St. Croix, Daiwa, Power-Pole, Mustad and Gerber.
Anglers will enjoy a BBQ dinner on Saturday and an awards luncheon on Sunday. To sign up or for more information visit: https://www.ianglertournament.com/2017-hobie-bass-open-adul…
The Hobie Fun Fest is open to the public and will be held simultaneously along the lakeshore by the dam, Saturday, June 10, 10 a.m. to 2 p.m. Hobie invites all competitors to bring their families and friends to join in the festivities. All will have the opportunity to demo Hobie fishing and recreational kayaks, SUPs and sailboats as well as Hobie's Mirage Eclipse stand-up pedalboard.
The 2017 Hobie Fishing World Championship US and Canadian Qualifiers has added two new events this year: the Shasta Bass Kayak Classic and the 2nd Annual IKE Foundation Celebrity Pro Am Tournament Kayak Division hosted by Hobie's own Micheal "Ike" Iaconelli. Ike's event will be special. It will be a star-studded occasion contested on the non- tidal sections of the Delaware river and includes dinner on the illustrious battleship USS New Jersey.
The full Hobie Fishing Worlds 7 North American qualifying event schedule:
The Shasta Bass Kayak Classic, March 25-26 – 1 qualifying spot, Naoaki "Uminchu" Ikemiyagi

The Jamaica Bay Kayak Fishing Classic, May 18-21 – 1 qualifying spot

The Hobie Bass Open, June 9-11 – 2 qualifying spots

The Border City Classic, June 24-25 – 1 qualifying spot

The 2nd Annual IKE Foundation Celebrity Pro Am Tournament Kayak Division, July 7-8 – 1 qualifying spot
Since 1950, Hobie has been in the business of shaping a unique lifestyle based around fun, water, and innovative quality products. From their worldwide headquarters in Oceanside, California, Hobie Cat Company manufactures, distributes, and markets an impressive collection of eco-sensitive watercraft, with subsidiaries; Hobie Cat Australasia, in Huskisson, NSW, Australia and Hobie Cat Europe, in Toulon, France and independent distributors; Hobie Kayak Europe and Hobie Cat Brasil. These products include an ever-expanding line of recreation and racing sailboats, pedal-driven and paddle sit-on-top recreation and fishing kayaks, inflatable kayaks, fishing boats, surfboards, stand-up paddleboards and the new Hobie Mirage Eclipse™ Standup pedalboards, plus a complementary array of parts and accessories. www.hobiecat.com
The post Hobie Bass Open Quickly Approaching appeared first on ODU Magazine-North America's #1 Digital Fishing Magazine.