Without an a clothing sponsor, world No. 1 shops on web.
Simona Halep started the season without a clothing sponsor.
The world No. 1 didn't scour her closet for tennis apparel.
King: Rename Margaret Court Arena
Instead, she hit the Internet.
Halep, whose clothing contract with adidas ended at the end of 2017, bought her current competitive apparel online from a Chinese seamstress.
"I sent a picture," Halep said at her Australian Open press conference. "Was a site, in China actually, and one of my managers helped me, and in 24 hours I had the outfit, and were perfect. I was lucky."
In China, red is often used as a bridal color and can symbolize joy, luck and happiness.
In her first tournament wearing her all-red Chinese-made apparel, Halep enjoyed a double dose of good fortune sweeping both Shenzhen singles and doubles titles wearing this outfit she calls "plain."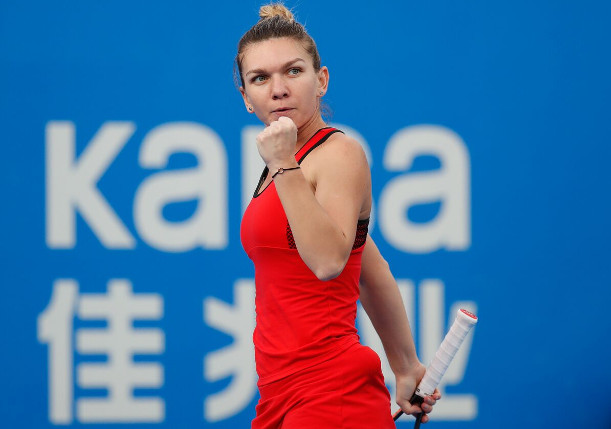 Photo credit: Shenzhen Open/IMG
"I chose the model. But it's plain, come on," Halep said. "Nothing special there. It looks good, in my opinion. I like it."
The two-time French Open finalist is reportedly close to signing a deal with Nike, which inked US Open champion and former Under Armour endorser Sloane Stephens earlier this month, though Halep told the media discussions are ongoing.
"My people are working for me on this stuff. They are talking," Halep said. "But the conversation has just begun. I have no contract now. I'm still with no brand clothes. I just want to make sure that I will choose what I like, and also the brand to like me. It's really important to have a nice outfit and to feel good in the clothes. So I'm not rushing. I will wait what future gives me."
Former world No. 1 Pete Sampras once played the Australian Open wearing shirts bearing an American flag logo instead of the Nike swoosh when his deal with Nike had expired. Sampras wound up re-signing with Nike.
Halep is a unique position set to start her first Grand Slam as world No. 1 without a big-name brand sponsor on her apparel though she was wearing her old black adidas baseball cap and a generic black tank top while practicing at Melbourne Park last week.
"Yeah, it's an interesting period, to be honest," Halep said. "For the moment, are many brands, so I don't know which one is going to be. For sure is going to be one. But we will see in the future.
"I really want to have something nice, to have nice feeling with the future brand that I will wear."
Photo credit: Mark Peterson/Corleve