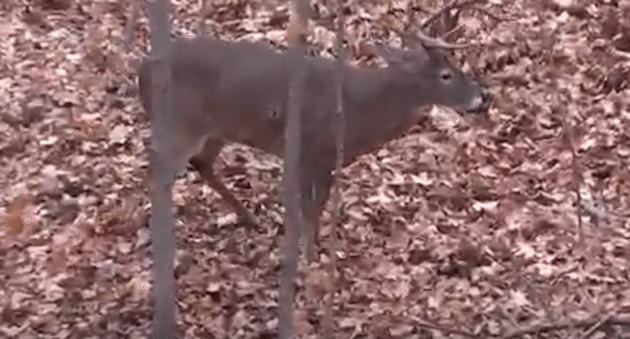 We're warning you, this hunt gets bloody.
An emotional hunter takes down a beautiful Ohio whitetail with an accurate shot that drains blood out of the animal rapidly.
Check out the precision of this shot:
If you're going to take on thing from this video, let it be the lesson that an accurately placed shot is the best way to down an animal, both for its benefit and that of the hunter as well. That shot killed the animal quickly and allowed for an easy extraction.
Did you see the blood literally pour out of the animal's wound? When is was facing the camera, blood clearly dumped out its side and covered a section of leaves in red. This happened right before it wandered a few feet and collapsed.
As you saw, this hunter got emotional at the end of the video. This could be because he knows how lucky he is to be a part of the environment in a responsible and conservative manner.
NEXT: GRAPHIC: MOOSE GUSHES BLOOD OUT OF HIS NOSE FOLLOWING A PERFECT KILLSHOT
The post GRAPHIC: Buck Suffers Massive Blood Loss After Being Shot appeared first on Wide Open Spaces.