Facebook: Brent Hansen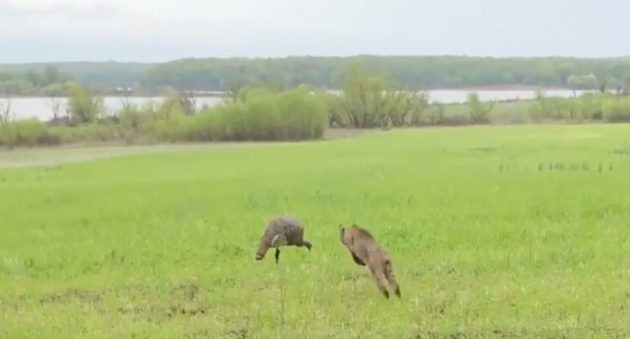 You know your decoy is realistic-looking when this happens.
Decoys have one sole purpose, and that's to lure game animals in. Whether they attract the correct species, however, is another story.
Brent Hansen watched a hungry bobcat stealthily work its way in to his lone decoy while turkey hunting in Missouri May 3.
Then this happened.
According to Hansen's Facebook post, he had a bird coming in when the bobcat ruined it.
One positive is he at least captured some cool footage.

Did you enjoy this post? CLICK HERE to view more articles by Justin Hoffman. You can also check out his Photography Site Justin Hoffman Outdoors, as well as follow him on Facebook Justin Hoffman Outdoors, Instagram hoffmanoutdoors, Twitter @HoffmanOutdoors, or subscribe to his YouTube channel Justin Hoffman.
NEXT: THIS TOM TURKEY SURE KNOWS HOW TO BUST A MOVE
WATCH
The post Footage Captures Bobcat Charging Turkey Decoy appeared first on Wide Open Spaces.