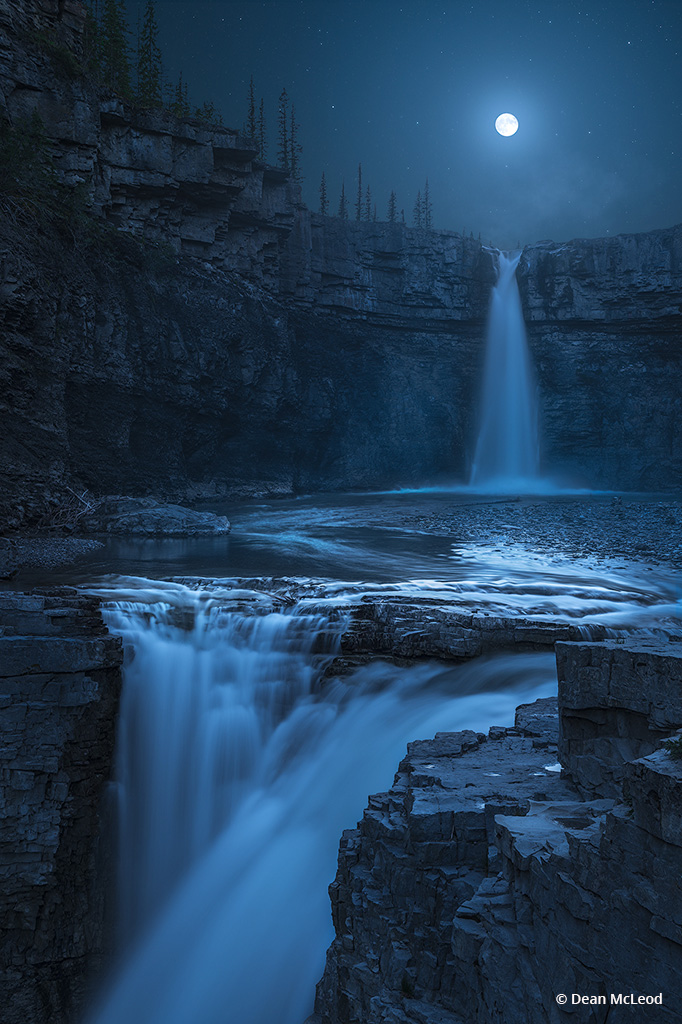 Congratulations to Dean McLeod for winning the recent Go With The Flow Assignment with the image, "Crescent Falls."
"The Canadian Rockies are a treasure chest of gems like the beautiful Crescent Falls located on the Bighorn River in west-central Alberta. The pure visual symmetry of the falls were very appealing to me and an online search revealed little in the sense of them being overly photographed like many areas of the Rockies.
"The evening this image was taken, I arrived early to scout the location and settle on a composition that I felt conveyed the beauty of the double falls. Waiting until twilight, four frames were focus-stacked for the main scene with just enough ambient light to give the water a sense of motion and achieve sharpness and shadow detail throughout. Some time later, when the stars appeared and the moon reached its intended position above the upper falls, I zoomed my lens slightly to capture them with some detail so they'd appear exactly as my eyes saw them in the moment.
"All to myself without another soul around, this wonder of nature was a true sensory experience to watch the water cascading over the rock faces, creating a beautiful atmosphere under a star-filled sky and bright light of a full moon."
Nikon D800E, AF-S 24-70mm f/2.8 G ED at 36mm, Sirui N-2204 tripod with G-20 ballhead. Exposure of land: 2.5 sec., f/8, ISO 100. Sky: 10 sec., f/2.8, ISO 2000. Moon: 1/500 sec., f/5.6, ISO 200.
See more of Dean McLeod's photography on Facebook and 500px.
The post Go With The Flow Assignment Winner Dean McLeod appeared first on Outdoor Photographer.