YouTube: SEEK ONE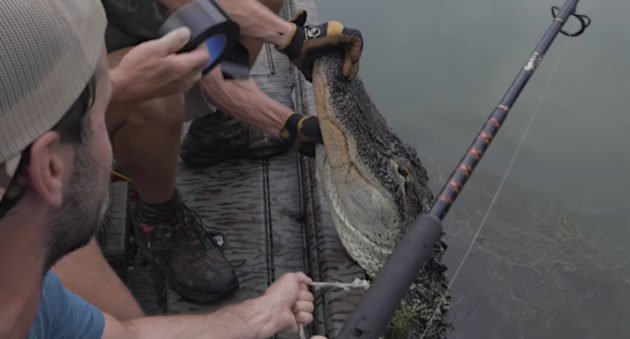 Alligator hunting looks like a blast!
Here at Wide Open Spaces, we have become big fans of the YouTube channel "SEEK ONE" the last couple of seasons. Lee Ellis and his friends make some of the best edited hunting videos on the platform and they are always showcasing deer that most hunters would consider the buck of a lifetime. The big difference is that their hunts are almost all exclusively urban in and around Atlanta.
However, the SEEK ONE crew is not afraid to branch out and try some new things. One of their latest videos is an alligator hunting trip. Lee and his friends have gained access to a special piece of property that just turns out to be loaded with big old gators.
Things happen quickly and it does not take long for the hunters to get on two large gators hiding in the murky depths of a pond. Stay tuned after the hunt to see them prepare a simple, but delicious-looking gator tail recipe.
Sometimes in hunting, things can be frustrating as nothing seems to go your way. Then there are days like this where everything falls perfectly into place and the action is fast and furious. It did not take these guys long to boat these two huge gators at all.
Assuming these guys bagged these gators in Georgia, the Peach State flies under the radar a bit for alligator hunting. This state has produced some true giants in the past, including a 14-foot, 700-pound beast in 2019. That's going to result in a stuffed freezer full of meat!
While most states relegate alligator hunting as strictly a nighttime activity, Georgia's hours are wide open, which is what allowed these guys to go out during daylight hours and snag into these big reptiles. This style of hunting looks thrilling, but also physically exhausting. Thanks for sharing guys and we look forward to seeing what you down during deer season this year!

For more outdoor content from Travis Smola, be sure to follow him on Twitter and check out his Geocaching and Outdoors with Travis YouTube channels. 
NEXT: THE AXIS DEER AND HOW THEY'RE IMPACTING PARTS OF THE UNITED STATES
WATCH
The post Giant Georgia Alligator Hunt Makes for an Exciting Catch and Cook appeared first on Wide Open Spaces.