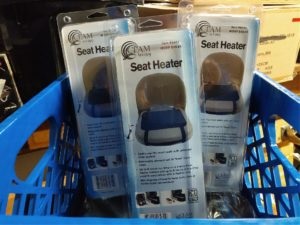 Just when I thought I knew everything about what Clam Outdoors has to offer an ice angler, I find another item.   I was looking through the website and I noticed the Heated Seat Slip Cover for the first time.  When I called before placing my Ice Team order, I asked about the seat, only to find out that it has been around for quite a while.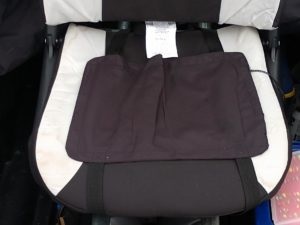 I ordered two of the covers for trying out and eventually ordered three more for my other shanties.  Why the three additional slip covers, because the first two worked so well.  The first time out I used them in 16 degree weather here in Southeast Michigan, and several times I had to get up and move about because things were pretty toasty.  I even had the door open to my Kenai so I could watch my bobber rods while I was jigging for perch.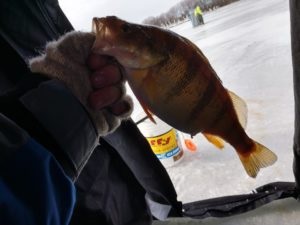 Installation was a snap, literally two snaps. First place the heating element into its protective cover and then place on the seat. Next up, take the two straps and place them under the seat, and connect each side in using the interlocking snaps. Your power source is a Vexilar style 12 volt, 9 amp battery and connects using the two alligator clamps that are wired into the pad.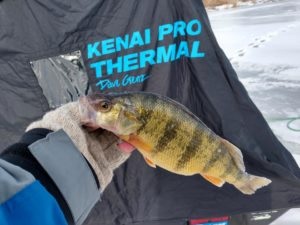 In extreme cold, the cold will affect me right down to the core, specially if my Mr. Heater runs out of propane. The shivers start in my back and work their way down to my legs. What the heated slip cover provides is a way to keep your core warm and the first day out with them on the seats, I never even used my heater.
As the arctic air descends over the Midwest during the next few weeks going into February, I cannot imagine fishing without the Heated Seat Slip Covers from Clam. With highs only reaching single digits and our nights well below freezing fishing Lake Erie is looking promising. Without a doubt both the Saginaw River and Bay will freeze solid for some long rides out on the ice and once I start fishing I know I will be out there for the duration in total warmth!
By Chuck Mason, Facebook page for Chuck >>> https://www.facebook.com/FishingEyes
The post Getting a Hot Seat, Clam's Heated Seat Slip Cover appeared first on OutDoors Unlimited Media and Magazine.