Depending on where you live, leaves are starting to fall from the trees and the temperatures are getting cooler. Not far behind are potentially changing road conditions. Are your tires ready for those changes? General Tire wants to help make that process easier by putting money back in your pocket. When you purchase a qualifying set of four (4) General Tires between Sunday, October 1 and Tuesday, October 31, 2017, you qualify for up to a $70 prepaid VISA card.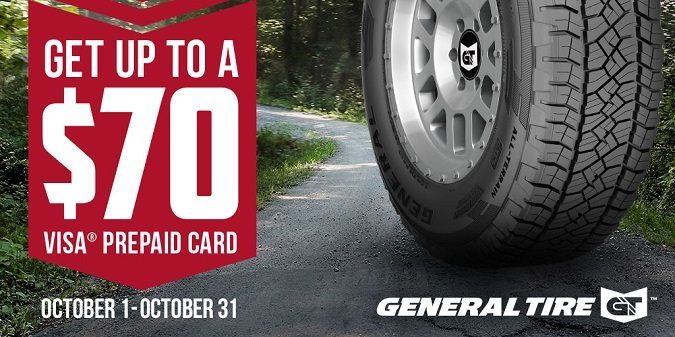 Find A General Tire Dealer >> http://generaltire.com/dealer-locator
A total of 23 different tire lines, including the new all-purpose-terrain GRABBER APT, qualify for the promotion. Tires eligible for a $70 prepaid VISA card include: GRABBER, GRABBER X3, GRABBER APT, GRABBER AT2, GRABBER UHP, G-MAX AS-05, G-MAX AS-03. Tires eligible for a $50 prepaid VISA card include: AltiMAX ARCTIC12, AltiMAX ARCTIC, AltiMAX HP, AltiMAX RT, AltiMAX RT43, AMERITRAC, AMERITRAC TR, EVERTREK RTX, GRABBER AW, GRABBER HD, GRABBER HP, GRABBER HTS60, GRABBER HTS, GRABBER TR, GRABBER ARCTIC LT, GRABBER ARCTIC. With a wide variety of passenger, light truck, SUV and CUV fitments, Anywhere Is Possible with General Tire.
To get all the details related to the promotion, driver over to GeneralTire.com/promotions. Join our social media conversations on Twitter @generaltire, on Instagram @general_tire and on www.Facebook.com/GeneralTire.
About General Tire
For over 100 years General Tire has offered a complete quality line of ultra-high performance, passenger, light truck, off-road and commercial tires to meet all your needs. General Tire is a proud supporter of the Automobile Club of America (ARCA), Best in the Desert Racing Association (BITD), Major League Fishing (MLF), Fishing League Worldwide (FLW), King of the Cage, Lucas Oil – Off Road Racing Series, Late Model Dirt Series, Pro Pulling League, Modified Series, Drag Boat Racing Series and ASCS Sprint Car Dirt Series; Expedition Overland, FreestyleMx.com Tour; Zero One Odyssey, and JeepSpeed. Team GT includes: CJ Hutchins, Jim Beaver, Jeff Proctor, Doug Fortin, Cory Winner, Ray Griffith, Jim Riley, Lee Banning Sr., Jerett Brooks, Camburg Racing, Chase Motorsports, Stan Shelton, Skeet Reese, Edwin Evers, John Crews, Britt Myers, Mark Rose and Bill McDonald.
About Continental AG
Continental develops pioneering technologies and services for sustainable and connected mobility of people and their goods. Founded in 1871, the technology company offers safe, efficient, intelligent and affordable solutions for vehicles, machines, traffic and transport. In 2016, Continental generated sales of €40.5 billion and currently employs more than 230,000 people in 56 countries.
The post General Tire Promotion: Offers Up To $70 appeared first on ODU Magazine-North America's #1 Digital Fishing Magazine.