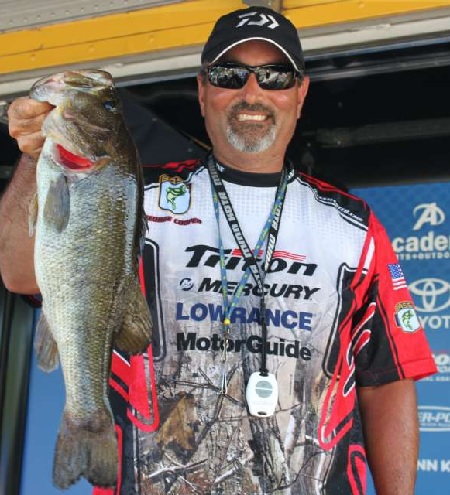 Dave Turner only caught seven bass in Winyah Bay on the first day of the Academy Sports + Outdoors B.A.S.S. Nation Eastern Regional presented by Magellan Outdoors, but five of those fish were the right ones. Coverage link – https://www.bassmaster.com/tournaments/2018-nation-eastern
Turner, who hails from Crystal River, Fla., bagged a five-bass limit today weighing 14 pounds, 4 ounces. That gave him nearly a 2 1/2-pound cushion over Maine's George Cooper, who is second with 11-14.
In all, 346 anglers (173 boaters and an equal number of nonboaters) from 17 different states in the eastern portion of the United States are competing, as is a team representing the Canadian province of Ontario. At stake are cash, prizes and a shot at qualifying for the 2018 Academy Sports + Outdoors B.A.S.S. Nation Championship presented by Magellan Outdoors and possibly the 2019 Bassmaster Classic presented by DICK'S Sporting Goods.
Turner said he covered a lot of territory today, fishing a style he mastered by fishing tournaments in his home state.
"I was 'junk fishing' Florida-style," Turner said. "I was burning up the trolling motor and covering a lot of water. I was trying to make as many presentations as I could make. I know I've got to get my bait in front of as many fish as I can."
Turner caught two keepers early before the temperature in coastal Carolina climbed to 99 degrees by midday. The Florida pro shrugged off the heat, though, and got his other three keepers after 1 p.m. His heaviest bass weighed 4-6 (5 ounces shy of Cooper's Big Bass of 4-11), but he's not sure he can repeat the feat Thursday.
"It's going to be touch-and-go," Turner said. "I thought the fish were going to bite better than they did today. I don't know if it was the tide or the heat, but something was different. It was difficult."
Turner's showing has Florida in second place in the team standings with 57 bass caught for 92-6. North Carolina leads after Day 1 with 60 fish weighing 93-7. Delaware is in third with 89-13, South Carolina is fourth with 87-13 and Pennsylvania is fifth with 84-2.
The team champion, which will be determined by the two-day weight of 10 boaters and 10 nonboaters from each state, will be crowned Thursday. The Top 34 anglers in the money line, as well as any of the Top 3 boaters and Top 3 nonboaters from each state not within the money line, will compete for individual honors on Friday.
North Carolina's Norman Mullinax is third in the boater division with 11-3, Ontario's Cooper Gallant is fourth with 11-1 and David Boyd of Team Florida is fifth with 10-12. West Virginia's Tyler Webb is the only other boater who caught a double-digit limit today; his weighed 10-11.
Underscoring the difficult conditions on Wednesday, only 62 of 173 anglers in the boater division caught limits.          
In the nonboater division, South Carolina's Gary Pope leads with a limit of three bass that totaled 10-4.
"I'm probably the only guy with the real home-water advantage," Pope said. "I live right here in Georgetown."
Reid Mcdowell, who lives in Conway, S.C., about 40 miles from Georgetown, might have something to say about that, however. Mcdowell is in second place in the nonboater division with a 7-11 total on Wednesday.
Jimmy Myers of Delaware is in third with 6-14 and Phil Coffin of Pennsylvania is fourth with 6-13. Brandon Forsman of Maryland also caught 6-13 on Day 1, but only had two bass, which dropped him into fifth place among nonboaters.
Jared Whewell of Team Connecticut caught a 4-7 bass, which was the heaviest of the day among nonboaters.
The championship team will win a Triton 189 TrX boat powered by a Mercury 150 Pro XS engine. Then on Friday, the top overall boater will win $6,000 and the winning nonboater will earn $3,000. The leading boater and nonboater after Friday's competition also will advance to the B.A.S.S. Nation Championship to be held later this year at a location to be announced later.
Takeoff Thursday for the B.A.S.S. Nation Eastern Regional will begin at 6 a.m. ET at Carroll Ashmore Campbell Marine Complex in Georgetown. Weigh-in, which can be watched on Bassmaster.com, will begin at 2 p.m.
The post Florida Angler Grabs Early Lead In B.A.S.S. Nation Eastern Regional Bass Tournament At Winyah Bay appeared first on .