By Todd Corayer 
Special to Outdoor Enthusiast Lifestyle Magazine
The most amazing kayak fishing adventures start with the best equipment for paddling smoothly, catching more fish and feeling safe. The right gear keeps you focused on the water with confidence that you're surrounded by great design, strong construction and high quality materials. Starting with safety, here's our top five most reliable and fun products for years of paddling and fishing.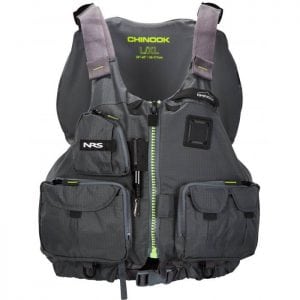 (1) NRS Chinook PFD. Designed in Idaho for comfort and accessibility, the Chinook is the ultimate floatation vest for kayak fishermen. Fishermen have particular needs; vests made for paddling a canoe or running rapids are very different in design and fit. Floatation in the Chinook is positioned to not ride up your back or overtake your chest so you can't access gear pockets. With eight adjustment points, every inch recognizes what fishermen need from a Type III vest PFD. Seven pockets hold small and large items, there's a well-positioned knife holder, rod holder loops, plenty of D-rings, a tool retractor and even a loop to hold an emergency strobe light. There's ample room for fly boxes, cameras and Cliff Bars. Fishing from a kayak starts with safety, which starts with a Chinook.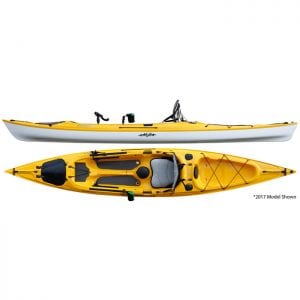 (2) Eddyline Caribbean Angler kayak. Über-fit models in glossy marketing pictures don't mean a thing when you're paddling back from hours of striper fishing, round a corner into two miles of stiff southwest breezes, and realize that your bargain boat won't track. Built in Washington state, the twelve-footer has a 30" beam, while the fourteen-footer is built more lean at 29"; both have comfortable seats with drain plugs to keep you dry, plenty of space for rods and fish finder, and a watertight storage bucket on top of a rock solid Carbonlite hull that stands up strong against gravel bed launches and unhappy redfish coming over the side. Fishing for trophy pike full of teeth and attitude? Trying to land thirty-pound stripers in choppy seas? Just need to stretch your legs? Swing your legs around, unhook, release or bring aboard dinner with ease and confidence that you'll stay stable and balanced.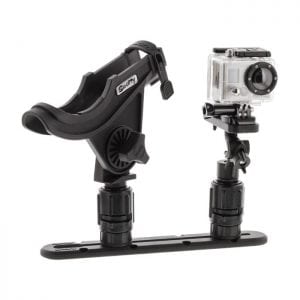 (3) Scotty Low-Profile Tracks. Balance is everything in a kayak. Having rods, tools, lures and a camera safely within reach is the best way to avoid going sideways or losing something overboard. British Columbia's Scotty Plastics builds a Low-Profile Track System and cutting to the quick, this is one of the coolest kayak accessories ever. You install lengths of track where you need them, then add adjustable gear-heads which you unscrew a bit to move, set them where everything is comfortable and concentrate on fishing. The track holds fishfinders, outriggers, downriggers, transducer arm mounts, GoPro cameras, and a personal favorite, cup holders. Spin and fly rods have separate, interchangeable holders, so the options are almost endless. Scotty built their reputation designing rugged, practical and smart plastic gear for boats. This track system so efficient it's not really an accessory, it's a necessity.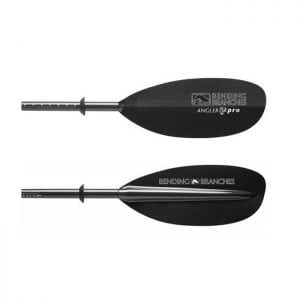 (4) Bending Branches Angler Pro Carbon paddle. Your boat moves with the stroke of a paddle, small nuances in weight and composition will make big improvements to speed and strength. Wisconsin-made Bending Branches paddles are designed for fishermen who need to move quietly when turning tight circles following spooky largemouth or move lots of water for cruising across a salt pond freshened by an unexpected wind. The Angler Pro Carbon has a 100% carbon shaft and carbon laminate blades to ensure strength, and the whole unit weighs just 25 ounces. With a three ferrule system, you adjust the blade angles from 0° to 60° for left- or right-handed paddlers. When day is done, it separates easily for storage. Shaft length is a key factor when choosing a comfortable paddle; the Pro Carbon is available in lengths from 220 cm to 260 cm in 10 cm increments.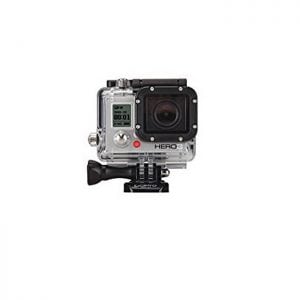 (5) GoPro camera. With all that awesome gear and fish rising up like birds, you'll need to capture the day with the best digital camera. Since 2002, GoPros have evolved to become the small, tough HD cameras absolutely constructed to be run hard and put away wet. Several models and price points for different applications and a variety of mounts compatible with Scotty Track systems will ensure that you catch that big fish – and break into an even bigger grin. For the giant you'd love to see mounted on the den wall, you can instead take several pictures against the measuring tape on the Carbon Pro paddle, send them to your taxidermist, and release the beast. Waterproof, tough, dependable, easy to use, IPhone and Android-friendly, GoPro cameras will prove themselves invaluable as you capture every second of that big redfish coming over the side.