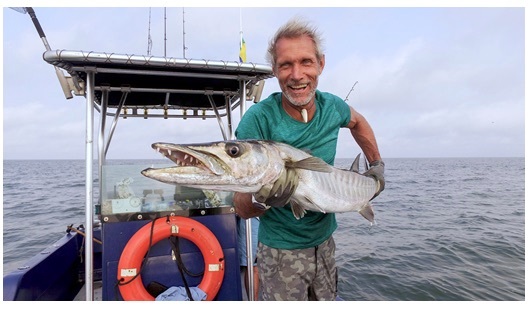 SMITHSONIAN CHANNEL(TM) HOOKS SOME OF THE WORLD'S MOST NOTORIOUS FISH IN NEW SERIES. THREE-PART SERIES PREMIERES WEDNESDAY, APRIL 25 AT 8 PM ET/PT
From the rough waters of the Nile River to the seas surrounding the Seychelles islands in the Indian Ocean, South African naturalist and extreme fisherman Andy Coetzee is embarking on a journey to reel in some of the world's biggest fish – the most elusive, notorious and at times, the strangest creatures in the water. In many of the planet's wildest places, Andy comes face-to-face with the giant swallowing mouths of the Nile perch, the heavyweight power of the Dogtooth Tuna and the razor-sharp teeth of Giant Barracuda. FISHING FOR GIANTS premieres Wednesday, April 25 at 8 p.m. ET/PT on Smithsonian Channel.
Never settling for an average day on the water, Andy goes to great lengths to make the most dangerous catches. His all-action fishing style doesn't rely on expensive tackle or hi-tech gadgets. Instead, on FISHING FOR GIANTS, Andy depends on his expert skill and hard work – whether it's free-diving submerged wreckage to face a catch head on, staying calm in crocodile-infested waters on the Nile, or using an old-school wooden-spooled reel, the Scarborough which he calls his 'old-faithful' to bring in these 100-plus-pound giants.
The series premiere, NILE SWALLOWER, brings Andy to the remote waters of Uganda in search of the Nile perch. A freshwater fish that can weigh up to 300 pounds, the perch is a legendary monster and a ruthless cannibal – the Holy Grail to anglers around the world. To find him, Andy journeys north up the Nile River to the notorious Devil's Cauldron at the base of the Murchison Falls – one of the most powerful surges of water on the planet. A swirling maelstrom of white-water, this Nile perch hotspot is virtually unreachable, but Andy's expertise and determination lead him on this extreme quest to add this gluttonous fish to his catch list.
Subsequent episodes of FISHING FOR GIANTS are:
THE DOGTOOTH
Premieres Wednesday, May 2 at 8 p.m. ET/PT
The Dogtooth Tuna is on every serious sport fisherman's bucket list, and it has eluded Andy for his entire life. A notoriously difficult catch, the Dogtooth doesn't go down without a healthy fight because once hooked they make incredibly fast downward runs wrapping themselves around rocks and coral to try and snap the line. Andy travels to the Astove Atoll in the Seychelles Archipelago of Islands in the Indian Ocean to 'the Wall," a steep wall of pristine reef that plunges more than 3000 feet deep – a prime hunting ground for Dogtooth tuna. It's a fisherman's paradise but there's a catch. Island rules mean he'll have to fish on the fly, testing his skills to the limit as he tries to use a lightweight fly rod and line to catch a heavyweight fighting fish.
GIANT BARRACUDA
Premieres Wednesday, May 9 at 8 p.m. ET/PT
Andy travels to the murky and inhospitable waters off the coast of Gabon's Port Gentil on a quest to come face-to-face with the legendary Guinean Giant Barracuda. An oil-boom town, Port Gentil's waters have become an underwater labyrinth of rusty oil rigs – perfect hunting ground for ambush predators like the Giant Barracuda. With rows of three-inch fangs and a vicious temperament, landing the Giant Barracuda is an exhilarating feat but without Andy's skill and expertise it can also be a life-threatening encounter. Likened to a chainsaw on an elastic band, the Giant Barracuda will torpedo vertically out of the water to throw the hook and is even known to jump straight into the boat potentially bringing Andy face-to-fang with his lethal quarry.
FISHING FOR GIANTS is produced by Earth Touch and Smithsonian Networks. Produced by Kira Ivanoff and Graeme Duane for Earth Touch, and executive producers for Smithsonian Channel are John Cavanagh and David Royle.
Smithsonian Channel

, owned by Smithsonian Networks

, a joint venture between Showtime Networks Inc. and the Smithsonian Institution, is where curiosity lives, inspiration strikes and wonders never cease. This is the place for awe-inspiring stories, powerful documentaries and amazing entertainment across multiple platforms. Smithsonian Channel combines the storytelling prowess of SHOWTIME® with the unmatched resources and rich traditions of the Smithsonian, to create award-winning programming that shines new light on popular genres such as air and space, history, science, nature, and pop culture. Among the network's offerings are series including Aerial America, America in Color, First Ladies Revealed, Polar Bear Town, The Lost Tapes, Amazing Monkeys, America's Secret Space Heroes, Mighty Ships, Mighty Planes and Air Disasters, as well as critically-acclaimed specials that include Titanic's Fatal Fire, The Obama Years: The Power of Words, Nightmare on Everest, Diana and the Paparazzi, Diana: The Day We Said Goodbye and Flying High with Phil Keoghan. Smithsonian Networks also operates Smithsonian Earth(TM), through SN Digital LLC., a new subscription video streaming service delivering spectacular original nature and wildlife content. To learn more, go to www.smithsonianchannel.com, or connect with us on Facebook, Twitter, and Instagram.  
The post FISHING FOR GIANTS appeared first on ODU Magazine-North America's #1 Digital Fishing Magazine.