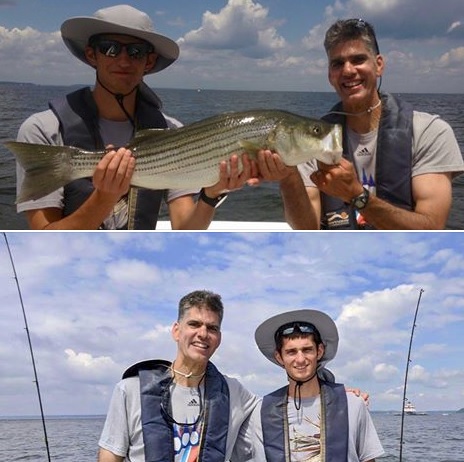 Anthony and his son, Jacob, met me at Sandy Point State Park promptly at 7am. Before leaving the dock everyone put on an automatic/manual inflatable personal floatation device and we had a safety briefing.
They were as excited as I was to get out on the Chesapeake Bay and start fishing for stripers, using light spinning tackle. The Bay Bridge was close by and since I didn't see any birds working we started jigging the pilings. Anthony or Jacob has never caught a striper using a lure. Well, that ended on the first cast by Anthony as he caught his first striper, which was keeper size. After the bite stopped at the bridge, we started moving south on the Bay. As usual there was no bird action, so we pulled up on the Thomas Point Lighthouse and enjoyed seeing it, while casting soft plastic baits at its pilings and adjacent rockpiles.
Anthony and Jacob with Thomas Point Lighthouse in the Background
(See 2nd Photo)
After lunch we headed north again running ledges, on the east side, to just south of Love Point. There was a large chumming fleet on Swan Point Bar, which explained why we didn't locate any stripers near Love Point. We decided to move south and fish the bridge pilings.
With ebb current (outgoing tide) the most productive side of the pilings to fish was the north (power) side. Anthony cast 25 feet upcurrent of a piling on a 45-degree angle as our boat drifted southwest from this piling, headed down current. I was worried that his jighead would wrap the piling on the way by. The rod tip went down and drag started coming off the reel. Anthony said, "I might have hooked the piling", so I started motoring upcurrent while Anthony kept the line tight while reeling in the slack. Once upcurrent of all the pilings; the rod tip kept bent to 90 degrees and the line-changed direction to the northeast while the drag was still zinging off the reel. I though it was a big stingray, and after fighting it for some time Anthony wanted Jacob to enjoy the pull of such a strong fish. Jacob took the rod and said the line is coming up and what I though was a stingray turned into a large striped bass.
Jacob will be a Swab (1st year Cadet) at the United States Coast Guard Academy to major in civil engineering Class of 2022 prior to becoming a USCG Officer. Thank you Jacob for your journey to serving the United States of America. Your father, entire family, and friends are proud of you.
Semper Paratus – Always Ready
Join the Capt on his Facebook page here – https://www.facebook.com/capttomhughes
The post Father & Son Enjoy the Chesapeake Bay – July 4th appeared first on .