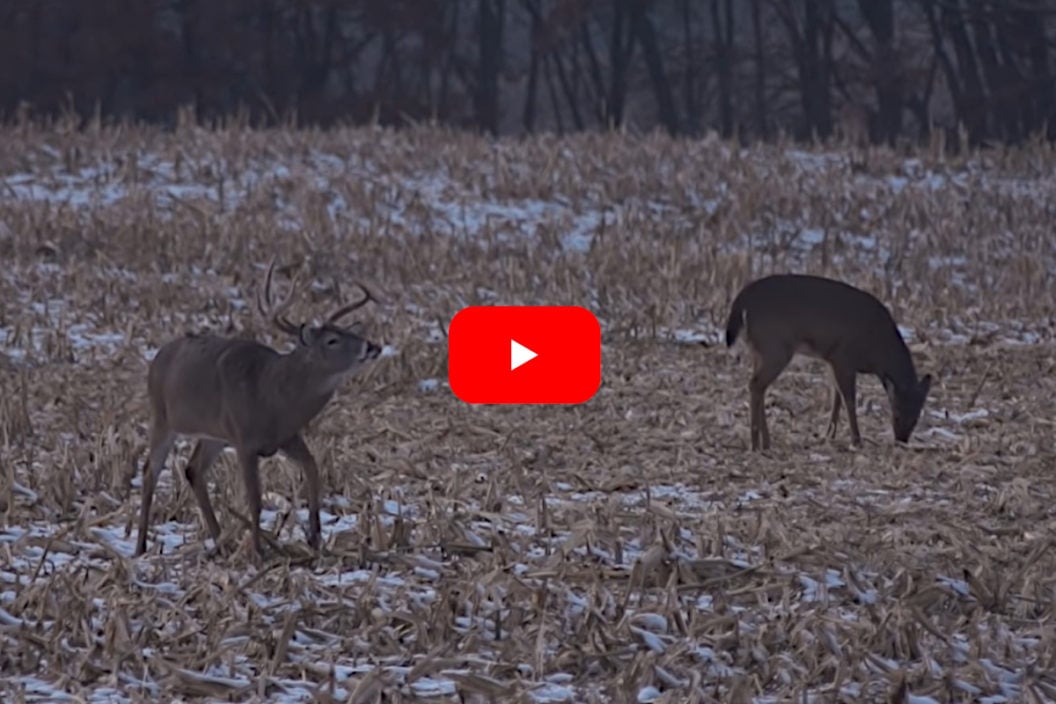 For many of us, hunting is a family affair in which we evaluate our success as a group. Perhaps the only thing that beats taking a big buck ourselves is being lucky enough to watch one of our loved ones do it, especially if it's a deer you've all been seeing via trail cameras or off-season encounters, as that extensive history creates a heightened sense of anticipation. David Lindsey had been hunting one of those bucks all season long in Iowa, crossing his fingers that he or one of his own would be lucky enough to put it on the ground. As you'll see, the big buck is obviously old, with a distinctive, hooked drop tine off his right side, and to get that big, he's certainly smart. In fact, the old boy had given the family the slip more than once over the course of the season, but became comfortable enough to start making predictable appearances in the same cornfield.
When David's daughter Jaclyn comes into town for a visit, David unselfishly gives up the spot and sets her up to harvest the buck without her knowing. What results is an incredibly memorable hunt and what would ultimately be the harvest of a lifetime.
Based on her reaction alone, it's clear Jaclyn had no clue this was the target buck her father had been after for much of the season. David knew this buck could possibly walk into range and decided to unselfishly give up his spot for his daughter, making for an unbelievable moment. anyway. We can't blame Jaclyn for being nervous about this buck, especially considering how long that old buck took sauntering into range of her stand. But, when the time finally came, she was able to stay calm enough to make an excellent shot on a buck with plenty of character to remember.
The Lindseys then lent the experience to the next generation by brininging Jaclyn's children out to track the buck's blood trail. What a great memory for the entire family! This is truly what hunting is all about.
For more outdoor content from Travis Smola, be sure to follow him on Twitter and check out his Geocaching and Outdoors with Travis YouTube channels.
The post Father Unselfishly Gives Up Chance at Season Target Iowa Buck to His Daughter appeared first on Wide Open Spaces.