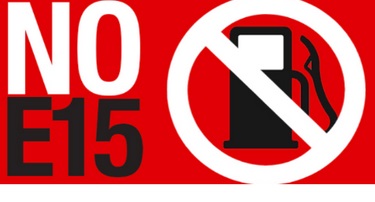 Last week, the Environmental Protection Agency (EPA) proposed regulatory changes to allow gasoline blended with up to 15 percent ethanol (E15) to be sold during the summer months. As part of the proposal, EPA is considering adopting additional consumer protection measures, which NMMA advocated for and helped secure.
In response, NMMA president, Thom Dammrich stated, "The EPA's legally questionable decision to allow year-round sales of E15 needlessly puts millions of American boaters – not to mention hundreds of millions of people with chainsaws, generators, and lawnmowers – at an increased risk of misfuelling just so a powerful, politically important constituency can reap a financial windfall. NMMA is adamantly against this proposal and we encourage the administration to abandon this reckless policy.
"It is a fact that when E15 is used in a wide range of smaller and older engines, it wreaks havoc on these types of power sources – which is why NMMA and an overwhelming majority of stakeholders are staunchly opposed to expanding the availability of E15. The government is similarly aware of E15's shortcomings considering federal law prohibits the fuel's use in marine and other off-road engines. But unfortunately, as our industry has repeatedly witnessed, EPA's efforts to inform the public about the dangers of E15 are woefully inadequate, leading to consumers using incompatible fuels that destroy their products.
"While EPA's decision to leave the door open for additional consumer education and protection measures is welcome news, it's alarming that they are not convinced such efforts are needed without further debate. Just last week, the Outdoor Power Equipment Institute released a study showing misfuelling is on the rise, with more than 3 in 5 Americans mistakenly assuming that any gas sold at gas stations is safe for all of their products – proving that the only debate over additional consumer safeguards is how many more we need at the pump.
"Our nation's boaters shouldn't have to compromise their safety to enjoy time on the water, and the EPA should aim to protect consumers – not put them in jeopardy. We look forward to working with the agency and other policymakers to provide needed consumer safeguards from misfuelling – including labeling standards, consumer education, and keypad confirmation – and ensure boaters and all consumers have a safe and reliable fuel supply."
NMMA will continue to monitor the regulatory change and will submit comments to EPA in the coming weeks. For more information, please contact NMMA senior vice president of government relations and legal affairs, Nicole Vasilaros at nvasilaros@nmma.org or NMMA director of federal government affairs, Callie Hoyt at choyt@nmma.org.
Related:
NMMA Celebrates Reintroduction of E15 Consumer Protection Bill
Clean Air Act Waiver to Allow Sale of E15 Fuel
NMMA Calls for Commonsense Actions In E15 Misfuelling
The post EPA Proposal to Allow Year-Round Sales of E15 Opposed By NMMA appeared first on OutDoors Unlimited Media and Magazine.