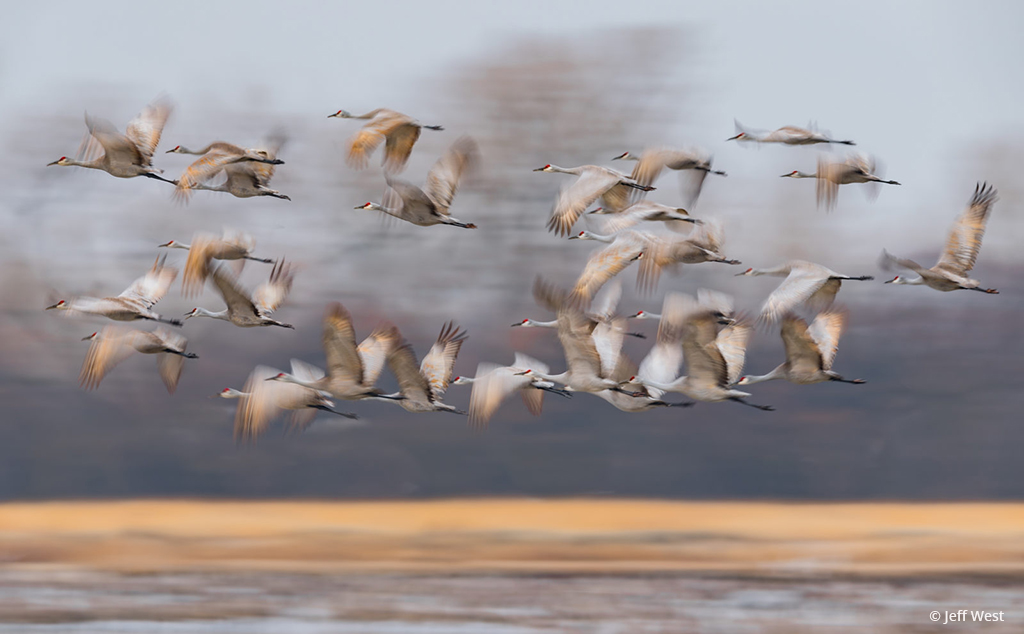 Congratulations to Jeff West for winning the recent Earth Day Inspiration assignment with the image, "Spring Migration of Sandhill Cranes."
"A small stretch of the Platte River in south central Nebraska hosts the yearly northward spring migration of about half a million Sandhill Cranes," explains West. An Outdoor Photographer article published on March 7, 2018, by Chema Domenech lent inspiration on a photographic workshop I attended which was hosted by the Crane Trust, a non-profit conservation organization, dedicated to the protection of what is dubbed as the last great animal migration in America. 
"This panning blur photo was taken in the early morning from a blind on the edge of the Platte River. In front of my blind stood tens of thousands of cranes up and down the river as far as I could see. Soon after the cranes awakened, they flew toward the fields to feed. As they took flight, I scouted for small groups of cranes flying perpendicular to me at the right height above the river and panned as smoothly as I could along their same direction and speed shooting at just the right shutter speed to capture a sense of motion while retaining sharp focus on their heads."
Nikon D5, Nikon 600mm f/4E FL, ISO 100, 1/25 sec at f/7.1, +2/3EV.  Really Right Stuff tripod with Wimberley gimbal head.    
 See more of Jeff West's photography at JeffWestPhotography.com.
The post Earth Day Inspiration Assignment Winner Jeff West appeared first on Outdoor Photographer.