Drury Outdoors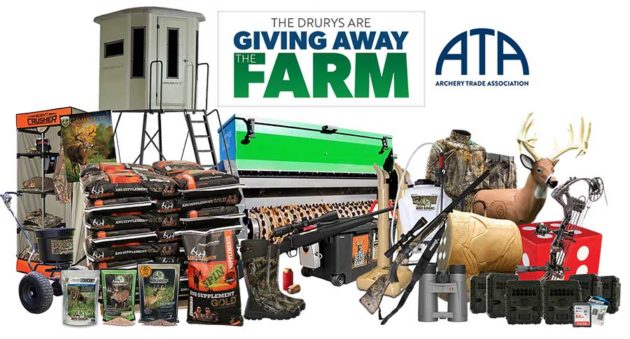 The moment you've all been waiting for has arrived: the drawing for the DOD 30th Anniversary Giveaway grand prize of a 60 acre farm in Missouri is this month!
Drury Outdoors has given away a bunch of great prize packs during 2019. Well, now it's time for the main event and one really, really lucky hunter will win the 30th Anniversary Giveaway grand prize of a 60 acre farm complete with pre-scouted stand locations and food plots in northern Missouri this month.
Specifically, the folks at Drury Outdoors will randomly select a winner from all eligible applicants on December 15, 2019.
That person will win the 60 acre farm plus 6 Reconyx trail cameras (along with memory cards and batteries) and a Mossy Oak gift card. Additionally, Drury Outdoors will arrange for that person to attend the 2020 Archery Trade Association (ATA) show January 9-11, 2020 in Indianapolis, Indiana. ATA will cover the travel and lodging costs for the winner to attend the show.
While Drury Outdoors has partnered with lots of other big brands in the outdoor industry have partnered to give away monthly prizes valued at over $33,000, they truly have saved the best for last with this prize. Whoever wins will receive the title to 60 acres of prime whitetail habitat in some of the best whitetail country in the United States. 
Ten hunters have already won some awesome hunting gear so far.
Butch Houston won the January prize pack of a set of Scent Crusher gear, Cole McCreary got two pallets of Ani-Logics supplements and minerals back in February, Kenneth Baker won a the March prize of a massive pack of BioLogic Seeds, Michael Kleidon received his very own RTP Ground-Breaker 3 in April, John Grohs won the Morrell Target lineup in May, Eric Spacek will be hunting in style while wearing the LaCrosse boots he won in June, Joshua Slatton hit the jackpot with his new Muddy Penthouse box blind this fall, Jeremy Eckenrode won the August prize of an autographed PSE Custom Stealth Carbon Air bow, Kirk McConnell received a Winchester XPR Rifle, a SXP 20 gauge shotgun, and $350 in store Credit for the Winchester Gear Shop in September, and Kevin Lester won some excellent hunting apparel from Nomad as the October prize.
Once they conduct the drawing for the month of November, another hunter will win a Traditions muzzleloader and some Leupold optics!
I don't know about you, but that's an awesome selection of hunting gifts and the guys who selected those prizes at Drury Outdoors and the brands they partnered with really knew what they were doing!
Enter the contest through the DeerCast app or via their web site at DruryOutdoors.com/farm. You can access DeerCast at DeerCast.com or download the DeerCast mobile app through the Apple App Store or Android's Google Play.
This will be the last prize awarded during the 30th Anniversary Giveaway.
Remember: the drawing is 15 December 2019, so you must enter before that date in order to be eligible to win!
You're all set if you've already entered the giveaway earlier this year, so there's no need to enter again (and doing so won't improve your odds of winning). Additionally, if you're one of those lucky hunters who have already won a monthly prize pack, you're also still eligible to win the grand prize.
By the way, Drury Outdoors has made significant updates to DeerCast this year. DeerCast was a solid product when they first released it, but it's even better now. So, even if you don't win one of the many prizes they're giving away, DeerCast is still a great tool you can use to hopefully bag the buck of your dreams.
Good luck!
Like what you see? You can read more great articles by John McAdams on the Big Game Hunting Blog. Follow him on Facebook & YouTube and subscribe to his show: the Big Game Hunting Podcast. 
NEXT: TAYLOR DRURY ARROWS A MASSIVE IOWA BUCK
WATCH
The post DOD 30th Anniversary Giveaway Grand Prize: 60 Acre Farm in Missouri & More! appeared first on Wide Open Spaces.