Does Wimbledon winner Novak Djokovic know something we don't about his US Open status?
Novak Djokovic's offer to break bread with Nick Kyrgios in New York City is prompting speculation about his US Open status.
The top-seeded Djokovic defeated Nick Kyrgios in the Wimbledon final on Sunday to capture his fourth consecutive Wimbledon crown and seventh overall.
More: Nadal Congratulates Djokovic on Wimbledon Win
Afterward, Djokovic said he had no plan to take the Coronavirus vaccine, which would prevent him from entering the United States under current regulations requiring foreign travellers to show proof of vaccination.
"I'm not vaccinated and I'm not planning to get vaccinated so the only good news I can have is them removing the vaccine card to enter United States," Djokovic said. "I don't know. I don't think exemption is realistically possible. If that is possibility, I don't know what exemption would be about," Djokovic said last Sunday.
"I don't know. I don't have much answers there."
Replying to a Djokovic Instagram post today, Kyrgios joked: "Where is my dinner!!!!!" referencing Djokovic's post final comment "Winner buys dinner."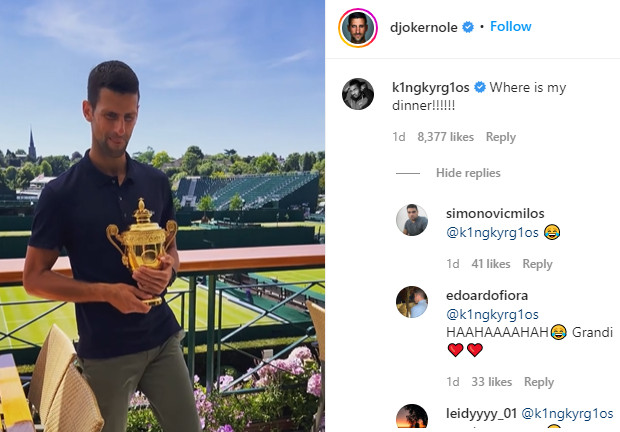 In response, Djokovic posted: "Sorry mate, I called the restaurants in London on Sunday night and there were no tables available. Dinner is on me in NYC."
The 21-time Grand Slam champion punctuated his post with emojis and prayer hands prompting some Djokovic fans to wonder if the former No. 1 is expressing hope restrictions will be eased permitting him to play Flushing Meadows or if he knows more about his US Open status than we do and is actually hinting at a US Open return.
Photo credit: Getty